At the age of 27, Ottawa Senators forward Bobby Ryan has long been considered a premier player in the National Hockey League. Having posted four 30-goal seasons by the age of 24, Ryan has become known as one of the most prolific goal scorers in the league, amassing 337 points, 170 of which goals, over seven seasons. However, Bobby will become a free-agent following the upcoming 2014-15 season, and if not re-signed, would become a major attraction to many teams throughout the league come free agency July 1st.
This begs the ultimate question: What is Bobby Ryan worth, and more importantly, what can the Ottawa Senators afford to pay him?
What is Bobby Ryan's Worth?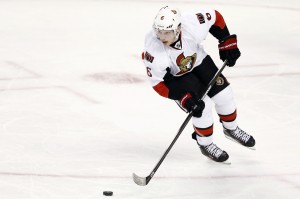 In the final season of his 5 year, 25.5 million dollar contract signed while with the Anaheim Ducks, Bobby Ryan will be paid a salary of 5.56 million. To determine what Bobby Ryan should, and likely will be paid per season in his next contract, it is most effective to compare Ryan to players of similar age, skill and production throughout the NHL.
James Neal
The most common similarity is James Neal of the Nashville Predators.  At 27 years of age (come September 3rd), Neal has produced similarly to Ryan, posting 315 points and 161 goals over seven seasons. Neal, who is a goal scorer like Ryan, is currently signed to a 6 year contract with an annual salary of 5 Million dollars.
David Krejci
Although not as a prolific goal scorer as Ryan or Neal, Krejci is one of the best setup men in the NHL, ranking ninth in assists in the past season with 50. Similarly to both Ryan and Neal is Krejci's age, skill and production, at the age of 28, David has compiled 378 points over his seven NHL seasons, very similar to Ryan's 337 and Neal's 315 points. As a result, Krejci is scheduled to earn 5.25 Million in the final year of his current three year contract with the Boston Bruins.
Valtteri Filppula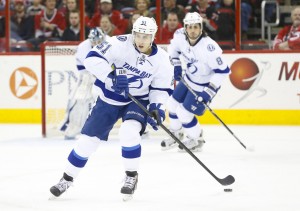 Filppula plays a similar game to Krejci, who despite setting a career high with 25 goals this past season is also known as a one of the best puck movers in the game. In registering 309 points over his past eight NHL seasons, the 30 year old Filppula has produced very similarly to Bobby Ryan. In doing so, earning a relatively new 5 year contract valued at an average of 5 Million per season with the Tampa Bay Lightning.
In comparing James Neal, David Krejci and Valtteri Filppula to Bobby Ryan, it is clear that star players of similar age, skill and production to Ryan are earning approximately the same salary per year at a similar contract term. On average, these  contracts work out to an approximately 5 Million average annual salary on a four to five year deal. A similar contract if offered to Bobby Ryan would then seem completely ordinary given Ryan's proven abilities. However there is one major obstacle in reaching such as deal, and that is the self-imposed cap system present within the Ottawa Senators organization.
What are the Ottawa Senators willing to pay Bobby Ryan?
A self-imposed cap system:
If given the opportunity, its without doubt that the majority of NHL teams would sign Bobby Ryan to, as we've seen, a four to five year contract worth around 5 Million per season.
However, Ottawa Senators owner Eugene Melnyk's self imposed cap system means that star players often find it difficult to sign in the nations capital. For the coming 2014-15 season the salary cap is set at 69 Million dollars, however because of the self imposed cap system the Ottawa Senators sit in a familiar position, currently scheduled to pay its players 54.8 Million, good for 28th in the league.
This 14 Million dollar opening would have allowed the Senators to sign one, if not TWO of this year free agent class, such as stars Paul Stastny, Brooks Orpik or Matt Niskanen. It was this self imposed cap which also withheld the Senators from re-signing long-time captain Daniel Alfredsson in 2013-14, who, although demanded a somewhat high salary, only wanted a few Million dollars greater to stay with his career-long team.
When asked by the Ottawa Sun about his choice to use a self imposed cap system, Melnyk responded that teams like his are always "in the hunt, they don't win every year, but they're certainly in the hunt, and that's all the fans ask for" regarding his Senators. Clearly, Eugene is more concerned with saving his money than building a truly competitive team which can win a championship, a decision which angers fans year after year. When asked why he would not be willing to spend a few million more, such as on Alfredsson, Melnyk replied that "if we want to even spend a few extra million dollars, that just goes right out of my pocket. It's a business, people have to understand." However the fans who make the NHL a reality and the Senators faithful in particular, understandably can not.
What can the Senators truly pay Bobby Ryan?
Given the Senators restrictive cap system, it would be accurate to say that next seasons payroll will rise alongside the cap a couple Million of dollars. This would put Melnyk's self imposed cap for the 2015-16 season at approximately 56 or 57 Million. With 46 Million already committed for the 2015-16 season, the Senators will have roughly 10 Million dollars of cap space. However, not only is Bobby Ryan a free agent, but so too are Erik Condra and Marc Methot, while Mika Zibanejad, Mark Stone, Mike Hoffman and newly acquired Alex Chiasson will all be restricted free agents.
So, back to the question of whether the Ottawa Senators can afford to re-sign Bobby Ryan. Given what Bobby Ryan is clearly worth, about 5 Million per season, Eugene Melnyk's self imposed cap system and the coming free agent situation in Ottawa, it is undeniable that the Senators will not be able to re-sign Bobby Ryan in the nations capital. If the Senators were to offer Bobby Ryan the contract he deserves, it would bring the risk of losing key players to free agency and deplete the depth of forwards and defenseman which the Senators currently enjoy. At this point, Senators fans should simply enjoy watching Bobby Ryan's last season in Ottawa, as dreams of Ryan staying in Ottawa will never become a reality under the restrictive eye of owner Eugene Melnyk.