Last season was one of  transition on the Oklahoma City Barons blueline as there was an influx of players joing the professional ranks for the first time.
Defensemen Oscar Klefbom, Martin Gernat and David Musil all made their professional debuts and the team also added players like Darnell Nurse, Jordan Oesterle and Graeme Graig to the roster once their respective junior and college seasons finished.
Add to the mix veterans like Denis Grebeshkov, Taylor Fedun, Brad Hunt, Philip Larsen and sophomore Brandon Davidson and the picture starts to get a bit murky on who was in and who was out on most nights. There was also Martin Marincin who was a top pairing defensman in the first half before sticking with the Oilers. 
In fact, the Barons dressed as many as 17 different defensemen over the course of last season.
The mix for 2014-15 does not appear to be any less complex. Gone from last year's roster are Grebeshkov, Larsen and Fedun, but all other names remain under contract to the Oilers.
Add to the group the annual influx of prospects graduating to the pro ranks including Dillon Simpson and C.J. Ludwig and not to mention those like Joey Leach who got a taste of the AHL last year and want more, and there is the makings of a crowded blueline.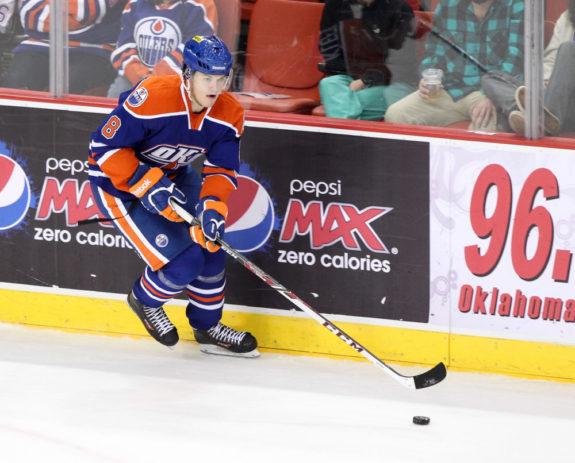 Making Sense of the Big Picture
If you go on the assumption that with the seven defensemen to start the year with the parent Edmonton Oilers will be Jeff Petry, Justin Schultz, Andrew Ference, Martin Marincin, Nikita Nikitin, Mark Fayne and Keith Aulie and none of which would be available to the Barons, at least to start the season, the picture becomes a little clearer.
Following that logic, it would seem that top prospect Darnell Nurse will be destined to return to junior hockey for another season, hopefully with a trip to the World Juniors in his future.
In the Mix
Including the names mentioned above, there will be more than ten defensemen vying for spots on the opening day roster.
Regular returnees from last season Hunt, Klefbom, Musil, Gernat and Davidson will be assured spots going into camp, which leaves places six and seven on the depth chart up for competition.
One of the odds on favourites will be UND grad Dillon Simpson, who leaves a successful college career for the pro game. A smart, two way defenseman, Simpson will remind many of the departed Taylor Fedun.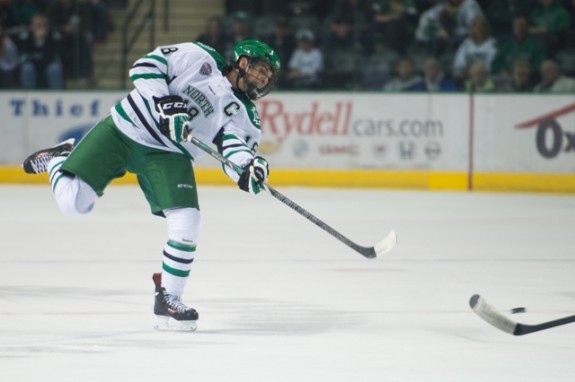 Battling for a final spot will be Oesterle, Ludwig and Craig, who have just 5 games of pro experience between them, or Joey Leach who is in his second pro season after playing a full ECHL year in Bakersfield already and comes from a very successful WHL career.
Of the latter group the name with perhaps the most potential is Oesterle, who comes from a college career at Western Michigan and played under Andy Murray. Similarly to Simpson it will be a case of whether they can impress enough to earn regular ice time right away, or if a stint in the ECHL would be best for their development.
His former coach certainly thinks he has what it takes to succeed;
"I know if Jordan had stayed another year with us, about 20 (NHL) teams would have been interested in signing him," Murray said. "His skating is exceptional, good vision, competes hard defensively, smart player, outstanding student. I'd say he needs to put on a little bit more muscle mass."
Potential Top Six
Here's a look at what a potential depth chart could look like for the Barons heading into the 2014-15 season:
Klefbom – Hunt
Musil – Gernat
Simpson – Davidson
Oesterle – Leach
The only wrinkle in the group and one that the Oilers may look to address before camp is the fact that all eight defenseman listed are left-handed shots. It would be surprising if there wasn't at least one more AHL veteran blueliner added in the next few months, but until that point the Barons will be left-handed heavy.
It could give someone like C.J. Ludwig a leg up as a right-handed shot, although it would be very unlikely that he and Craig don't start the season in the ECHL.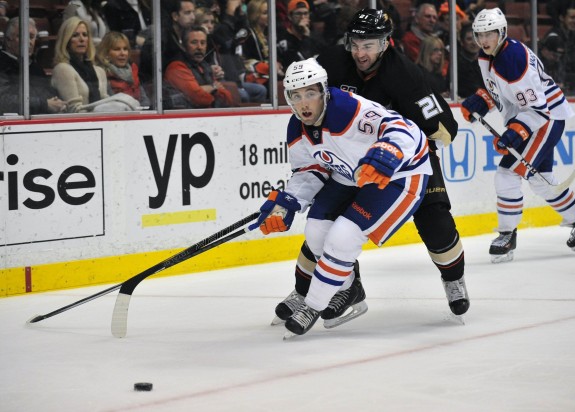 Should the Barons start the year with this lineup, it will be one that brings a lot of interest with it. First because of the age as the elder statesman of the group will be Hunt at 26 and no other member over the age of 23 to start the season.
It's a group that will be hard to predict, as with many teams that have players early in their pro careers. The Barons defense struggled defensively last season, and there is certainly the possibility for this group to do the same. There is however, an upside based on their youth and potential that should be exciting for Oilers fans.