As summer begins to wind down, training camps will soon be underway and hockey will be back on our televisions. However, expansion talk has picked up during the past few days despite the fact the NHL is firm on its stance that no expansion is imminent. However, that doesn't stop fans and beat writers alike from discussing the possibilities of an expansion draft.
The last time the NHL had an expansion draft was in 2000 when the Minnesota Wild and Columbus Blue Jackets were added to the league.
The NHL has said expansion is not happening right now, but if the league were to expand today, who should the Red Wings protect in the draft? There are a couple of options to choose from, based on the rules from 2000.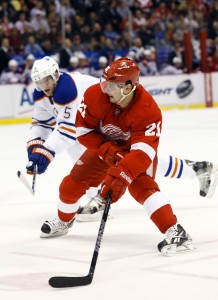 Option 1: Protect one goalie, five defensemen, and nine forwards. There is no experience requirement for the goalies left unprotected. One defenseman and two forwards left unprotected must have played at least 40 games in the year before, or 70 games combined over the last 2 years.
Option 2: Protect two goalies, three defensemen, and seven forwards. In this scenario, every goalie left unprotected must have played in 10 games the previous season, or 25 games combined over the last 2 years. One defenseman and two forwards left unprotected must have played at least 40 games in the year before, or 70 games combined over the last 2 years.
In both scenarios, first- and second-year players are automatically exempt. In addition, all unsigned draft picks are exempt unless they are from European clubs and were drafted at least four years prior. 
Also important to add: This strictly involves roster players, so you don't have to worry about players in the AHL like Mitch Callahan, Petr Mrazek and Teemu Pulkkinen being unprotected.
Since there is some uncertainty when it comes to the Red Wings roster, we'll assume Tomas Jurco is being sent down to Grand Rapids, and Daniel Alfredsson has re-signed.
Red Wings Protected Players
Forwards
Pavel Datsyuk
Henrik Zetterberg
Gustav Nyquist
Tomas Tatar
Riley Sheahan
Darren Helm
Stephen Weiss
Daniel Alfredsson
Johan Franzen
Defenseman
Niklas Kronwall
Jonathan Ericsson
Brendan Smith
Danny DeKeyser
Kyle Quincey
Goalie
Jimmy Howard
Yes, you are correct in noticing that I included both Weiss and Quincey in my protected list. As terrible as Quincey has been for the Red Wings, he's better than the alternative of Jakub Kindl and Brian Lashoff, so to me, this is quite the no-brainer.
As far as Weiss is concerned, he had one bad year in which he tried to play through a sports hernia injury and was never playing at 100 percent. I'll give him a pass on last year and hope he lives up to his contract this season.
That leaves Daniel Cleary, Joakim Andersson, Justin Abdelkader, Luke Glendening, Drew Miller, Jonas Gustavsson, Kindl and Lashoff as the remaining players. Glendening would be automatically protected since he just finished his first year, and the rest of the players would go into the draft.
Abdelkader was hard to leave off from an emotional stand point, but Sheahan fills the same role and has a better set of hands. Miller is great on the penalty kill, but Helm can do that just as well, plus he has lightning-quick speed.
Andersson took a step back last year, and I'm not as high on him as I used to be, and Cleary should have been gone last year, but we all know that story. Glendening can be replaced and despite Gustavsson's performance last year, he will never be Howard.
Who would you protect?