Hello or bonjour ladies and gentlemen! Today we put Andrew Berkshire on the hot seat as we presented to him a dirty dozen of questions about the Montreal Canadiens. Andrew writes for Habs Eyes On The Prize, hosts a radio show called Ice Level and does a lot of work for SB Nation.
Here are the questions we had for the managing editor/writer/radio/social media man. These are his answers. Enjoy!
---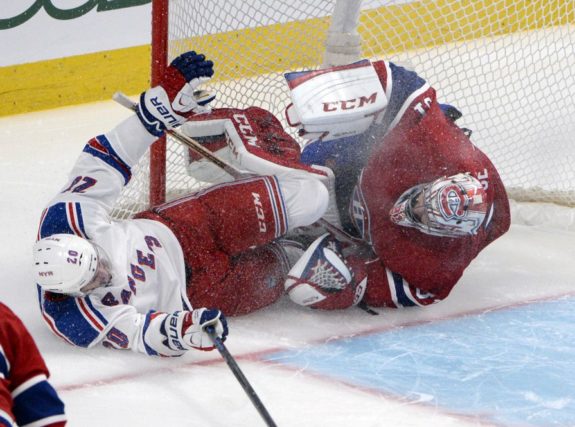 1. We hit hard right away. Was what Chris Kreider did to Carey Price intentional or accidental?  
I'll go with a combination, it was accidentally-on-purpose. What I mean by that is the Rangers were running Price all game, clearly hoping something would happen to shake him up. It was part of their game plan, which makes sense since he had a nearly perfect record against them the last few years. Did Kreider mean to injure him? Nah, but he certainly didn't care if he did, and made no effort whatsoever to avoid contact.
2. The Montreal Canadiens surprised a lot of people by defeating Boston in Round 2. Have you ever seen a team get under the skin of another like that?
Montreal does that to Boston all the time. The Bruins have an entitlement about them that they should be allowed to do whatever they want and deserve to win, and as soon as teams don't wilt before them they lose their cool. The Canadiens have figured this out and have used this to their advantage for years now.
3. Montreal hockey fans are known for their fiery debates. What was the one debate or meltdown that surprised you the most?

Nothing really surprises me in this town, but I do find it odd that there is such a fetish for big players in Montreal, with a constant stress from fans and media that the team needs to get bigger, lest they be bullied by big teams like the ones they beat in the playoffs last year.
4. How would you grade what Montreal did at the draft and free agency? Why?

If we're doing letter grades I would go with a B+. Overall I really liked what Bergevin and his management team did. Tom Gilbert is an underrated and underpaid top four defenseman who is an upgrade on Josh Gorges and plays the right side, which the Canadiens desperately needed. I loved the Scherbak and Audette picks, though the rest of the draft was underwhelming. Bergevin would have received an A, but there is still a pretty big hole on the right wing, and I'm not sure Jiri Sekac can fill it.
5. What went wrong with Doug Murray in Montreal?   

He's not an NHL calibre player, and it took until the brink of being eliminated for the Habs to realize it, or admit it. He can't skate or handle the puck, which are pretty much the most important attributes of a hockey player.
6. How can the Montreal Canadiens improve from last year? What are the keys to competing in an improved division?
The Canadiens need to change their style of play drastically. Last season they were very focused on dumping the puck in instead of carrying it across the blue line, and they played a very simple defensive scheme where they swarmed the puck carrier and chipped the puck off the glass and out. Neither of those are good strategies, and they changed in the playoffs to great success, which hopefully they retain.
7. How many tears are shed on a daily basis over Ryan McDonagh?
Not that many. Obviously it was an awful trade, but when you're watching P.K. Subban rip up the league you don't think about Ryan McDonagh a lot. There's also the consolation that if the Canadiens had kept McDonagh, they likely never would have fallen far enough to select Alex Galchenyuk.
8. Does anyone know whatever happened to Angry Sal? Was his rant the best ever in Montreal?
I guess the Habs got good and he stopped complaining? No idea.
9. What is your biggest concern going into the season? Forwards or defense?
Neither really, my biggest concern for the Canadiens is coaching. Michel Therrien has the capacity to be a good coach, but for most of last season he held the team back. At some point he has to get out of the way and let the skilled players reach their potential.
10. What prospects in the system could make the jump this year? Is there someone that even scouts are missing?
The ones everyone will be watching are Jiri Sekac and Jacob de la Rose, but I would keep an eye on Sven Andrighetto and Charles Hudon. Andrighetto is a speedster with a wicked shot and a small, muscular frame, making him difficult to get off the puck. Hudon is an elite level thinker of the game who has hands to match. His skating isn't great but he's so cerebral that it might not matter.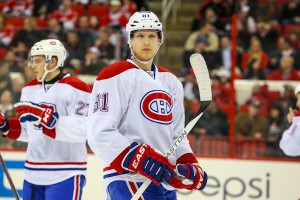 11. Does Lars Eller made the jump into the top six at long last?
Eller should have been given this chance long ago, but now might finally be the time. He won't get it right away, but there is a lot of pressure on all three centers to produce with Galchenyuk knocking at the door, so we could see a trade, or one moving to wing.
12. So what is the final verdict for the Montreal Canadiens? Division? Playoffs?
I think the Bruins will own the division for another year, but the Canadiens should make the playoffs without much of a problem. They're too good of a team to not make it at this point.
---
Ottawa will be up next then Toronto and Buffalo. Thanks for reading once again!