By now, most of you know that there is an optimism surrounding the Columbus Blue Jackets.  Making the playoffs and giving the Pittsburgh Penguins everything they can handle in the first round is a sign of great things to come.  Columbus has been starving for a winner ever since the franchise came to be back in 2000.  There are many reasons that support the notion that Columbus is on the rise (better drafts, stable front office etc.)  But there is one thing that really stands out in Columbus, that doesn't get nearly the attention it deserves. It (or in this case, he) is truly a hidden gem that is about to become more known in the NHL.
I went out to social media and posed a question to fans.  The question was, "Just off of the top of your head, name 3 things that come to mind when it comes to Blue Jackets hockey.  The whole idea behind this was to see if this "hidden gem" would be mentioned at all.  We got a lot of great answers, but as expected, the "hidden gem" was not mentioned.  Take a look at what some had to say about Blue Jackets hockey:
https://twitter.com/weanus22/status/504625250190249984
@CBJTherapy BOB, the cannon, young guns

— beth (@thebethjane) August 27, 2014
@CBJTherapy Boomer, 5th Line, Little Turds

— The CBJ Artillery (@TheCBJArtillery) August 27, 2014
@CBJTherapy Fun, Friends, Game 4.

— DKM Hockey (@DKM_Hockey) August 27, 2014
@CBJTherapy Bobrovsky, @NationwideArena & Hustle.

— Jamie Grube (@jbgrube21) August 27, 2014
Again, these are very good answers.  They accurately describe Blue Jackets hockey.  It proves the point even further that this "hidden gem" is truly that.  Any idea who we are referring to yet?  Columbus fans surely know how important he is.  A good majority of fans know of him.  We are referring to none other, than Blue Jackets Head Coach Todd Richards.
A True Hidden Gem
When you think of current NHL Head Coaches, who comes to mind?  Some of you would say Mike Babcock, Darryl Sutter, Joel Quenneville, and rightfully so.  These coaches are great.  This is one of the main reasons Todd Richards is a hidden gem.  He is quietly turning this franchise into a perennial contender.  But you really don't hear too much about him in the media.  The coaching staff led by Richards is going about this the right way.  They are truly building this franchise up brick by brick, piece by piece.  The way that this is happening doesn't get a bunch of national attention, as evidenced by having only 1 National Television game this upcoming season.  But it doesn't take anything away from the job Richards is doing here.  In fact, do not be surprised at all if he is in contention to win the Jack Adams award for Coach of the Year.  Richards has two things going for him that make him a great coach.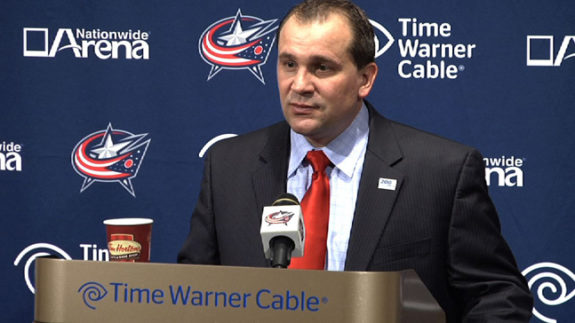 A Background of Winning
For the most part (with the exception of his time in Minnesota), Todd Richards has been a winning coach.  He has enjoyed success both in the minors and in the NHL.  He was an assistant coach in Milwaukee for 4 seasons.  Milwaukee made the playoffs in each season he was there.  In 2004, Milwaukee won the Calder Cup Final.  Richards then became the head coach of the Wilkes-Barre/Scranton Penguins in 2006.  In his 1st season, he led the Penguins to 51 wins.  Richards then became an assistant in San Jose for the 2008-2009 season.  The Sharks record that season, 53-18-11.  The Minnesota Wild then hired Richards to be their head coach in June 2009.  Richards did have a winning record in the 2 seasons he was there, going 77-71-16.  However, the Wild narrowly missed out on the playoffs in both his seasons, which led to his firing in April 2011.  In June of that year, the Blue Jackets hired Richards as an assistant under Scott Arniel.  Arniel was fired in January 2012 after a slow start.  Richards was named the interim head coach as a result.  Then on May 14, 2012, Richards signed a new contract, making him the full time head coach of the Columbus Blue Jackets.  He has been in many places.  But, in most every place he has been, he has been a winner.  Richards was also part of the Team USA coaching staff in Sochi.  Although Team USA didn't win a medal, the experience of being on that coaching staff has made Richards better.  He has brought a winning attitude to Columbus.  The results are speaking for themselves.  The culture of hockey in Columbus has completely changed since Richards has been their coach.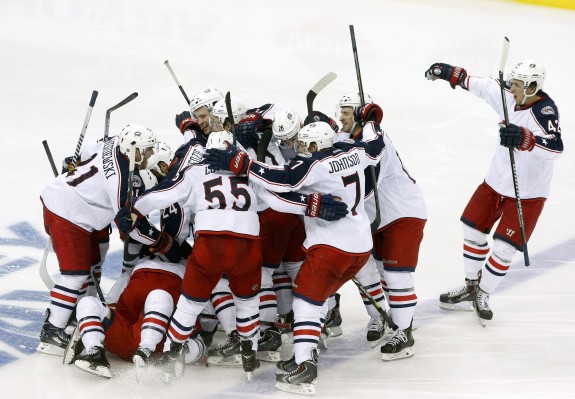 Coaching Without Fear
This is what makes Richards a great coach now.  Richards is willing to make tough decisions, in the best interest of the team.  Imagine for a minute that you are an NHL head coach.  Now imagine that you are coaching great players who are badly struggling.  Would you have the guts to make these players a healthy scratch?  Richards had to make this decision on 2 different players.  Each time, he was willing to move forward with the decision.  Those players were R.J Umberger and Cam Atkinson.  Scratching a veteran like that might not be a very popular decision.  But in Coach Richards mind, it was the right thing to do.  These kinds of things can be the difference between making and missing the playoffs.  The message that was being sent here was loud and clear.  If you wanted ice time, you needed to perform.  It didn't matter who you were.  Other players saw this, and knew they needed to elevate their game just to stay in the lineup.  It creates healthy competition.  It makes players better.  This is what makes Todd Richards great now.
The Blue Jackets are very fortunate to have a coach like Todd Richards leading them.  His no nonsense, straight forward attitude is creating a culture of winning and expectations like Columbus has never seen before.  Soon, there will be a major headline written about him.  It will read, "Todd Richards: Newest Jack Adams Award Winner."  Columbus already knows how good he is.  Soon, the rest of the country will know too.