At this point in the offseason, there's really not too much happening in the hockey world. A player may get signed here or there, but that's about it. On the bright side, though, the season is approaching quickly and that makes this the perfect time to get to know the team you'll be following for the next eight months. In my opinion, it's always fun to know some weird little facts about your favorite players. It makes watching the game more personal and it's easier to follow a team when it seems like the players and the fans have an actual relationship. So without farther ado, here are five interesting tidbits about some members of the Minnesota Wild:
1. Bruce
Every Minnesota Wild fan knows the name Mikael Granlund, but you might not all know that during the season, he primarily goes by the nickname "Bruce." According to the StarTribune's Michael Russo, the name Bruce comes from Granlund mistakenly calling his teammate Zach Parise "Springs." Parise's nickname is "Brinks," like the money trucks, but apparently Granlund wasn't aware of this. The Finn addressed Parise as Springs, thinking the nickname was given to him because he used to play in New Jersey, like Bruce Springsteen. And that's where it all began. Now the entire team apparently yells "BRUCE" whenever Granlund enters the room. So if you ever hear someone yelling "Bruce" out on the ice, know you'll know why.

2. Jay-Z
If Zach Parise could be anyone for a day, he'd choose to be Jay-Z. "He's got a lot going on. He's got that empire. It'd be interesting to see," the Minnesota native said in a recent interview with Bob Sansevere of the Pioneer Press. He even could change his name for that day and go by like, Pari-Z. The just rolls off the tongue.
3. American Idol
Josh Harding prefers the television show American Idol over Survivor, although he mentioned that he thinks he would be better at Survivor. He certainly has proved throughout the past two years that he has perseverance, so he probably has some solid survival skills, as well. However, I'd like to hear him sing just so I could fairly judge this.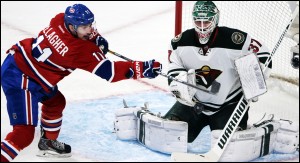 4. First Job
The Minnesota Wild's Game Seven hero, Nino Niederreiter, hasn't always made money by scoring season-saving goals. The native of Switzerland began his working career as a plumber. I'm not sure how one goes from plumber to professional hockey player, but I'm glad he did. Or I'd still be bitter about losing to the Avalanche.
5. Best Finn
The Minnesota Wild has a pretty strong group of Finnish players, including Mikko Koivu, Niklas Backstrom, and Mikael Granlund. However, Mikko Koivu was voted "Best Finn" on NHL.com and was also selected to be the cover boy for the Finnish version of the NHL 10 video game. Not only was the Wild captain a video game cover boy, but he has also been a member of the Finnish military, as all Finnish men are required to serve at least six months. He didn't stop at military service, though: Koivu also owns a suite at the Xcel Energy Center that he donates to children with serious medical conditions. He even donated two rooms to the neurology and epilepsy unit at the Children's Hospital and Clinics of Minnesota. If that doesn't make him the best Finn, I don't know what does.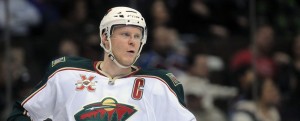 6. Ping Pong Champion
If you're a hockey fan, you've probably at least briefly heard about the Smashfest. If not, here's a quick summary: It's a yearly ping-pong tournament founded by the Rangers' Dominic Moore to raise money and awareness for concussions and rare cancer research. It's only been an event for the past three years, but Wild forward Stephane Veilleux has dominated the tournament for two out of the three years. Who would've guessed the Canadian was a ping-pong pro. Hopefully he's as good with a hockey stick this year as he was with a paddle.   So there you have it. The offseason is boring, but at least you hopefully learned something interesting about your favorite team today. Bonus: Charlie Coyle's favorite animated movie is Mulan.