A team that is in full re-build mode has many obstacles facing them as they stare down opening day of the upcoming season.  The busiest days during the summer for NHL teams have come and gone, with the focus now shifting from roster additions to potential roster moves to playing lines.  As a fan all you can do is wait and see if all the work pays off.
For fans of the Buffalo Sabres it is a bit different.  The thoughts of raising a Stanley Cup are a bit farther off in the distance, but certainly attainable.  The Sabres are now "all in" on this re-build, and still have work to do.  Fans have a right to be excited about the future, but can't lose sight of what the goals are.  It will be a difficult season, as many of the players are still maturing and still have plenty to learn, but when the success run starts it is going to be fun to watch.  Fans were given an early glimpse during the development camp, where they got to see 2nd overall pick Sam Reinhart lace up his skates, along with players like Mikhail Grigorenko, Nikita Zadorov, and Rasmus Ristolainen, while competing in a three-on-three tournament.
The chances of the Sabres climbing out of the cellar this season still remains a bit unlikely, but there is still plenty of games to look forward to including but not limited to these five.
What to Watch For
5. Los Angeles Kings vs Buffalo Sabres (December 9th First Niagara Center)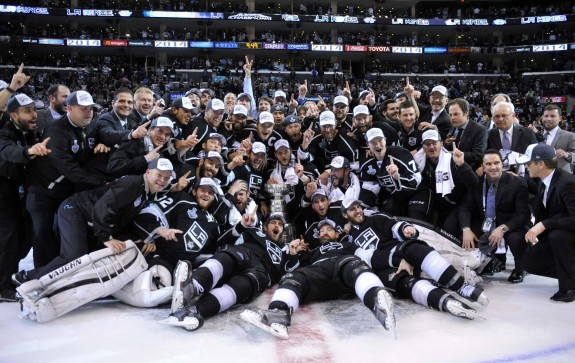 Anytime you play host to the champs is a game worth noting.  The Sabres have to wait a couple of months for that, but will invite the Los Angeles Kings to western New York for a tilt in December.  Theses two teams split the two-game season series last year with each team winning at home.  The games happened pretty early on in the schedule last season to know that one of the teams would be at the top, while the other at the bottom.
Another thing worth noting is that Sabres head coach Ted Nolan's son Jordan plays on the Kings.  Last season, Ted Nolan was re-hired by Buffalo the day after the Kings and Sabres played.
4. Buffalo Sabres vs Toronto Maple Leafs (October 28th Air Canada Centre)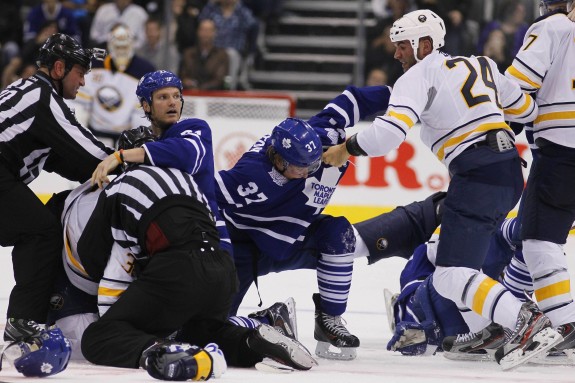 This is a rivalry, that no matter how well or how poor either teams are playing, is full of action and intensity.  Opposing fans turn out in droves mainly to taunt the other fans, but to cheer on their favorite team in enemy territory.
In the five games these two teams locked horns last season, three of them needed extra time, with two needing a shootout.
3. Buffalo Sabres vs Montreal Canadiens (November 29th Bell Centre)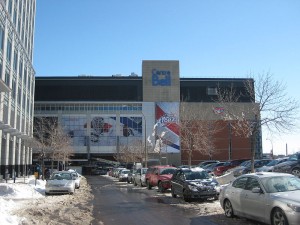 Divisional games are not only important, they are also usually a bit more exciting.  Add in the element of former players returning back to the city they once called home adds a whole different element.
Brian Gionta and Josh Gorges are both former Habs.  Gionta spent the last five seasons in Montreal, while Gorges manned the blueline for eight seasons.  This is the first game for both of them since being acquired by the Sabres by free agency and trade respectively.
Montreal won all four meetings last year, shutting out the Sabres twice.
2. Minnesota Wild vs Buffalo Sabres (January 15th First Niagara Center)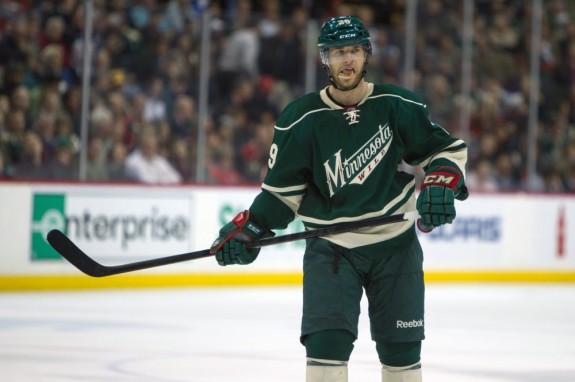 The Minnesota Wild come into town in the beginning of 2015.  The Sabres will face two of their former captains when Jason Pomminville and Thomas Vanek skate together as teammates for the Wild.  Matt Moulson also has a connection with Minnesota, as he was traded by the Sabres to the Wild last season at the deadline.  He returned to Buffalo signing a free agent contract during the offseason.
Emotions undoubtedly will run high for both Pomminville and Vanek.  Both players were drafted by Buffalo and spent nine seasons there, before being shipped out of town on separate deals one year apart.
1. Vancouver Canucks vs Buffalo Sabres (February 26th First Niagara Center)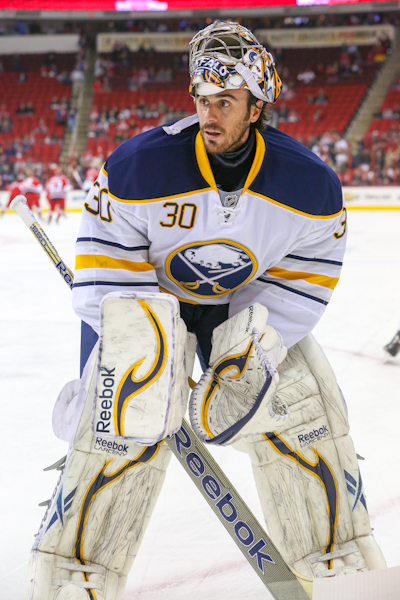 The return of Ryan Miller.  This is going to be a very difficult game for fans and players.  Ryan Miller was a huge part of the Sabres until being dealt to the St. Louis Blues last year.  He signed a rather lucrative contract this offeason with the Vancouver Canucks.  This will be the first time that we will come to town dressing in another team's sweater.  There will be cheers and jeers as is the case when former players return.
It is unfortunate that Miller wasn't able to see things though in Buffalo during the difficult transition period.  There were plenty of great moments with him in net for the Sabres, but it was never capped off by hoisting Lord Stanley's Cup over his head.
There are plenty of other games to keep track of during the season, this just happens to be ones that stand out a bit more for various reasons.  So sit back, relax, and enjoy the ride.  Its going to be bumpy for a bit but will be glorious when it is all said and done.