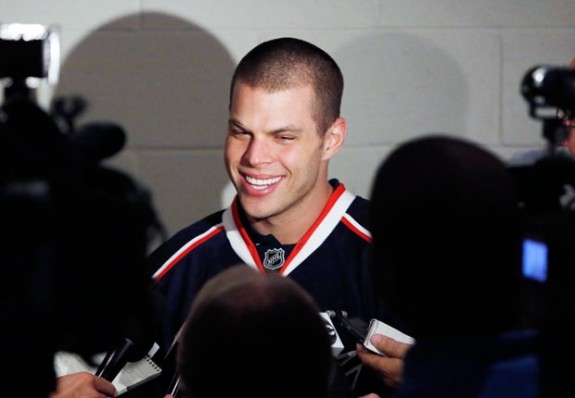 State of the Union Blue Part 3: Forwards
In the final part of this series, we will take a look at the state of the Columbus Blue Jackets forward unit going into this season.
If there is one word that will summarize the current state of the Columbus Blue Jackets forwards, it is competition.  With the exception of a couple of top players, roster spots in training camp will be an open competition.  And that is a very good thing right now.  This franchise is not used to having this kind of depth throughout its organization.  There is a real good mix of veterans and young talent on this roster, especially at the forward position.  Just because a player made the roster last year, doesn't mean they are guaranteed a spot this year.  The competition will be extremely fierce.  There will be surprises.  Let's now take a look at the current state of the Blue Jackets forwards, and what we can expect to see come October 9th.
Ryan Johansen
In what seems like a story that will never end, Ryan Johansen will be signed, and will be ready once training camp opens.  There has been a lot of nervousness in regards to these contract negotiations.  However, there is nothing to suggest that anything unusual is happening.  Both sides have been going back and forth in these negotiations.  After a period of time in which there wasn't much communicating, things may be starting to slowly come together for Johansen and getting a new contract.  There is work left to do.  But there is no doubt Johansen wants to be a Blue Jacket.  He has publicly acknowledged that.   The business side of hockey will run its course, and Johansen will be ready to prove that last season's 33 goals was not a one year wonder.
Puck-rakers: After a long frost, talks between #CBJ and C Ryan Johansen appear to be progressing http://t.co/V9yAxNOa2p

— Aaron Portzline (@Aportzline) July 20, 2014
Scott Hartnell
There will be a very noticeable new addition to the forward lineup this season.  Scott Hartnell joins the Blue Jackets, after he was traded from Philadelphia, for R.J Umberger.  Hartnell is exactly the kind of player Columbus needed.  He also fills a gaping hole on the left wing.  Whether he will be put on the top line to Ryan Johansen's left, or put on the 2nd line to Brandon Dubinsky's left, Hartnell will make it that much more difficult for opponents to play against the Blue Jackets.  He also brings leadership.  He will make his teammates better on and off the ice.  That is the most important thing Hartnell will bring to this team.  The locker room got 100 times better as soon as the trade was announced. The league had better take notice.  Columbus will need to be reckoned within the Eastern Conference.
Nathan Horton
Remember him?  He spent most of last season out recovering from shoulder surgery.  He appeared in only 36 games, scoring 5 goals and 19 points.  Fans as a result started thinking back to some of the other acquisitions that didn't pan out (Jeff Carter, Marian Gaborik) and thought here we go again.  This situation is different.  Horton didn't have an offseason to be able to prepare for the season.  He came back into the lineup, and you just knew he wasn't anywhere near himself.  This time around, he has been in Columbus working out.  He is expected to be at training camp 100% healthy.  As of now, the projected top forward line is slated to be Horton, Johansen, and Boone Jenner.  This forward line will be the offensive surprise of the season.  Regardless, Nathan Horton will be the key to the season.  His play will determine how far Columbus goes this season.  Blue Jackets Play by Play announcer Jeff Rimer had the chance to discuss Horton, Johansen, Jenner, and Hartnell in this interview with President of Hockey Operations John Davidson.
Other Storylines to Follow
There are some very intriguing storylines to follow once training camp does start up.  Which Cam Atkinson are we going to see, the one who got scratched, or the one who has the talent to be a sneaky 30 goal scorer?  He has a chance to slot in on the 2nd line with Brandon Dubinsky, depending on how training camp goes.  He will also become a Restricted Free Agent after this upcoming season.  The same can be said for Matt Calvert.  Both players have very important seasons upcoming.  Their performance will be under the microscope even more, given the young talent in the organization.  What about next season's pending Unrestricted Free Agents in Nick Foligno and Mark Letestu?  Will this be their last season with the Blue Jackets?  They have pressure to perform as well.  What about the newest Blue Jackets, such as Brian Gibbons, or Jerry D'Amigo?  They can find a roster spot too with a good camp.  What about the kids like Alexander Wennberg, Kerby Rychel, and Marko Dano?  Hey, Boone Jenner and Ryan Murray made the team last season when they weren't expected to.  I haven't even mentioned Artem Anisimov, Jared Boll, or Corey Tropp.  See what is happening here?  There is depth rarely seen in the history of this franchise.  There will be competition.  To make this lineup will be very challenging for some.  And those who do make the lineup can't relax, or else they'll find a seat in the press box.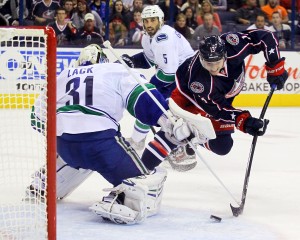 So in conclusion, the state of the Blue Jackets forwards is looking very bright.  There are many question marks about what the opening day roster is going to look like.  Regardless of who makes it, we'll know that it was earned in open competition during training camp.  Columbus has never been in a better position to open a season.  Now will this translate to regular season success? Only time will tell.  But for now, enjoy thinking about what the future holds for this team.