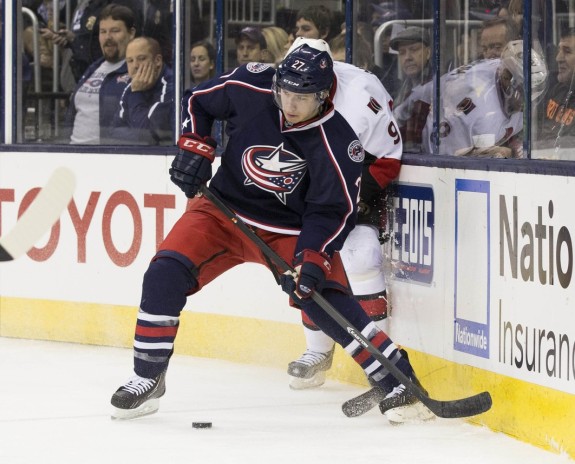 State of the Union Blue Part 2: Defense
In the second of a three part series, we are going to look at the state of the Columbus Blue Jackets defense for the upcoming season.
Think for a moment about the power of a Joker in the game of Poker.  You are sitting there with your five cards, holding a pair of Aces.  You trade the other three cards in hoping to improve your hand.  You pick up the first two, and discover that you got a pair of Kings.  Now you are holding on to two pair, Aces and Kings.  You pick up the last card, and it's a Joker!  Now you are sitting on a Full House rather than just Two Pair.  Quite a difference that the Joker made, right?  In Poker, that final card is considered a Wild Card.  That Wild Card changed the make up of your hand in a dramatic way.  The Wild Card can be a good card, or a bad card.  For instance, if that last card was a deuce instead of a Joker, the hand would have been much worse off.  That is the power of a Wild Card.  This concept of the Wild Card can also be applied in hockey.  For the Columbus Blue Jackets, the Wild Card that we are talking about is their defense.  The way that this unit performs will go a very long way in determining how their season will go. If it goes well, then the end of this video will repeat itself: A Trip to the Playoffs.
We for the most part know who is going to be a part of the defense in Columbus. But what we don't know is how the season is going to unfold.  There are many questions that need to be asked.  We are going to analyze this defense from top to bottom, and ask the really tough questions.  We will then attempt to predict how this season will unfold.  Is there a reason to be excited in Columbus?  Absolutely!  But at the same time, is there a reason to be nervous about this defense?  You better believe it!  As good as last season turned out, there are some numbers that should concern you.  The Blue Jackets ranked 20th in Shots Against at 30.8 per game.  Sergei Bobrovsky had a major hand in minimizing that damage.  That said, there are four other categories in which the Blue Jackets ranked 18th or worse in.  Those being winning after allowing the first goal (18th), winning after getting the first goal (18th), winning when leading after the 1st period (20th, lost about 27% of time), and winning when leading after the 2nd period (19th, lost about 17% of time).  Those percentages may not seem like much, but over a season, those points determine who makes the playoffs and who doesn't.  Let's now look at who will be a part of the Blue Jackets defense for the upcoming season.
 Jack Johnson/Fedor Tyutin
And the questions start right away with this projected top pair.  Jack Johnson is entering his 9th NHL season.  He played all 82 games last season for just the 2nd time in his career.  For that effort, he finished as the Blue Jackets leader in ice time, but finished with a +/- of -7.  To make matters worse, his Corsi For % at 5 on 5 last season finished at 47.9%. So in other words, he was on the ice for more goals against than goals for, and is not a good possession player.  There were times last season, especially in the playoffs, in which there were flashes of how great this player can be.  There is the question.  Which version of Jack Johnson will we see in 2014-2015?  Will we get the version that played with fire and purpose during the Penguins series?  Or will we get the version that has underwhelmed most of his career?  Though the numbers have been better recently, he is still a -97 for his career.  In fact, Johnson has finished as a plus player only once in his career.  His production this season will go a very long way in determining how the Blue Jackets fare.
Fedor Tyutin is now entering his 11th season in the NHL.  He is coming off a year in which he finished with 26 points and was a +6.  He was steady for the most part.  He does have a couple of questions that need to be asked.  He just turned 31 on July 19th.  He does have some miles under him now.  Will age start to become a factor with him this season?  Like Johnson, Tyutin is a career minus player, checking in at -30.  In fact, this pair checks in with a combined +/- of -127!  For a number one pair on defense, that's almost unheard of.  Now that there is more stability on the roster in Columbus, will we see a massive turn around from what their careers have been to this point?
 James Wisniewski/Ryan Murray
Here is where things start to get brighter for the Blue Jackets defense.  James Wisniewski is entering his 10th NHL season.  He finished with 7 goals and 51 points this past season.  He also finished as an even player.  Ever since he has settled in with Columbus, he has brought his game to a new level.  In now his 4th season with the Blue Jackets, he brings a presence not only to the defense, but to the power play as well.  Many fans look at his high number of giveaways as a bad sign.  Yes, there are some bad plays in there, mostly as a result of trying to make the big play, but there is an underlying factor that makes him very valuable to Columbus.  He leads all Blue Jackets defense men in Corsi For 5 on 5, at 54.1%.  For all the turnovers he makes, he makes up for that and then some in his possession stats.  Even more, he makes others around him better.   Can he keep this trend going?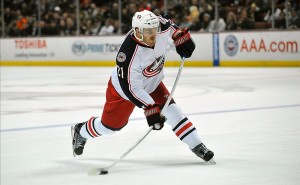 Ryan Murray was the surprise player last season who made the Blue Jackets right out of training camp.  He was the 2nd overall pick of the 2012 Entry Draft.  He came into camp and earned his spot.  He followed that up with an impressive rookie campaign, tallying 21 points in 66 games and a +4 rating.  He also finished with a Corsi For of 51.6%.  He also missed time due to a leg injury last December and January.  The obvious question for Murray is, can he stay healthy and play the whole season?  He showed no ill effects of the leg injury once he did return.  The Blue Jackets played with a high level of confidence with him out on the ice.  Can he avoid the sophomore slump that has hit so many before him?
 Four Players, Two Spots
The third defensive pair will be comprised of the two that have the best training camp.  The players in the hunt are David Savard, Dalton Prout, Tim Exiron, and Cody Goloubef.  Compared to the top two pairs, there is a definite lack of overall experience.  Could this be the weak link in the Blue Jackets roster?  The front runners as of now to fill these two spots are Savard and Prout.  Each of them got new contracts this offseason.  Savard came into his own last season and finished with 15 points in 70 games, while finishing with a +2 rating.  Prout played in just 49 games, and finished with a -7 rating.  Look out for both Exiron and Goloubef.  Exiron signed a new contract this offseason.  What made it interesting was the fact that the contract was a one way contract.  Belief on the Blue Jackets is that he will be given every opportunity to make this roster and contribute on a regular basis.  Remember, Exiron was part of the Rick Nash trade, in which Columbus acquired Brandon Dubinsky, Artem Anisimov, Exiron, and a 1st round pick, which turned into Kerby Rychel.  Exiron does have NHL experience, playing in 51 games over 3 seasons.  He is certainly a name to watch when Training Camp does get underway.  Goloubef did appear in 5 games last season for Columbus, primarily when injuries hit the team.  He has played in 17 NHL games in his career.  Can any of these four make a statement during camp to be consistently put in the lineup everyday?
Puck-rakers: #CBJ D David Savard signs two-year deal after first full NHL season http://t.co/Pei6cCrNfG

— Aaron Portzline (@Aportzline) July 5, 2014
The Blue Jackets have been known in recent years to be slow starters.  Will this finally be the year that the defense stabilizes the team to a point in which it starts fast, and stays consistent for the whole season?  That is the Wild Card here.  If the defense performs above expectations, don't be surprised to see them in the Eastern Conference Final.  Otherwise, don't be surprised if they miss the playoffs entirely.  Defense is truly the Wild Card for the 2014-2015 Columbus Blue Jackets.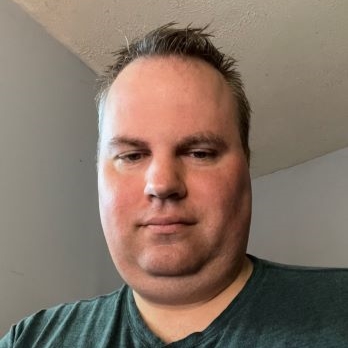 I am a fully credentialed writer who covers the Columbus Blue Jackets, Cleveland Monsters and Erie Otters as well as the Ontario Hockey League and NHL Draft. The 2022-23 season will mark nine seasons with the Hockey Writers. I am also the site's Credentials Manager. Please take note of the updated Twitter handle: @mark_scheig.