For hockey fans, summer time might just be synonymous with a waiting period of three months. Without any games being played, the NHL Draft, free agency, rookie camps, and scrimmages are probably the sole events that fans have to look forward to before enduring a layover that could feel like ages.
After watching a prospect scrimmage, Islanders fans are probably anxiously awaiting the start of the regular season – especially after signing players such as Jaroslav Halak, Chad Johnson, Mikhail Grabovski, and Nikolai Kulemin before and during the 2014 free agency period. Despite the fact that even preseason hockey might be a couple of months away, Isles fans sure do have some game dates to mark on their calendars for the upcoming season as there won't be a shortage of entertaining contests to see in person or on TV.
Mark The Dates
New Jersey Devils vs. New York Islanders (September 26, 2014 – Barclays Center)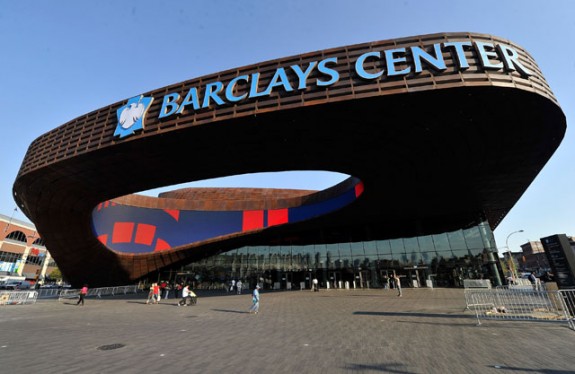 Yes, it is just a preseason game, but it's another game that could start getting fans somewhat acclimated to their future surroundings in Brooklyn. During last year's preseason, the Isles and Devils squared off at Barclays Center – with the Devils coming out on top by a score of 3-0 – and it seemed as though a good amount of people in attendance liked what they saw in regard to the Isles' future home.
Sure, the topic of a horseshoe shaped hockey configuration can be beaten to death, but for those that didn't get a chance to experience the Islanders at the Barclays Center last year, what better to end the work week for an Islanders fan? Catching a preseason game on television is one thing, but getting acquainted with the Isles' new home is something that fans should try to soak in – physically, mentally, and emotionally – before the move from Long Island occurs.
Carolina Hurricanes vs. New York Islanders (October 11, 2014 – Nassau Coliseum)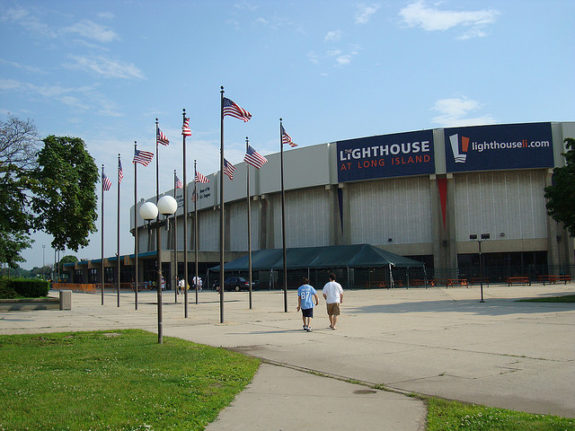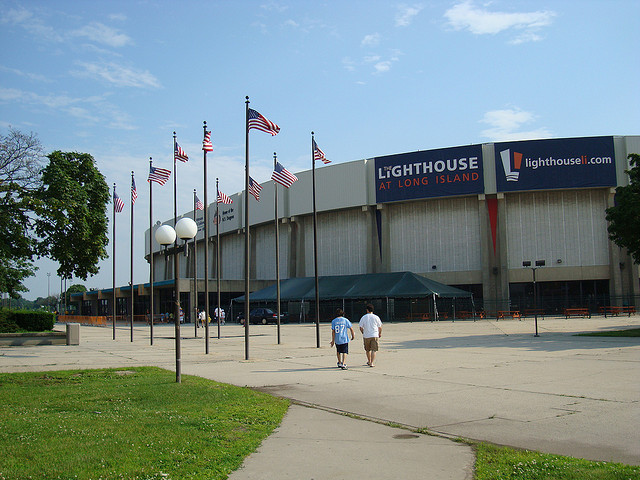 This will be the last Islanders home opener in Nassau Coliseum, so is there much more to be said?
Since 1972, the Nassau Coliseum has been home to Long Island's only professional sports franchise, and the Isles certainly didn't disappoint their fan-base when they became the darlings of the hockey world by winning four straight Stanley Cups during the early 1980s. Unfortunately, due to county politics and a myriad of other factors, the Islanders will leave a place that they have called home for the last four-plus decades.
Seeing as how the Isles will soon be former tenants of the Coliseum, it's only right that the team's last home opener in the Nassau Coliseum is played in front of a packed and lively house. While the Isles' home opener will only be one of 41 games played at the Nassau Coliseum this season, a full-fledged salute from the fans could definitely be expected, regardless of the opponent at hand.
New York Islanders vs. Toronto Maple Leafs (March 9, 2015 – Air Canada Centre)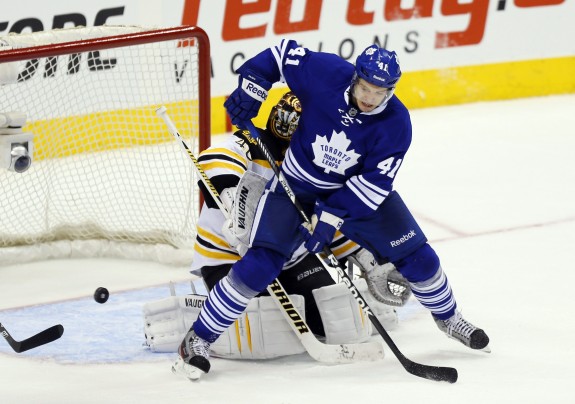 With the amount of luck Maple Leaf fans were wishing Mikhail Grabovski when he signed with the Islanders, it'll be interesting to see the reception that Grabovski and Nikolai Kulemin get when they return to Toronto. Add in the fact that Dion Phaneuf has a propensity to target John Tavares' head and this match-up could turn out to be a pretty feisty and entertaining one for the fans.
Of course, Islanders fans definitely do not want to see their captain and star player be injured by more of Phaneuf's antics, but the two teams always seem to have quality contests wherever they face off. With the first two games of the '14-'15 season between the Isles and Leafs being played at Nassau Coliseum, the fans in attendance will likely get a number of chances to serenade Grabovski and Kulemin in proper form. After all, who doesn't like welcoming back former players that contributed in one way or another to forming their team's previous mold and identity?
New York Rangers vs. New York Islanders (March 10, 2015 – Nassau Coliseum)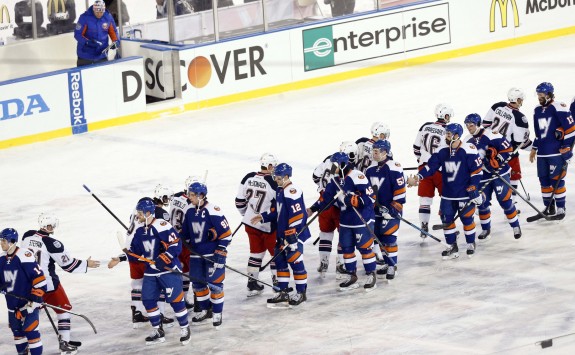 This could potentially be the last rivalry game between the Islanders and Rangers at Nassau Coliseum, unless of course the Isles secure a deal to play some of their future games in NVMC. Any Islanders or Rangers fan that has some understanding of the history between the two teams could appreciate the significance of this game as the tension between the two cross-town rivals has brewed for quite some time now.
With the Rangers making the Stanley Cup Final last year, bragging rights for the outcome of the season series might be at as high a level as it has been over the last few years. The Islanders and Rangers will meet five times during the '14-'15 NHL season, but the last match-up might carry the most importance for both teams as the regular season will be winding down and playoff seedings will likely be hanging in the balance. Decades of competition have made this rivalry one of the best in the NHL, and with so much potentially on the line at this stage of the season, there is definitely a reason to tune in for yet another Isles-Rangers match-up.
Columbus Blue Jackets vs. New York Islanders (April 11, 2015 – Nassau Coliseum)
This is it. The end. The last regular season game to be played at the Nassau Veterans Memorial Coliseum.
While tickets might be hard to come across for this particular game, Islanders fans far and wide will probably be tuning in to see this game. Hopefully the Islanders won't be playing their last game in Nassau Coliseum when this date rolls around as Isles fans will probably expect their team to vie for a playoff spot with a healthy roster, but the symbolic nature of this contest can't be underscored.
As previously mentioned, the Nassau Coliseum holds a special meaning to Islanders fans young and old, and for some it might be the last time that they get to see their favorite team play in Long Island. For an arena once dubbed "Fort Never Lose," Nassau Coliseum will forever hold a place in Islanders fans' memory, and even though the Isles are only moving to a different county that is still technically a part of Long Island, this game is more than likely going to stir up a multitude of emotions for loyal fans.
Which Games To Watch?
With so many games to choose from on the regular season schedule, Islanders fans will have quite some decisions to make when their team hits the ice. In a perfect world, Isles fans would be able to tune into every televised game or attend each of the team's 41 regular season games, but that certainly won't be the case.
In a year that is likely to be an emotionally charged one for the players, coaches, and upper management, fans should try to attend, or watch, as many games as they possibly can – whether the circumstances are rough or favorable. Having a bevy of games to choose from this season, certain games might not take precedence in terms of importance for some Islanders fans. However, one thing is for certain, and that is the fact that the aforementioned dates have the potential to be some of the more emotionally-charged games of the Islanders' '14-'15 regular season.