As those of you who have followed me all season are probably aware, I've soured on the Sharks. Every year prior to this one my thought process was that this would finally be the season to remember. However that glass half full attitude has turned to glass half empty. There is simply too much that needs to be turned around. If the Sharks are to go from pretenders (second place currently in the Pacific) to contenders (two strong playoff series minimum), the five following things must take place. In no particular order the Sharks need:
Patrick Marleau to Get Hot & Stay Hot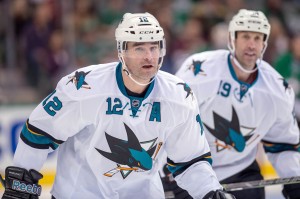 This season has not been a typical year for Patrick Marleau but it is not for lack of opportunities. Thus far on the season he only has nine goals and is on pace for well under his usual 30. However, with any puck luck at all this season, he would be on pace for more like 25 instead of 15. His shot totals have hardly decreased (still averaging over three per game) but his shooting percentage has free fallen. Goalies didn't all of a sudden get better at stopping him nor did Marleau all of a sudden forget where to shoot, the bounces simply haven't been going in. Were Marleau converting goals at his career average shooting percentage, he would have 19-20 goals and be on pace for 34-35. If the Sharks are to make any noise in the postseason, the goals need to start going in for No. 12. The Sharks have had Thornton and Pavelski carrying the load at even strength. Even Logan Couture is having an underrated season, but Marleau is his usual linemate and those two have not been up to par as an even strength line. The Sharks need Marleau to heat up. Fortunately he does have two goals and five points in his last four games. That type of goal production must  continue.
Brent Burns to Improve Defensively
Both Burns and Marleau are under 45% goals for at even strength thus far this season. Burns has actually surpassed Marleau but he also spends more time on the ice as a defenseman, he needs to get that number up closer to 50%. Marleau's bad luck can explain his drop in goals for percentage but Burns is clearly still adjusting back to his old position. A position remember that is not his natural spot and it takes time to get comfortable back there. He has the ability to be a 54% goals for defenseman and the Sharks need him to be much closer to that guy down the stretch and into the playoffs. Too often, even as the season goes along, do we see Burns look out of place trying to defend one-on-one in open space. Body position and stick position in the defensive zone need to be better. He also needs to stop diving and leaving his feet on two-on-one rushes. Continuing to clean up his defensive game is paramount for the Sharks.
Justin Braun to Find His Game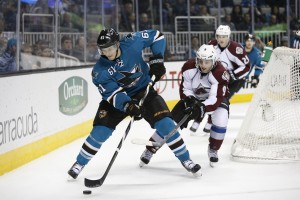 Unlike Burns, Braun is known for a strong defensive game. However, the last 20-30 games or so Braun has struggled. Multiple times he has been caught staring at the puck carrier and not tying up the stick of the eventual goal scorer. He has simply not been up to his usual standards this year and that has to change. When he comes back from injury he has to be much, much better if the Sharks are going to be able to go anywhere in the postseason.
Brenden Dillon to Find His Game
Ever since the defense pairs switched up and Dillon started playing with Braun, his game has suffered. Obviously as mentioned above Braun has struggled but Dillon has had his own issues. Far too many of his point shots get blocked by the first shot blocker and defensively he has been fighting the puck. One of the Devils' goals in the second to last game before the break was an inexcusable turnover. The puck was bouncing all over the place but as you can see in the video below (second of the two goals) this puck has no business being turned over.

One bad bounce is one thing but Dillon gets pushed off balance by, Scott Gomez. That is embarrassing. Dillon is a big boy, listed at 6'4″ 225, he shouldn't be getting pushed off the puck by the 5'11" 200 pound Gomez. That was one of the sloppiest and laziest looking turnovers from a Sharks player all season. Not only does Dillon have clear and easy possession and awkwardly turn the puck over to a much smaller player but then he doesn't do anything to recover. Dillon could have knocked the eventual goal scorer Bernier on his keister and made his goal much harder to score but instead he backs off. Bernier gets two shots off from just outside the crease and is barely even touched by a Sharks defender. Dillon needs to get nasty there.
Antti Niemi to Channel his Vezina Nominated Performance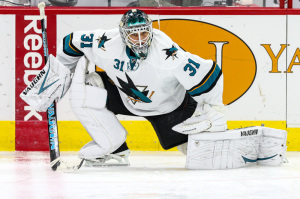 A .912 save percentage isn't going to cut it. If the Sharks are going to win multiple playoff series in a single year they need Niemi to perform. They need the goalie from two seasons ago who earned a Vezina nomination during the regular season and stood on his head with a .930 save percentage in the playoffs.  They cannot have the goalie who otherwise has struggled in the postseason. Sure Jonathan Quick won the Stanley Cup last season with a .911 playoff save percentage but the previous two years he was much better and the Kings needed every one of those saves. Three of the last four Cup winning goalies in recent years, Tim Thomas 2011, Quick, 2012, and Corey Crawford in 2013 all had playoff save percentages above .930. That is the rate Niemi needs to stop pucks at when it matters.
"Honorable Mention": Tomas Hertl to Provide Scoring Depth
Hertl has not had a strong sophomore campaign by any standards but he started to look good in his first game at the center position against Arizona on Jan. 13. With James Sheppard struggling as the other bottom six center, the Sharks need Hertl to elevate his linemates and give the Sharks some scoring depth that they are severely lacking.
Maybe one or two of these things happen. It is feasible that both Marleau and Braun get back to their normal production levels but Burns and Niemi also fine tuning their games is asking for a lot. Not to mention San Jose's lack of depth scoring. There are too many problems right now for the Sharks. They are clearly pretenders.