Last year, there were seven elite teams that seemed to be on another level than the rest of the league. The great thing about hockey is that none of those teams ended up in the Stanley Cup Finals. The playoffs are different. There's a certain drive and confidence that leads teams to the end. That's why, when picking Stanley Cup favourites, you must look far behind the standings. You must take into account playoff experience, durability, depth and much more.
Heading into February, teams have anywhere between 33 and 37 games remaining in the season. Roughly two months before 14 teams go golfing and 16 others go chasing the Stanley Cup. At this point of the year, it's fairly obvious, and almost guaranteed, which teams are going to make the playoffs. Only about three teams outside the picture right now have any chance left for a comeback. With that, let's take a look at who has the best chances at raising the Cup come June.
The following five teams currently have the best chances at winning the Stanley Cup in 2015 due to their current position in the standings, depth, experience and multiple other categories.
Honourable Mentions:
-St. Louis Blues: They haven't gotten past the first round in two years but possess tremendous talent all around and incredible depth up front. A strange goaltending situation between Elliot and Allen makes things interesting, although Elliot has been the better goalie all year.
-Nashville Predators: They currently have the best points % in the NHL, but they were hardly expected to make the playoffs let alone possibly win a President's Trophy. They've thrived under HC Peter Laviolette, but don't have a ton of playoff experience. Rinne has the ability to carry this team on his shoulders though.
-New York Islanders: The Isles are giving Uniondale one last season to remember. They started off hot and never cooled down. Additions of Nick Leddy, Johnny Boychuk and some key depth players have made this team tremendously better. Also, having a solid starting goaltender in Jaroslav Halak makes thing easier too. A dark horse team for sure.
5: Detroit Red Wings
The Detroit Red Wings continue to prove the critics wrong year after year. Before the season, many speculated that the Wings 23 year playoff streak would end in 2014-15. Now a strong 48 games into the season, they're leading the Atlantic Division, second in the East and fourth in the league. Led by both the emergence of young stars and also the continued success of veterans, Detroit has put themselves back in the mix this year. They've also had consistent goaltending all year in Jimmy Howard. When he's gotten hurt, 22 year old Petr Mrazek, has been there to hold down the fort. There isn't much downfall to this team and they of course have outstanding playoff experience on their roster.
4: Montreal Canadiens
Montreal is once again on the shoulders of their goaltender and likely Vezina candidate, Carey Price, this year. Coming off an Eastern Conference Finals loss to the Rangers last year, the Habs are hungry for a longer run this Spring. They are led offensively by Max Pacioretty, who's on pace for 37 goals this season. But the main strength for Montreal is their defensive game. They won't give up tons of chances, but Price is there when they do, and they're also great as transitioning the game up ice. Puck movers like P.K. Subban and Andrei Markov quietly make this team what they are. Montreal could be the dark horse in the East.
3: Tampa Bay Lightning
Tampa Bay is a team that has all come together with great seasons in the same year. Smart drafting and strategic signings combined with quietly great trades by GM Steve Yzerman have formed the Lightning into one of the best teams in the NHL. Coming off a disappointing first round sweep last year after finishing 3rd in the Eastern Conference, this year looks to be different for the Lightning. First off, Stamkos has played the entire season healthy. They have significantly stronger depth up front with the development of Tyler Johnson, Nikita Kucherov and Andrej Palat. Additions of Callahan, Boyle and Stralman make them better suited for a playoff run, while Ben Bishop provides consistent and solid goaltending.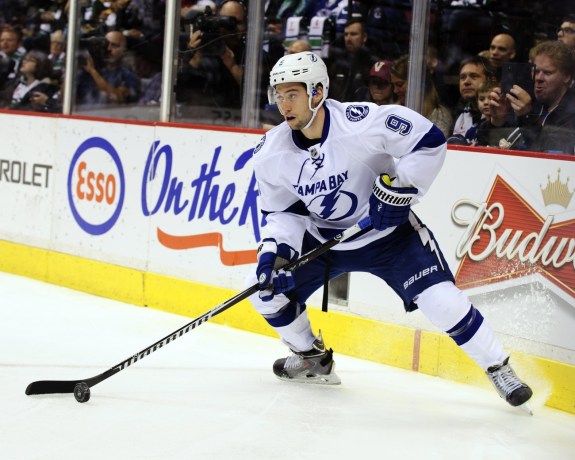 2: Anaheim Ducks
The NHL's current leader in points also comes in as one of the favourites for the Stanley Cup heading into February. Although they've gone much of the year without both Corey Perry and Francois Beauchemin, they've still had the talent to remain at the top of the league. Their offence has held their own despite being somewhat unheard of in the third and fourth lines. 25 year old goaltender, Frederik Andersen, is having a great sophomore season with a 2.24 GAA and a .919 SV%. On the blue line, Sami Vatanen, Cam Fowler and Hampus Lindholm are leading the way on both ends of the ice, and are constantly improving. Because of their youth, they may be unprepared for a powerhouse Chicago team, which is why they're second on the list.
1: Chicago Blackhawks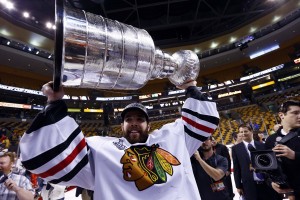 Winners of 2 of the past 5 Stanley Cups, the Chicago Blackhawks are once again looking like the team to be reckoned with in 2014-15. There's no need to explain the Blackhawks depth and experience as it's already been proven countless times over the past few years. They've added Brad Richards and Kris Versteeg as well this year, and both players have blossomed under the Hawks system. Corey Crawford is also continuously getting better and is sporting a .921 SV% this year. They also has tremendous talent behind him in Raanta and Darling who both have under 2.00 GAA and over .937 SV%'s. There are virtually no weaknesses in the Chicago Blackhawks. They should be considered a heavy favourite this year to win their 3rd Stanley Cup in just 6 years.
Who do you think is the favourite to win the Stanley Cup? Discuss in the comments!