Unbelievably, there are only three weeks until NHL free agency opens on July 1st. This year's class is one of the most talented in recent years, featuring a superstar in Steven Stamkos at the top of the list.
While Stamkos will get the pay he deserves as one of the elite goal scorers in the NHL, many other free agents will be overpaid. Each year, a few general managers face the fear of leaving a hole in their lineup. As a result, they race to pick up a valuable player via free agency at a significant price.
Often, this results in overvaluing and overpaying for players who will likely fall short of expectations. With so many talented players going to unrestricted free agency this year, there will be no shortage of large contracts dished out to undeserving players.
At the top of this list will be players who have excelled and improved since signing their previous contracts. As well, players who had a good 2015-16 season will get significant raises, regardless of whether they have shown consistency in their game.
In all, free agency annually offers general managers a chance to sign contracts that will later have them scratching their heads and wondering "Why did I ever give this guy so much money?"
5: Andrew Ladd, LW, 30, $4.4 Million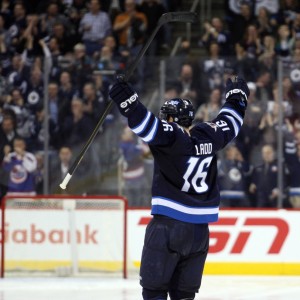 Ladd is coming off of a five-year contract signed with the Winnipeg Jets when he was 25 years old. Now 30, Ladd has developed into one of the better leaders in the NHL, captaining the Jets franchise for the past six seasons. However, he was traded to the Blackhawks at this year's trade deadline as a pending UFA, where he was eliminated in the first round.
Ladd offers the complete package, playing a responsible two-way game and earning over two minutes a game on both the penalty kill and power play. Although his point total dropped to 46 this year, Ladd still potted 25 goals and has the ability to be a 25-goal, 60-point player for a few more years. With his leadership abilities and physical presence, there isn't much that Ladd doesn't do.
What he should get:
At 30 years of age, Ladd could sign a 3-year contract with a cap hit of $6 million.
What he could get:
Ladd may be able to sign a 5-year contact with a cap hit of $7 million if there are multiple teams interested, which there likely will be. The problem with this potential contract is less about the dollar value and more about the term. Ladd would be 35 years old at the end of this contract earning $7 million a year, about 10% of the current salary cap. Can a team afford to take the risk of whether or not he will still be a factor at that age?
4: David Backes, C, 32, $4.5 Million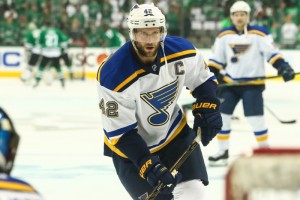 Backes signed a five-year contract with the Blues in 2011 after he scored 31 goals and 62 points in 2010-11. He was named the captain the following year and has been leading the Blues for five seasons. He has helped St. Louis to some very successful years, but never to the Stanley Cup. At 32, Backes has yet to show any signs of slowing down.
Much like Ladd, Backes plays top minutes for his team in all situations. He is solid in the face-off circle and provides an intimidating physical presence. Although he fell to 45 points this season, Backes cleared 25 goals and pushed 60 points the two previous years. He is an excellent leader and a player coaches love to have available.
What he should get:
As a 32-year-old, teams shouldn't be offering him a long-term deal. A 3-year deal at $6 million seems fair.
What he could get:
For his all-around game and leadership abilities, Backes could earn a 5-year deal at nearly $7 million a year. The Blues may have to decide between him and Kevin Shattenkirk due to salary cap issues, which will make this situation very interesting. Much like Ladd again, the problem with giving Backes five years would be the fact that he will be 37 years old by the time the contract ends.
3: Keith Yandle, D, 29, $5.25 Million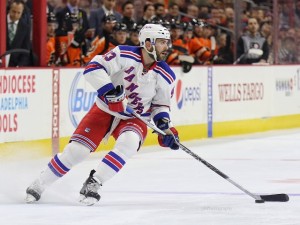 Yandle signed a five-year contract with the Phoenix Coyotes after a career year in which he put up 59 points as a 24-year-old. Four years later, the Coyotes traded Yandle to the Rangers in a blockbuster deal. While he was unable to capture a Cup with New York, he remains an elite offensive defenceman.
Now 29, Yandle can still put up 50 points a season while quarterbacking his team's power play. He can log 20 minutes a night and is still in the prime of his career. While his defensive game isn't heralded as one of the best, he certainly isn't a threat to his team.
What he should get:
At 29, Yandle should be worth a 5-year contract with a $5.5 million cap hit.
What he could get:
Because of his offensive flair, Yandle could garner up to, and perhaps over, $7 million a year. While he is one of the top point-producing defenceman in the league, he is not solid enough on the back-end to be considered an elite all-around defender. Although he is at an age that is safe to sign long-term, there is no guarantee how long his offensive flair will stick around.
2: Jamie McGinn, LW, 27, $2.95 Million
McGinn signed a two-year contract with the Colorado Avalanche after a 19 goal, 38 point season. The following year, he was traded with Ryan O'Reilly to the Buffalo Sabres. Then, at the 2016 trade deadline, he was traded to the Anaheim Ducks. After a lot of travel, McGinn ended up with a career-best 22 goals and 39 points in 2015-16.
McGinn plays a grinder role, but found himself elevated into a top-six position with the Ducks, where he excelled. He proved his ability to be a goal-scorer as well. He can play a physical game, but is a third-line winger in reality. Teams will certainly be interested in him after hitting the 20-goal plateau as a 27-year-old.
What he should get:
A fair contract for McGinn would be three years with a $3.5 million cap hit.
What he could get:
After having a career year in 2015-16, McGinn has the opportunity to cash in this offseason. As a 27-year-old, he has many years ahead of him. As a result of his recent breakout, McGinn could fetch a five or six-year contract with a cap hit of $4.5 million. Much like Beleskey last year, McGinn will undoubtedly earn a significant raise which he may be unable to live up to.
1: Mikkel Boedker, LW, 26, $3.75 Million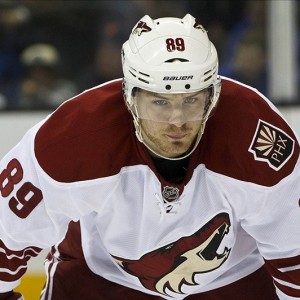 Boedker is coming off of a one-year deal he signed with the Coyotes last offseason. As a pending UFA, he was traded to the Avalanche at the trade deadline where he was unable to propel them to a playoff spot. He has been under constant scrutiny with the analytics crowd, who argue that he struggles to create scoring chances and gives up far too many, making him a risky player.
In 80 games last year, Boedker scored 17 goals and 51 points. In fact over the past three seasons, he has scored or been on pace for 51 points each year. However, as noted, he has been a defensive liability for his team on many occasions. In all, he lines up to be a good second-line winger.
What he should get:
As a 26-year-old, Boedker could sign a 3-year contract with a $4.25 million cap hit.
What he could get:
Boedker seems to have found his stride in the NHL as a 50-point player. While he is a strong offensive player, he lacks a responsible two-way game. In any case, teams may be willing to pay up to $6 million a year for the extra offensive boost. And at a young age, that would likely be long-term. That is a significant chunk of one team's salary cap devoted to a one-way player who won't blow you away in the points department either.
Contributor for the Toronto Maple Leafs and Prospects. Scout with the Oakville Blades of the OJHL. For questions, concerns, or comments, contact me at devinslawson123@hotmail.com or on twitter @SlawsonTHW.