Last time the Calgary Flames landed the sixth overall draft pick, they walked away with their soon-to-be first line centre, Sean Monahan. The Flames can only hope to repeat their draft success, and with such a talented class, their only trouble should be deciding who fits into the system. Here are five top draft prosects who could be seen in a Flames jersey when June 24th rolls around.
Matthew Tkachuk- Left Wing
Aside from Johnny Gaudreau, the Calgary Flames don't have a whole lot of depth when it comes to wingers. The son of former NHL great Keith Tkachuk, Matthew Tkachuk has proven himself in his first OHL season, scoring 107 points with the London Knights.
Tkachuk could help the Flames in the near future, with only one year of eligibility left in his junior hockey career (not including an overage season). The only problem is that there's a strong chance Tkachuk will be off the board by the time Calgary's turn to pick comes around. Assuming the top three picks in the draft will be a Matthews-Laine-Puljujarvi combination, and Edmonton will pick a defenceman (seriously, it's about time), Vancouver will have a clear shot at taking Tkachuk should they choose.
Pierre-Luc Dubois- Centre/Left Wing
What would be a better birthday present than to be selected in one of the first six spots of the NHL draft? The draft day's birthday boy, Pierre-Luc Dubois, was one point shy of a 100-point regular season with Cape Breton in the QMJHL, and could even overtake Tkachuk as a 5th overall pick.
In all likelihood when the Flames pick, either Tkachuk or Dubois will be gone, and Calgary will take the forward that's left. However, if both are still around by the time Calgary picks, they'll have a very tough decision on their hands.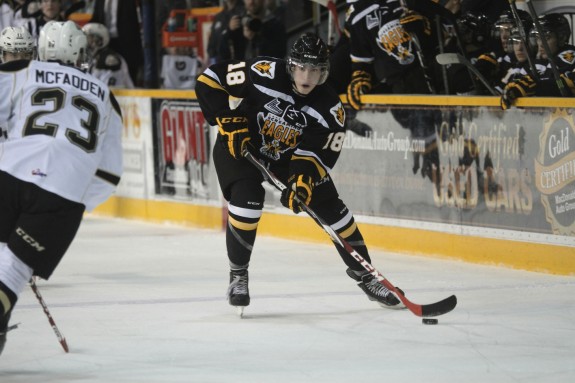 Alexander Nylander- Left Wing
The brother of Leafs' top prospect William Nylander, Alexander had a stellar first season in the OHL with the Mississauga Steelheads. Nylander was voted as the league's rookie of the year after scoring 75 points in 57 games, and will look to lead Mississauga to a deep playoff run next year.
http://gty.im/458615222
The flashy winger led Sweden in goals at the World Junior Championship, and could be a fit on the wing in Calgary. If Tkachuk and Dubois went fourth and fifth respectively, and the Flames are set on taking a forward, Nylander will be Calgary's best option.
Olli Juolevi- Defence
Teammate of Matthew Tkachuk, Olli Juolevi is considered by many to be the top defenceman eligible for this year's draft. Juolevi first started attracting attention when he helped lead Finland to their second World Junior Championship in three years, tallying nine assists in seven tournament games.
Juolevi had 42 points in 57 games with London this season, as well a an incredible +38 rating. Juolevi would be a welcome addition to a partially aging Flames' blue line of Giordano and Wideman, but there's a good chance Juolevi won't be around at #6.
Jake Bean- Defence
This pick would come as a bit of a surprise, given that many don't have Jake Bean pegged as a top ten pick. That being said, if Calgary wanted to go for an offensively minded defenceman, Bean would be their guy.
Bean is debatably the most offensively gifted defenceman eligible for the draft, after scoring 24 goals and 64 points in 68 games this season. If Bean was going to make the jump to the top ten, it would only be fitting that it be to the Flames, after spending the last two seasons playing for the Calgary Hitmen of the WHL.
http://gty.im/509341128
Jakob Chychrun and Mikhail Sergachev both deserve an honourable mention and could be top ten picks. They were kept off the list because Calgary is much more likely to draft a forward than a defenceman, however the Flames may take a shot at Juolevi if he's still available based on his skill, or go off the board and take Bean due to his offensive talent and ties to Calgary.