The long wait for the new NHL season is very nearly over. Training camps are set to begin this month as every team starts with a new hope that their team will hoist the Stanley Cup come next June. First though, teams will conduct their rookie camps and see what the future holds, or doesn't hold, for their teams.
The Boston Bruins start their rookie camp on Wednesday in Wilmington, Massachusetts and hopefully some of them will become the next Patrice Bergeron, Brad Marchand, or Zdeno Chara. Here are five players invited to rookie camp that I believe could make a difference for the Bruins in the furure.
Alexander Khokhlachev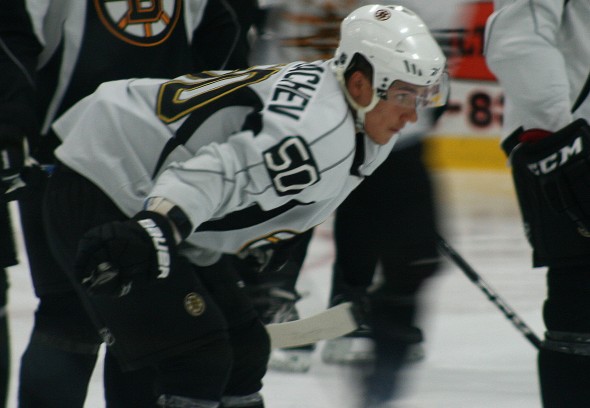 If Jarome Iginla didn't spurn the Boston Bruins in favor of the Pittsburgh Penguins, Alexander Khokhlachev would be in Calgary right now.
The Boston Bruins had offered Khokhlachev, Matt Bartkowski, and a first round pick for Iginla before Iginla opted to head for the Pittsburgh Penguins in a late night switcharoo. Now it appears as if Khokhlachev and Iginla could possibly spend some ice time together in the future.
After struggling in the early part of last season in the KHL, Khokhlachev returned to Canada and became a elite player in the OHL with the Windsor Spitfires. In only 29 games with the Spitfires last season, Khokhlachev scored 48 points. He only made eleven appearances with the AHL Providence Bruins, scoring just three points.
Khokhlachev is a very good skater, but he lacks the speed that would turn him into an elite skater and struggles with his backward skating. However, Khokhlachev is an offensive threat who can make plays and finishes them even better.
Given Khokhlachev's lack of experience in the AHL, I don't expect him to make the Bruins squad out of camp, but if the injury bug hits Boston, Khokhlachev is a name to watch out for.
Malcolm Subban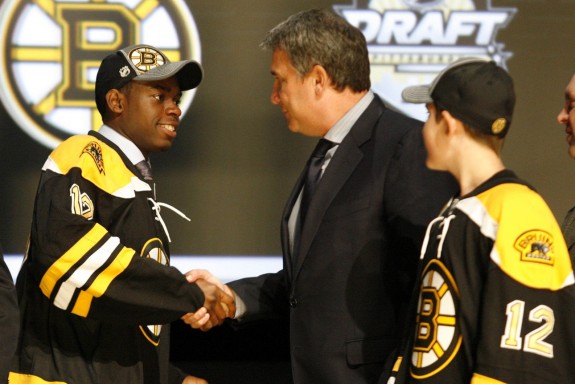 Here is perhaps the most intriguing player on this list: Malcolm Subban.
When the Bruins drafted him, Subban looked like he was going to be the future of goaltending for the Bruins, but now that seems unlikely. Tuukka Rask just signed an eight year extension and he, not Subban, is the future in Boston. So, where does that leave Subban?
Subban will be on the rookie camp roster for the Bruins come Wednesday and it seems far to early to just write off Subban's future in Boston before it ever really starts. Given the uncertainty of the Bruins backup goaltending job, it makes sense to give a look at Subban.
Subban is just one of only two goalies invited to rookie camp, Adam Morrison being the other, and he is the only first round draft pick attending the camp.
After having a stellar season in the OHL with the Belleville Bulls, Subban will most likely start the season in the AHL with the Providence Bruins. Subban will probably join either Chad Johnson or Niklas Svedberg as the goaltending tandem in Providence. Subban still has a few years to go before he can be NHL ready, so, it is far too early for the Bruins to know if he will pan out or not.
Ryan Spooner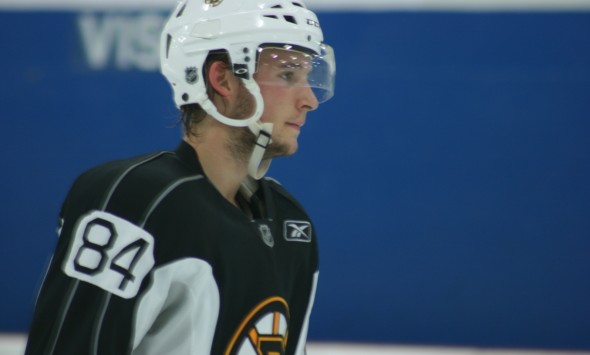 Ryan Spooner is the only one of the five on this list who has NHL experience and that could work in his favor. Spooner is expected to contend for a roster spot once the Bruins start training camp on Spetember 11.
Bruins head coach Claude Julien praised Spooner for his high hockey intelligence, but he needs to improve when it comes to focusing. In the OHL, Spooner would sometimes hot dog and lose focus when it came to his defensive assignments, something that the defensive minded Bruins would not appreciate.
Spooner led all AHL rookies in scoring last season
Boston Bruins' TV play by play announcer, NESN's Jack Edwards, said back in 2012 that Spooner is a player to look out for.
It's early for this, but I'll go wih Ryan Spooner. @o__dog: @RealJackEdwards Surprise player to watch next year?"

— Jack Edwards (@RealJackEdwards) August 10, 2012
Although he may have been one season off, his statement may indeed have some legs.
It's very possible that Spooner could make the Bruins lineup on the third line. If he doesn't, Spooner will be a top line player in Providence and he will definitely see more time in Boston at some point this upcoming season.
Anthony Camara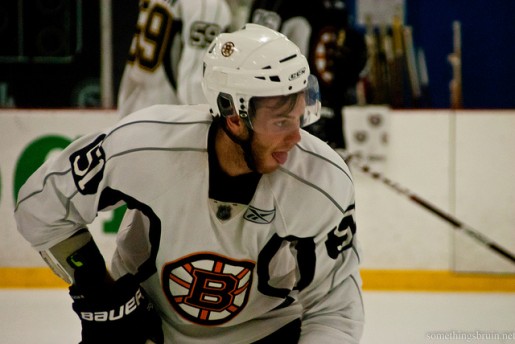 Just two years ago, the Boston bruins made a surprise selection in the third round by selecting Anthony Camara of the Saginaw Spirit. Now, Camara is here to prove his naysayers wrong.
Camara has the reputation of a player who can score but is an agitator and frequently suspended by the OHL. Sounds like a certain "Little Ball of Hate" to me. While he reminds me of Brad Marchand, many scouts have compared him to the fourth line toughman Shawn Thornton.
Saginaw tough guy Anthony Camara selected in 3rd round by #Bruins. A big, tough guy that "will fight anyone" according to scouting reports

— Joe Haggerty (@HackswithHaggs) June 25, 2011
Camara has blossomed into a scoring machine in the OHL and as a result the Bruins hold him in a higher regard than when they originally drafted him. Camara scored 36 goals this past season with the Barrie Colts just one season after a nine goal campaign.
His style of play are what Bruins fans love, tough as nails, goes hard for the net, and can be a scorer. However, Camara's gritty play can put his team at a disadvantage as well. Camara doesn't want to take a bad penalty and cost his team a win because of his tough physical play.
Look for Camara to get some time in with Providence this season and needs a year or two before he can make it up to Boston.
Seth Griffith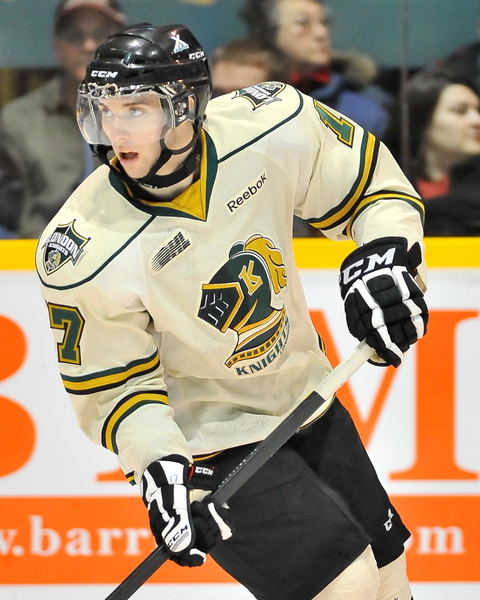 Bruins prospect Seth Griffith may be an undersized player, but he makes up for his size by being an explosive threat on offense.
The Bruins look like they got a steal in Seth Griffith when they drafted him in the 5th round in the 2012 NHL Entry Draft. Griffith has just been a pure scorer since his time with the London Knights of the OHL, scoring 45 goals in 2011-12 and 33 goals last season.
The knock on Griffith is his lack of size. Griffith stands in at 5'11" and 180 pounds and unfortunately not even the best teams can teach size. Griffith is who he is and makes up for his undersized frame by being a scorer and having great hands.
One of the positives of Griffith's game is his hockey sense. Claude Julien will love this kid's hockey sense on the ice, really every coach would like a player who is smart on the ice. Griffith knows how to get the most out of his linemates much like Patrice Bergeron does. His hockey sense and leadership will make him feel right at home in Boston.
Offensive wiz-Great hands/sense. Undersized, lacks jump- early yet RT @khevey6 quick scouting report Seth Griffith? True steal or still TBD?

— Kirk Luedeke (@kluedeke29) January 22, 2013
Although being undersized, Griffith is able to win pucks from much larger opponents. Throughout the OHL playoffs, Griffith stole the puck from many defensemen who were larger than him. If he wants to have any kind of success in the NHL, Griffith needs to keep up this style of play as they are much bigger and fiercer in the NHL ranks.
If Griffith makes the Bruins in the future, he will probably be a second or third liner. As for this season, I expect Griffith to be on the Providence Bruins as maybe a second or third line player.
The Boston Bruins rookie camp starts up on Wednesday and will include three games in Florida against the Florida Panthers, Tampa Bay Lightning, and Nashville Predators.
What do you think about the players invited to the Bruins' Rookie Camp? Comment below or send me a Tweet, @MarkWGraham
The NHL regular season schedule was released on Friday. Check out our partners at TiqIQ for the best deals on Boston Bruins tickets for all 2013-14 games.