For the first time since accepting an offer to coach EC Red Bull Salzburg, Don Jackson returned to Berlin where he won five Deutsche Eishockey Liga Championships in the six seasons he coached the Eisbären.
A Game of Varying Emotions
Although Jackson was greeted with a loud ovation by the 3,700 fans in attendance at Wellblechpalast, the warm feelings quickly subsided once the puck was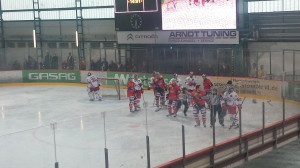 dropped. Jackson and his former understudy – and new head coach of Eisbären Berlin – Jeff Tomlinson may be good friends off the ice, but that wasn't apparent by the way the two bench bosses' players dueled one another in the rink. It was easy to sense the players could feel the significance of the game. This match had much more energy to it than others in European Trophy division play.
Throughout the game there was much banter between the players, lots of physical play and a number of post-whistle scrums. Tensions seemed to boil over when the game's opening scorer Wahl Mitch cheap-shotted Eisbären Captain André Rankel, receiving a five-minute major for slashing and a game misconduct. In total, the two teams accumulated  five power play goals and tallied 77 penalty minutes.
Danke Don! A Fitting Ending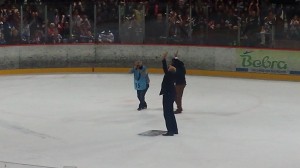 The game itself didn't disappoint as it truly lived up to the moment. Salzburg peaked with a 3-1 lead in the second period. The Eisbären came storming back en route to taking a 4-3 lead in the third period. However, the lead didn't last long as Salzburg evened the score about two minutes later. The last half of the period was a seesaw battle until the final stage was set. Countering on a Salzburg attack, Barry Tallackson found himself in open space with the puck, drove to the net and ripped home the game-winning goal with just 19 seconds left in the final period, capping the special evening with a storybook ending.
Immediately following the game, Jackson exchanged pleasantries and congratulated Tomlinson whom worked on his staff from 2007-2009. On this particular day, the apprentice was able to outperform his teacher. After the postgame presentation of the three stars, the emphatic crowd began to chant "Don Jackson" repeatedly. Finally, Jackson came out, saluted the crowd and lead the victory celebration.
The event concluded with a sappy Don Jackson tribute video (which is featured below).
Afterwards, the crowd once again chanted the former coach's name and the PA announcer fittingly concluded the festivities by saying "danke Don Jackson."