On Thursday afternoon the Philadelphia Flyers released the roster and schedule of their 2015 Development Camp. The Camp is an opportunity for Flyers prospects to get to know each other, get to know the Flyers staff, and learn how to be a professional hockey player.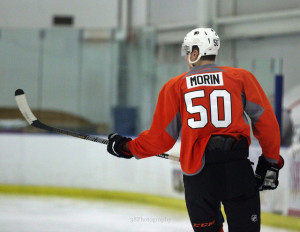 With few exceptions, every player drafted by the Flyers since 2012 will be taking part in the camp. However, there are a few players who are unaffiliated with the organization who were invited to attend. This will give the Flyers management an opportunity to evaluate these players in comparison to the Flyers current prospects.
Along with the unsigned invitees, there are numerous prospects who were not drafted, but have found their way onto the Development Camp roster. The most notable names among those players are centers Cole Bardreau and Danick Martel.
As the time for the camp draws near, here are five players who could be trying to make a name for themselves at Development Camp, then potentially at Rookie Camp, and eventually at Training Camp.
Casey Nelson
Position: Defense (right)
Age: 22
Height: 6'2″
Weight: 183lbs
2014-2015 Team: Minnesota State University (NCAA)
Casey Nelson went undrafted in 2010 and 2011. To this point, his career arc has followed that of a late bloomer. He had a breakout season in the NCAA last year, earning 33 points (7G, 26A) in 40 games. This breakout season led to an invitation to the Flyers 2015 Development Camp.
Nelson is a puck moving defenseman with decent size. It does not hurt his chances that he is a right handed shot. Although he may be a long shot as a prospect, Nelson has many tools that could make him into a useful prospect for the Flyers sometime in the near future.
Luke Philp
Position: Center
Age: 19
Height: 5'10"
Weight: 181lbs
2014-2015 Team: Kootenay Ice (WHL)
Luke Philp has gone undrafted the past two years, but his impressive point totals have clearly caught the eye of the Flyers brass. Philp has played 71 games in each of the last two seasons, scoring 77 points (31G, 46A) and 82 points (30G, 52A) respectively.
Although his size will always be a drawback, Philp has shown an ability to produce. He also displayed leadership characteristics in Kootenay last season, as he was an alternate captain. Will Philp parlay this camp invite into a pro hockey contract? Who knows. But with point totals like his, it would be hard to count him out.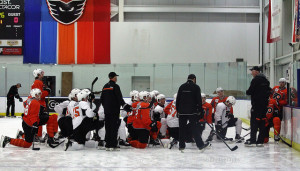 Brett McKenzie
Position: Center
Age: 18
Height: 6'2″
Weight: 194lbs
2014-2015 Team: North Bay Battalion (OHL)
Unlike Philp, size is not an issue for Brett McKenzie. McKenzie was the 120th ranked North American skater for the 2015 Draft by NHL Central Scouting. McKenzie scored 11 goals and added 21 assists for 32 points in 68 OHL games last season.
There are some who follow the OHL more closely than I do who believe that McKenzie should have been drafted last week. Although his point totals are not flashy, McKenzie is better known for being a solid two-way player. Every organization, the Flyers included, has room for big centers with awareness in all three zones.
Pavlo Padakin
Position: Right Wing
Age: 21
Height: 6'3″
Weight: 209
2014-2015 Team: Regina Pats (WHL)
It was never publicly announced, but the Flyers have signed Pavlo Padakin to an AHL-only contract. Therefore, he will attend their Development Camp next week. Padakin is coming off of two straight 27 goal seasons in the WHL. In 2013-2014, Padakin scored 27 goals and added 27 assists for 54 points in 66 games. The following season, He scored 27 goals again, this time earning 28 assists for 55 points in 69 games.
Although he played most of the 2014-2015 season for the Regina Pats, spent the 2013-2014 season with the Calgary Hitmen. Coming into Development Camp, there should be some level of familiarity between Padakin and his former Hitmen teammates, Travis Sanheim and Radel Fazleev. Even though he has a contract in hand, Padakin will still have much to prove.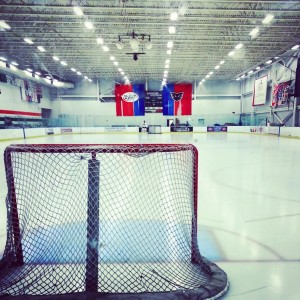 Christian Marti
Position: Defense (left)
Age: 22
Height: 6'3″
Weight: 209lbs
2014-2015 Team: Geneve-Servette (NLA, Swiss Professional League)
The Flyers signed Swiss defenseman Christian Marti to an entry level contract on May 1, 2015. Marti is a big defenseman with surprising mobility. He has spent the past two seasons playing in Switzerland against grown men in the NLA, the Swiss professional league. His point totals have never been glamorous, even during his one season in the QMJHL, but his size/mobility combination is coveted in today's NHL.
Marti will likely begin next season with the Lehigh Valley Phantoms. Even though he is well below the likes of Ivan Provorov, Sam Morin, Travis Sanheim, and others on the Flyers prospect depth chart, Marti could still turn into a valuable player. Development Camp will be his first opportunity to show the organization what he is capable of.