As you probably have already heard, the Toronto Maple Leafs traded mercurial star winger Phil Kessel to the Pittsburgh Penguins on Wednesday, ending Kessel's six year run with the team and giving either Sidney Crosby or Evgeni Malkin one of the top snipers in the NHL. It was rumoured that the Penguins had made a serious push for Kessel in the past week, culminating in an offer that included promising young blueliner Derrick Pouliot.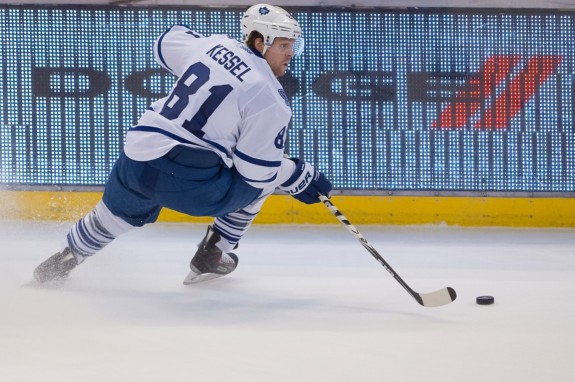 While Pouliot was not part of the package headed to Toronto on July 1st, the Maple Leafs received a nice package of young players and draft picks that could help kick-start their rebuild. The final deal was Phil Kessel, Tim Erixon, Tyler Biggs, and a conditional 2nd round pick in 2016 for Kasperi Kapanen, Scott Harrington, Nick Spaling, a conditional 1st in 2016, and a 3rd round pick in 2016. The conditions surrounding the draft picks are better explained on the Penguins' website. Some Leafs fans may be underwhelmed at the package for Kessel, as perhaps only Kapanen could be considered a household name, but Toronto did well to move an underutilized asset in Kessel for what could be three contributors to their club. Here is a quick run down of the assets acquired in the Phil Kessel deal.
RW Kasperi Kapanen, 6'0″, 181 lbs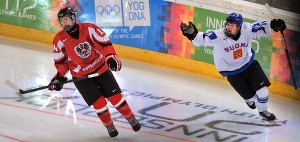 The headlining prospect coming back Toronto's way, Kapanen was tabbed with the 22nd overall pick in the 2014 Draft, despite being ranked as the best European skater in the draft by Central Scouting. Despite playing for the lowest-scoring team in Liiga (the Finnish Elite League), Kapanen led his team in points per game and posted 3 goals and 5 points in 7 games for Wilkes-Barre Scranton in his AHL debut.
A strong two-way forward that has shown a nose for the net and has packed on muscle to an initially small frame has made Kapanen all but a sure thing to reach the NHL level. Standing 6'0″ and 181 pounds, Kapanen is not afraid to play physical and reach the dirty areas of the ice, something that has been lacking for the Maple Leafs in recent seasons. In this highlight, Kapanen shows off his well-rounded game, backchecking hard before laying a big hit that results in a turnover for his team. He then shows off his slick hands before scoring an overtime goal.
With Toronto embarking on a rebuild, adding a two-way forward like Kapanen to a potential forward core that already includes offensive stars like Mitch Marner and William Nylander is a great start.
D Scott Harrington, 6'2″, 210 lbs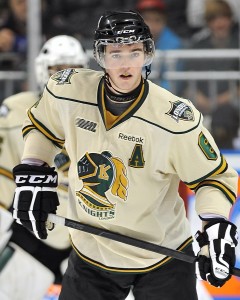 Adding to what seems to be a growing trend for the Maple Leafs' new front office, Scott Harrington is a former London Knights player who was drafted by the Penguins in the 2nd round in 2011. In sharp contrast to Kapanen, Harrington does not possess flashy offensive ability; rather, he is a solid stay at home defender whose value often goes unnoticed on the scoresheets.
Despite posting just 13 career goals in four OHL seasons, Harrington served as the captain for his London Knights team and twice was chosen to represent Canada at the World Junior Championships. Possessing great size and a willingness to play physical, his defensive style should mesh well with one of the Maple Leafs' talented young offensively talented defensemen.
Nick Spaling
The lone NHL player Toronto received in the package for Kessel, Spaling is probably the least exciting part of the return (3rd round draft pick aside). A former 2nd round pick of the Nashville Predators in 2007, Spaling was moved to Pittsburgh in the James Neal trade last offseason. While he doesn't produce big numbers and will never be mistaken for a scoring star, Spaling plays an invaluable role in an NHL lineup. He has enough skill to be placed in the top-6 and not miss a beat, but he is most effective when playing on the third and fourth lines, using his speed and physicality to pressure the other team and wear down the opposing defensemen in the offensive zone. While he only has one year left on his deal, Spaling could be a prime candidate to be moved at the deadline to net Toronto an additional draft pick.
While the Phil Kessel trade signals the end of an era for the Maple Leafs, some expected to see a huge trade and were understandably underwhelmed by the names Toronto received in exchange for their sublimely talented sniper. Toronto was backed into a corner by Kessel's limited no-trade clause, and considering the circumstances of the incremental salary cap increase, Toronto did well to get three valuable assets and a first round pick for Phil Kessel. While this trade makes them worse in the immediate future, expect to see Kapanen, Harrington, and one lucky first-round prospect next summer make a substantial impact for Toronto in the future.