The National Hockey League swung back into action with two games last night and fans certainly got their fill of goal-scoring.  In Chicago, the Black Hawks came out on the long end of a wide-open score-fest with a 7-5 win over the Boston Bruins. Meanwhile, the Detroit Red Wings waltzed into Madison Square Garden in New York and pounded the Rangers to the tune of 7-3.
Golden Jet keeps rolling
At Chicago Stadium, Bobby Hull gave no indication that the pressure of chasing scoring records is getting to him.  Hull fired two goals and added three assists for good measure to lead the Hawks over the Bruins.  Former Bruin Doug Mohns and centre Phil Esposito also had a pair of scores each for Chicago, with Chico Maki adding a single.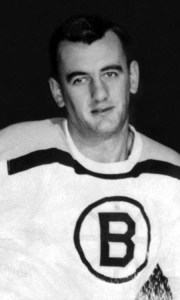 Rookie Wayne Maxner was a two-goal scorer for the Bruins.  Dean Prentice, Johnny Bucyk and Billy Knibbs had the others on Hawks netminder Denis DeJordy.
Howe's slump is no more
Whatever the tonic is that Detroit Red Wings coach administered to Gordie Howe to end his slump, it should be bottled and marketed if last night's performance by the big Detroit winger is any indication of its potency.  Howe ended a skein of 12 games without a goal by compiling a 4-point night, scoring twice and adding two assists as the Wings blasted the New York Rangers.  One of Howe's goals came while he was killing a penalty. Despite the slump, Howe now sits in 10th place in the NHL scoring derby.
The turning point in this one came in the second period when Ranger goalie Jacques Plante had to leave the game due to a twisted knee.  His replacement, Marcel Paille, seemed ill-prepared to take over, and the Red Wings scored three in quick succession.  The Rangers never recovered.
Other Red Wing goal-getters were Alex Delvecchio, Norm Ullman, Ron Murphy, Bruce MacGregor and Eddie Joyal.  Vic Hadfield, Jean Ratelle and Rod Gilbert replied for the Rangers.
WHL Action
In the Western Hockey League last night, in the only game played hat tricks were the order of the day as the Victoria Maple Leafs got by the San Francisco Seals 6-5 in a wild game in San Francisco.  Larry Keenan had a 3-goal game for the Maple Leafs, while Charlie Burns accomplished the same feat for the Seals.
Other scorers for Victoria were Steve Witiuk, Rollie Wilcox and Gordy Redahl.  Wayne Connelly and Al Nicholson also tallied for San Francisco.
Nats switch strategy
Gord Simpson, coach of Canada's National Team, says the the club will employ a shift in strategy for their game tonight in Winnipeg against the Russian nationals.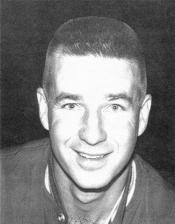 Simpson says the team will eschew it's earlier forechecking mode and instead will hang back and wait for the play to develop.  Simpson reasoned thusly:
"We'll use a little forechecking once in a while, just to keep them honest.  Basically, we'll hang back and wait for them to come to us."
Simpson believes that Canada played into the Russian hands in their first meeting by employing a strong forechecking system.  He feels that forecheckers caught out of the play enabled the Russians' patters to be successful.
"They play by patterns.  If they remove one of our players, the pattern works"
Simpson says that by playing a more defensive style, the Canadians will wait for scoring opportunities.
Simpson: Smythe must be kidding
Simpson was also asked about Toronto Maple Leaf president Stafford Smythe's statement that he will ask for the national team to be replaced by an NHL Oldtimer squad for a January 10 game in Toronto against the Czech nationals.  Simpson's reply was only that Smythe "must be kidding."
Simpson said that if good hockey is not appreciated by Smythe, then the game could be transferred to Winnipeg and that the national team would make more money to boot.  Simpson also remarked that the NHL Oldtimers "would get a shock from the Czechs."
Smythe had also said that he had been told by the Russians that they were considering ending their Canadian tour early because of the inferior opposition they had been scheduled to face.  Viktor Kuznetsov, the Russian manager, laughed at the suggestion.  "Only a silly man would make such a statement."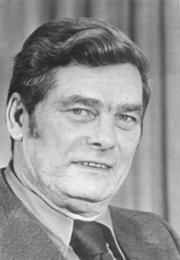 Gordon Juckes, secretary-manager of the Canadian Amateur Hockey Association, said that Canada's national team would be happy to meet a team comprised of NHL Oldtimers.  Juckes was issuing the challenge in response to Smythe's remarks.
Coming to a street near you
Tom White, a 49-year-old grocer from St. John, New Brunswick, says he has produced a couple of inventions that will revolutionize the age-old pass-time of kids playing hockey on roads, parking lots or other flat surfaces.
White has applied for patents on a mobile puck, which used rollers on the flat sides to combat friction on flat surfaces.  The rollers would allow the puck to be stickhandled and enable players to use a wrist shot rather than just slapping the inert disk.  It would also allow players to practice passing and other skills in a manner similar to that employed on ice.
To facilitate play, White also had developed a stick with rollers on the bottom, to better simulate ice play as well.
Invention-brokers in the United States have submitted the designs to 117 sporting goods manufacturers in the U.S. and Canada.
Retired police detective, involved in hockey at all levels for over 50 years. Member of Society for International Hockey Research and presently a video analyst for the leader in advanced hockey analytics (we work exclusively for 2 NHL clubs, and provide advice on an ad hoc basis to many other clients). Currently the Assistant General Manager for the Pelham Pirates of the Greater Ontario Junior Hockey League. Previously owned the Faceoff computer hockey simulation and also provided all player ratings for the EA Sports series of NHL computer games from the late 90's into the mid 2000's.