The Colorado Avalanche announced on Tuesday they have activated defenseman Brad Stuart and left wing enforcer Patrick Bordeleau.  The Avalanche last played on  Dec. 13th and have 4 full days off until their game against the Penguins on Thursday.
Brad Stuart
The Stanley cup winning defensman was brought over in a trade with San Jose during the off season and signed a contract extension before the season opener.  When Stuart takes to the ice against Pittsburgh it will be his 1000th NHL game.  Before his injury Stuart played in 14 games and in that time he had 0 points and currently sits at a -4.
Stuart won The Stanley Cup as a member of the Detroit Red Wings and has spent time with the San Jose Sharks, Boston Bruins, Calgary Flames as well as the Los Angeles Kings.  After being eliminated in the first round of the playoffs last season the Avalanche set out to acquire veteran players to join the young core that was already in place.  Stuart was one of three veteran player acquired over the summer along with Jarome Iginla and Daniel Briere.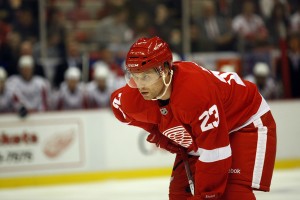 Patrick Bordeleau
The 6 foot 6 inch 220 pound monster is the undisputed enforcer on the Avalanche roster.  Bordeleau was one of only two players to play in all 82 regular season games for the Avalanche last year, the other being Calder Trophy winner Nathan MacKinnon.  Bordeleau had off season back surgery that has kept him out of the  lineup so far this year for the Avalanche.
The long time American Hockey League (AHL) player remained with the team two seasons ago and quickly became a fan favorite for his fighting and protecting of the electric talent the Avalanche have up front.  Bordeleau fighting Calgary Flame enforcer Brian McGrattan is one for the ages and these two have dropped the gloves multiple times.

Thursday Against Pittsburgh
Head Coach Patrick Roy did say Stuart would be in the lineup on Thursday and while Bordeleau has been activated from IR it is still unclear if he will play.  The Avalanche are not completely healthy, however.  Goaltender Semyon Varlamov is still not ready to go and as a result Calvin Pickard will get another start as an AHL call up.
The Avalanche are currently last in the Pacific Division with a record of 10-13-7 after winning the division title last season.  The Avalanche are 1-4-1 in the month of December.  Gaining two players that were sure to be starters before the season began should be a huge boost to the Avalanche moving forward.
I am a University of New Mexico journalism student who has been watching NHL hockey since 1996 and I started playing hockey myself in 2003. I have covered both college soccer and volleyball in the past and I also contribute to a NASCAR news website.