The Chicago Black Hawks have an impressive collection of talent, ranging from the best one-two offensive punch in hockey in Bobby Hull and Stan Mikita, to one of the top defensemen in Pierre Pilote, to a man recognized as one of hockey's elite goalies, Glenn Hall. But since their 1961 Stanley Cup victory, the Black Hawks haven't managed to get back to the winner's circle.
The Hawks finished third last season, a disappointing regular season result, but redeemed themselves somewhat in the playoffs. The Hawks dispensed of the first-place Red Wings in seven games before pushing eventual champion Montreal to the full seven-game limit in the final. With a few breaks, the Hawks might have taken it all.
General manager Tommy Ivan demonstrated his faith in this squad by refusing to make wholesale changes over the summer. Instead, Chicago is relying on the usual contributions from the veterans, augmented by maturing youngsters who should begin to realize their considerable potential.
Goaltending:
This season, it will begin and end with Glenn Hall. The thirty-three-year-old veteran of 10 NHL seasons, eight with Chicago, shows no sign of slowing down. Last season pushed by rookie Denis DeJordy, Hall played in only 41 games but still put up excellent numbers with a 2.43 goals-against average. He was outstanding in the playoffs. Hall will be expected to take on his usual larger load this year, especially with the developments in the backup slot.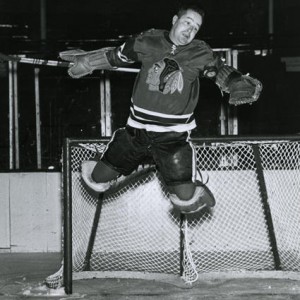 DeJordy was hailed as the fair-haired boy on the way up for the Hawks last season. He had an excellent first full NHL campaign and some even said he outplayed Hall for stretches, but when it came to the crunch time of playoffs, Hall was coach Billy Reay's man.
What wasn't widely known was DeJordy's habit of constantly complaining and insisting that he be used more often than Hall. That wore thin on management's patience, and when that act didn't change this fall, and his work in training camp seemed indifferent at best, DeJordy got the shock of his life.  He was shipped to the Chicago farm team at St. Louis of the Central Professional Hockey League.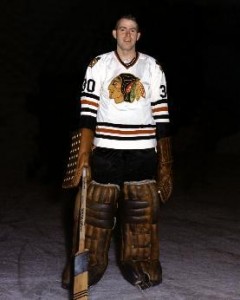 The main reason that DeJordy found himself expendable was the fine training camp put in by young Dave Dryden. The 23-year-old played the past couple of seasons with Galt of the OHA Senior A league after a decent but unspectacular Junior A career in the Toronto organization. He even got into one NHL game with the New York Rangers in December of 1961 when goalie Gump Worsley was injured in a game at Maple Leaf Gardens and was unable to continue.
Dryden was signed by Chicago in March after a four-game stint with Buffalo of the American Hockey League as an injury fill-in for regular netminder Ed Chadwick. Dryden won all four of his starts, giving up just six goals. He continued that fine play into training camp this fall and deservedly edged out DeJordy for the Hawks number two netminding spot.
Defense:
Any defensive unit that boasts the top defenseman in hockey has a leg up on the competition. For the second consecutive season, Pierre Pilote was named the Norris Trophy winner as best defenseman in the NHL. Last season, Pilote added an offensive dimension to his game that was heretofore not seen. He scored a career-high 14 goals, adding 45 assists for 59 points.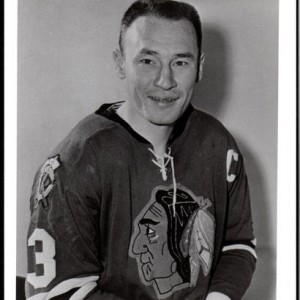 Behind Pilote, the Chicago blue line corps can be considered a bit thin. By the end of last season, 21-year-old rookie Doug Jarrett had moved into the number two spot on the Hawks' defensive depth chart. Jarrett is a big kid at 6-3 and 205 pounds, but showed himself to be surprisingly mobile. Matt Ravlich became a surprise regular last season and is being counted on in a big way by Reay this season.
Veteran Elmer Vasko is back, but the NHL's biggest man is slowing down at 29, and injuries are starting to take their toll.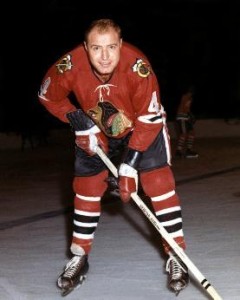 The possibility exists that Doug Mohns, whose first full season in Chicago was a roaring success, could move back to the back end, although it would seem he is firmly ensconced as the left wing on the famed Scooter Line. Another player who showed well in camp, but has been dispatched to St. Louis is Pat Stapleton. He's a smallish rearguard who was acquired from Toronto in the Intra-League draft. He spent last season with Portland of the Western Hockey League.
Veteran Al MacNeil is another vet vying for a spot. He's been bothered throughout training camp by injuries, but if healthy, he can be an asset. He is a tough, smart defender.
Offense:
This is where the Hawks' real strength lies, although some would say that they depend too heavily on superstars Bobby Hull and Stan Mikita. Hull missed nine games last season, which limited him to "only" 39 goals. Word around the Chicago camp this fall is that, after an early brief disagreement with management, Hull is healthy and raring to go, which can only be bad news for the rest of the league.
Mikita performed as expected, leading the league in scoring with 87 points, on 28 goals and a record 59 assists.
The Hawks two top lines are so potent, it's better to label them 1A and 1B, in any order you choose. All-Star left winger Hull is centred by big Phil Esposito, with Chico Maki on the right side. The Scooter Line with Mikita at centre, Kenny Wharram on the right and Mohns on the left is one of the league's best.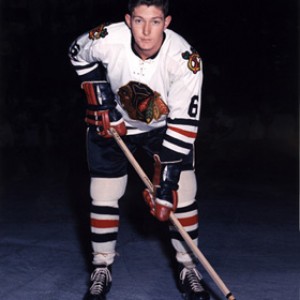 The third line has young Fred Stanfield at centre. He's one of the kids the Hawks are counting on to develop into competent NHL'ers. His wingers are veterans Eric Nesterenko on the right wing and Bill Hay on the left. Both are nearing the end of the line, but this is where the Chicago youngsters are waiting in the wings to take over. Specifically, left wing Dennis Hull and right wing Ken Hodge are expected to take over and play significant roles within the next couple of years and maybe even this season.
Dennis Hull has a big shot like brother Bob, but isn't quite as flashy. He's still expected to be a high-scoring forward. Hodge is a monster-sized right-winger who led the OHA Junior A Series scoring race last season with St. Catharines. Hodge is a bit uncoordinated but if he grows into that huge frame, his production at the NHL level could be scary.
Coaching:
Billy Reay goes into his third season behind the Chicago bench facing some pressure from above and from the fans. The Black Hawks are expected to be in the thick of the race for first place, and to battle for the Stanley Cup. Hawks ownership will take a dim view of any step back and Reay knows his team must compete.
Reay is a player's coach and is not known as a severe taskmaster. He's not s supreme tactician, and many feel he relies too heavily on Hull and Mikita to carry the mail.
Outlook:
The sky is literally the limit for this squad. If the Black Hawks can avoid injuries to the stars, and especially if Glenn Hall stays healthy, they can battle for first place all year. It says here they don't quite have the depth that Montreal possesses, and that means a second-place finish is their likely outcome. Look out in the playoffs if their stars get hot.
Apps Raps Fighting in Minor Hockey
Hockey Hall of Famer Syl Apps has told the Ontario Hockey Association that they should take a long look at the unnecessary roughness that has developed in minor hockey. Apps is the chairman of the Ontario Legislature's select committee on youth.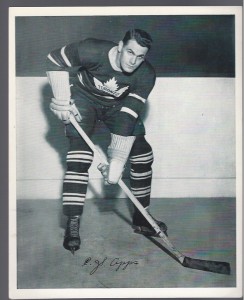 Representatives of the Ontario Minor Hockey Association appeared before the committee to outline hockey activities for youth in Ontario.
The discussion on roughhousing in minor hockey began when MPP Don Ewen said that sometimes it would be better if referees would just let the kids fight it out instead of separating them.
William Hanley, the business manager of the OHA said that he agreed with Mr. Ewen to some extent. At that point, Mr. Apps asked the question:
"At what point do you consider fighting a part of hockey? Allowing kids to fight would be condoning fighting as part of the game."
Apps went on to say that the two main problems with minor hockey are the length of the schedule and the increasing roughness.
The OHA brief to the committee said that they consider their main concern to be that boys are dropping out of hockey, usually at about age 16. Hanley said that the reasons could be varied, but it is possible that the kids are starting at such a young age, by 16 they are simply tired of the game.
Notes:
Carl Brewer, 26, has told the Toronto Maple Leafs he is retiring from hockey. There will be more to come on this story.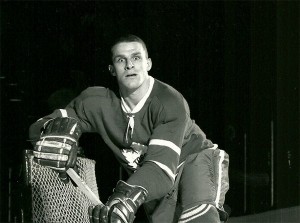 Red Wings signed D Bob McCord and Bryan Watson and LW Paul Henderson. Still unsigned for Detroit are goalies Roger Crozier and Hank Bassen, forwards Bruce MacGregor, Ron Murphy and Pit Martin.
New York Rangers have sent LW Ted Taylor to Baltimore of the AHL.