Bobby Baun, the Toronto Maple Leafs' hard-rock defenseman, has returned the team after a contract dispute with general manager Punch Imlach. But Imlach may now have a bigger problem on his hands as all-star defender Carl Brewer, Baun's usual partner, has gone home to think about his future.
Baun said that, while he is back at the Toronto training camp in Peterborough, he has not yet signed a contract. He did confer with Imlach yesterday afternoon.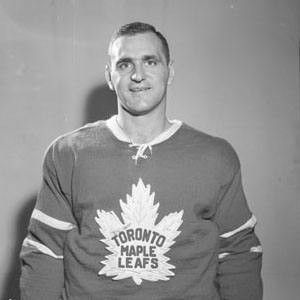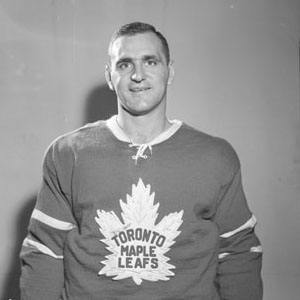 Baun said "We're supposed to meet again Monday when the team comes back to Peterborough. I think I'll leave it as it was before and not say anything."
Baun was also asked if he would report to another NHL team if he were to be traded. There have been rumours speculating that the Leafs have talked to at least one other NHL team about a deal for Baun.
"No, I don't think so – no comment. We'd have to wait and cross that bridge when we come to it."
Baun hasn't skated since last Friday and it will take some time for him to get into game shape.
Brewer Left in First Period
Brewer left last night's exhibition game against the Boston Bruins after playing the first period. He told Red Burnett of the Toronto Star after the game that he isn't sure he wants to continue playing hockey.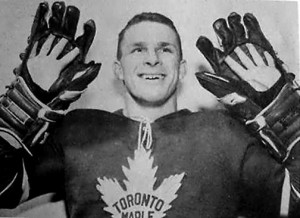 "I'm just not sure of what I want to do. So, I'm going home to think things out and discuss them with my wife. I'll talk to Punch Monday or Tuesday.

"This isn't a spur-of-the-moment thing. I've been trying to get a clear picture of what I want to do for the past few days.

"And I want to make it clear this is not a holdout. It has nothing to do with salary. I haven't talked contract with Punch and the reason I postponed that meeting was because I was undecided about my future."
Imlach was unconcerned over Brewer's absence.
"Carl is upset. He had a great three weeks and looked like he was going to have his best camp as a Leaf. Then he tailed off and nothing has gone right for him lately.

"I'm sure he'll settle down after a few days at home and will rejoin us in Toronto on Monday."
During the game, Brewer had a heated exchange with goalie Johnny Bower after he missed a defensive assignment, costing the Leafs a goal. Brewer insisted that episode had nothing to do with his decision to leave the game.
Shack Will Quit If He Isn't Recalled
Yet another Maple Leaf is not happy and has threatened to retire if he doesn't get his way. Eddie Shack said yesterday that if he isn't recalled to the Maple Leafs from the AHL Rochester Americans in one month, he will retire from hockey.
"I know at least three teams want me. New York and Boston would take me and I know Detroit has been making trade suggestions to Toronto this year. Heck, I could make $2,000 a year more playing for Detroit right now."
Kelly Signs
One happy Toronto player is veteran Red Kelly, who signed a revised contract yesterday. Kelly's previous pact was revised because he is no longer doubling as a hockey player and a parliamentarian.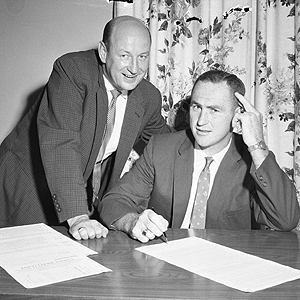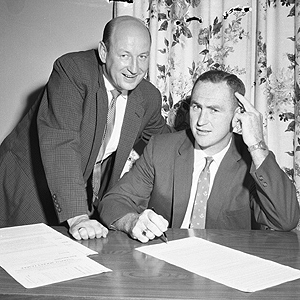 Punch Imlach elaborated:
"We had to revise a few clauses in the second half of a two-year contract Red signed last year. He was combining hockey and a seat in parliament at that time. Now he is sticking strictly to hockey so we had to straighten out a few things in accordance with his changed status."
Leafs, Bruins Tie 2-2
The Leafs and Bruins skated to a 2-2 tie in the exhibition game, played at Peterborough. Pete Stemkowski and Allan Stanley scored the Toronto goals after the Bruins had taken a 2-0 lead. Stemkowski has been told he is being farmed out to Rochester, but Imlach used him with the big team last night.
Boston goal-getters were Ron Stewart and Murray Oliver.
Former Leaf prospect Gerry Cheevers played the entire game in goal for the Bruins and was a standout.
Western Hockey League Kicks Off 18th Season
The Western Hockey League will begin its 18th season of play tonight with all six teams in action. Los Angeles will visit San Francisco, Portland is at Seattle and Victoria plays the Canucks in Vancouver.
Most western observers believe the Portland Buckaroos, last season's champs, are a good bet to retain their crown again this year. Their stiffest competition comes from the San Francisco Seals and Victoria Maple Leafs.
Several new coaches will make their debuts tonight.
Frank Mario takes over from Rudy Pilous in Victoria after coaching Peterborough of the OHA Junior A series last season. Bobby Kromm is the new man behind the bench of the Seattle Totems. He is most famous for coaching the Trail Smoke Eaters at the World Championships.
The third new coach is no stranger to the professional coaching ranks. Lynn Patrick is new to the WHL but arrives with a fine NHL pedigree. He had a good playing career and held coaching and management roles in the big league, most recently with the Boston Bruins.
One more new bench boss is Bert Olmstead, who will run the Vancouver Canucks. Olmstead is generally thought to be an eventual NHL coach, and many are very interested in seeing how he does with the Rangers' farm team.
Bud Poile returns to San Francisco as the Seals' mentor, while Hal Laycoe is back in Portland.
No NHL For Pittsburgh?
According to NHL president Clarence Campbell, the city of Pittsburgh's chances of landing an NHL expansion franchise are slim if their rink is not expanded.
"At present time it (Pittsburgh) doesn't have the 12,500 seat arena. That's the major stumbling block. It is the only respect I know where the city doesn't qualify."
Campbell said that two groups have contacted the league and were given franchise applications at their request. However, neither application, which must be accompanied by a non-refundable $10,000 deposit, has been returned to the league.
Hannigan in Limbo
Forward Pat Hannigan is in limbo and on the eve of the American Hockey League season, he has no idea where he will be playing. All he knows is, he will likely be in the AHL.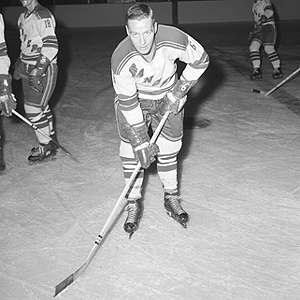 Hannigan was drafted by the Detroit Red Wings last summer from the Buffalo Bisons, who are a Chicago Black Hawks farm team. At the Wings training camp, a decision was made that Hannigan wasn't in their plans, so he was sent to the Pittsburgh Hornets.
This is where the confusion for Hannigan begins. Because he was drafted by the Wings, they must carry him on the NHL roster or offer him back to the Black Hawks for $15,000, half of the original draft fee. The Hawks know a good deal when they see one and apparently will be more than happy to realize a tidy profit and still have Hannigan. If that does take place, Hannigan likely ends up with Buffalo.
The Red Wings, however, might not want to lose Hannigan, so they could keep him with the NHL team, although that seems unlikely. Yesterday, Detroit general manager was trying to arrange some sort of trade which would allow the Wings to send the veteran forward to Pittsburgh.
Last year with Buffalo, Hannigan had a big season, scoring 38 goals and adding 54 assists. He also provided a good deal of truculence with 118 penalty minutes.
Pittsburgh did add one player yesterday as Detroit assigned forward Norm Beaudin to the Hornets. Beaudin scored 41 goals for Memphis of the CPHL last season.