Hockey's Golden Jet, Bobby Hull of the Chicago Black Hawks, says he is ready to take flight against the Detroit Red Wings tomorrow night in the first game of their semi-final series.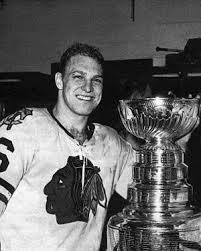 Hull will be wearing a new  brace to protect his injured knee.  In a full 83-minute workout yesterday, Hull tried out the new brace with good results.  He appeared to be able to turn either way with no ill effects and his movements were fluid and strong. if anything, he looked just a tad out of condition, and that will come with work.
Hull expressed satisfaction with his new equipment.
"I'm moving better because I discarded the cumbersome knee brace I wore when I was in Toronto.  I have a new one that is much smaller, much lighter and doesn't restrict my movements as much."
Hull said that the knee is pain-free when he twists and turns, and although he claims he is ready to go, coach Billy Reay says that the team will exercise caution where Hull is concerned.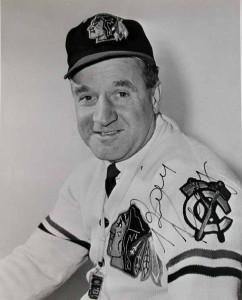 "I want to see Bobby skate again before saying anything.  But the final decision will rest with Hull.  At least he's back on skates, but he's shy on condition and the knee could tighten up overnight.
"It stood up today and he'll try it again tomorrow.  We won't make a decision until we see how it is 24 hours after the first exercise.
"If he plays, even for only short spells, we risk the chance of injuring the knee even more and having him miss all the future games for sure.  If he rests, he should be ready to go in the second game, or for sure next week."
During the Hawk workouts, Hull was on a line with Phil Esposito at centre and Chico Maki on the right side.  However, Hull took every draw, which is a large revision to the usual Chicago strategy.  Hull is a little better than Esposito on the faceoff, but using him in that role takes away the quick setup for his booming shot.
Leafs prep: rugged practices
The Toronto Maple Leafs are preparing for their semi-final series against the Montreal Canadiens with workouts at the Olympia in Detroit.  Manager-coach Punch Imlach ordered that the team stay in suburban Dearborn, Michigan after completing their regular season schedule in Detroit on Sunday evening.
Imlach's reasoning is that if the team is devoid of all distractions, and that includes the all the attention that come with being at home, full attention can be given by the players to the task at hand – in this case, defeating the Canadiens.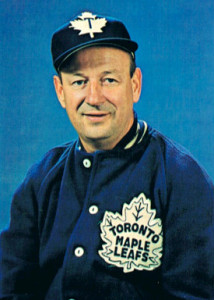 The Leaf practice yesterday was one of the most spirited and outright rough workouts anyone has seen an NHL team go through in a long time.  Based on the level of intensity shown by the boys, this team is ready and champing at the bit to get the playoffs under way.  There were no complaints about the strenuous session, only tired smiles at the end.
Imlach was asked if the players were unhappy with being sequestered away from their homes and families.
"I'm not running a popularity contest.  The end justifies the means.  I don't care what they think of me.  If they get mad enough, they'll take it out on the other team.  That's what I want.  And we'll win – again."
Observers at the Olympia were impressed.  Red Wing publicist Elliot Trumbull said, "We've had games that weren't as good as that.  Too bad the Canadiens weren't here to see it."
Imlach said that the Leafs will borrow a page from former Chicago Black Hawks coach Rudy Pilous' playbook.  Pilous, now the coach of Toronto's WHL Victoria farm club, used the then unheard-of tactic of having his team skate on the morning of playoff games in 1961 and 1962.
Imlach explained, "I just want to guard against any possibility they'll be overrested.  We'll only go about 10 minutes, just to loosen up and test the skates."
Habs in good frame of mind
The Montreal Canadiens have the air of a calm professional ready to complete an assigned task efficiently and effectively.  That was the impression a number of players gave when speaking yesterday to Pat Curran of the Montreal Gazette.  Some of the comments:
Jean Beliveau: "The team is going into the playoffs healthier than in several years. We are a little heavier on defence, which should make a difference against Toronto."
Henri Richard: "Everybody is up for this one. I know I feel a lot better than for the playoffs  last season.  I'm ready to do my share."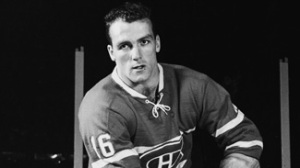 Jean-Guy Talbot: "We have no injuries to worry about like last year when we were without Big Jean and Gilles Tremblay.  We could still use Tremblay but Beliveau is one fellow a team can't afford to miss in the playoffs."
Claude Provost: "We're healthy and we are ready. I don't think the Leafs are as ready as they were last season."
Jacques Laperriere: "Everybody wants to win so much more this year.  We missed playoff experience last time, especially in that seventh game."
John Ferguson: "I'm twice as ready for the playoffs and so are the other new players.  That should make a difference, we know what we are up against and set to work a lot harder to win."
Dave Balon: "We won't win just because we're healthy, but there's no reason why we shouldn't if we work hard every game.  I think we are stronger than last year even though we didn't finish first."
Ralph Backstrom: "We missed by only one goal in the seventh game against Toronto last year.  Key to the series will be goaltending just like pitching is the key in the World Series. I think Charlie and Gump will come through for us."
Yvan Cournoyer: "We proved during the schedule that Toronto isn't so strong and we should be able to prove it again in the playoffs.  Then we'll take Detroit and prove the same thing."
Dick Duff: "After playing with the Leafs, I know more about what they can do and can't do.  I just hope I can get as mad as I want to.  With the money on the line, that shouldn't be too difficult."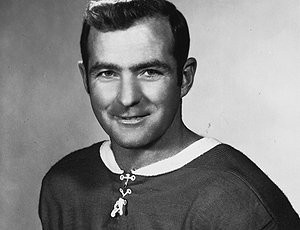 Charlie Hodge: "I won't say where our strength is and put somebody on the spot.  Personally  I'm a little more confident than last season when I was pretty nervous.  On the other hand, I have to be a little nervous to be at my best."
Gump Worsley: "If we skate, we're going to beat the Leafs and if the fellows skate, they're capable of taking it all."
Retired police detective, involved in hockey at all levels for over 50 years. Member of Society for International Hockey Research and presently a video analyst for the leader in advanced hockey analytics (we work exclusively for 2 NHL clubs, and provide advice on an ad hoc basis to many other clients). Currently the Assistant General Manager for the Pelham Pirates of the Greater Ontario Junior Hockey League. Previously owned the Faceoff computer hockey simulation and also provided all player ratings for the EA Sports series of NHL computer games from the late 90's into the mid 2000's.