Jonathan Bernier pulled 3 times in March: "Lately it seems like that's the only solution we've found, pull the goalie to motivate the guys"

— Mark Masters (@markhmasters) March 30, 2015
It was this quote from Jonathan Bernier that began the latest outcry in Leafs nation. I've read it several times because I'm really trying to figure out what the big deal is. But then again, we are talking about the Toronto Maple Leafs, a team and fanbase that craves the spotlight and lives for attention, whether winning or losing. It doesn't take much to start a controversy that has media and fans talking endlessly about some menial issue. Bernier, like many of his teammates, is frustrated over the state of the franchise and this season in particular.
If someone can explain what is so controversial about his words, please let me know in the comments section. Until then, here's some more details on the story: [Sportsnet], plus this exclusive take by our very own James Tanner: [Hockey Writers]
Now for some hockey news that is actually news…
Henrik Lundqvist's return has sparked a slide for the Rangers. [Along the Boards]
The Las Vegas ticket drive is doing well. [Yahoo Sports]
This just in: The Penguins are screwed. [Globe and Mail]
Patrick Kane may be returning sooner than later. [Chicago Sun Times]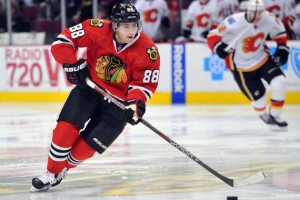 Ben Bishop now has more points than Cory Conacher this season, the forward who was traded for him. [CBS Sports]
Depending on their final position in the standings, the Jack Adams is definitely a two-horse race between Bob Hartley and Paul Maurice to me. [Globe and Mail]
Aaron Ward picked the Flames to make the playoffs before the season started. [Calgary Sun]
Happy birthday, Gordie Howe! [Detroit Free Press]
And finally, want to read an interview with Claude Giroux? Here you go: [Sportsnet]
Marcy, a former hockey player, is a hockey correspondent on CTV News and TSN radio. She began her career as a Sports Journalist in 2009 and has been part of The Hockey Writers since 2010, where she is currently a senior writer and editor.