The Montreal Canadiens rode the shutout goaltending of Gump Worsley to a two games to none Stanley Cup Final lead over the Chicago Black Hawks last night.  Jean Beliveau and Dick Duff scored power play goals to give Canadiens a 2-0 win at The Forum in Montreal.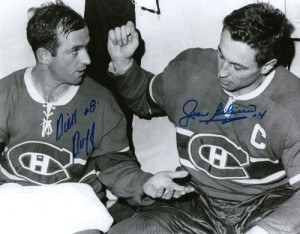 The shutout was the first in Stanley Cup competition for Worsley.  He was called upon to make only 18 saves and had lots of support from his mates all night.  The Canadiens checked the Hawks almost into the ice and left very little room for the speedy Chicago forwards to manoeuver in the Montreal zone.
The teams battled through a scoreless first period in which only a fine effort by Chicago goalkeeper Glenn Hall kept the Canadiens off the score sheet.
Blake's hunch pays off
Montreal finally broke through at 2:55 of the middle frame.  Rookie Chicago defenceman Doug Jarrett, filling in for the injured Pierre Pilote, went off for holding at 2:10.  Montreal coach Toe Blake, trying to get something going on the power play, sent out Noel Picard, another rookie, to man the point.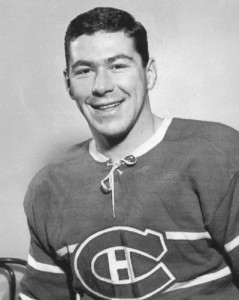 Forty-five seconds later, Picard unleashed a hard drive from the blue line that ricocheted off Hawks' defenceman Al MacNeil right to Beliveau. Big Jean fired a well-placed backhand through Hall's legs to give Montreal a lead they would not surrender.
Blake explained his hunch.
"I knew Picard would shoot that puck in from the point.  Our other guys weren't doing that.  I played a hunch and got lucky."
Duff nets first
The Habs added insurance with the goal by Duff at 8:07 of the third.  This was another power play marker, this time with Stan Mikita off for high-sticking.  The former Maple Leaf banged home a  Beliveau rebound on a play on which Hall had no chance.  It was Duff's first of the playoffs.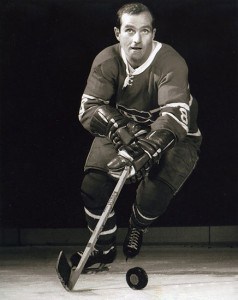 Chicago coach Billy Reay tried to work his own magic with his lineup, but to no avail. He moved Stan Mikita from his usual spot on the Scooter Line over to centre Bobby Hull and Chico Maki.  The move accomplished Reay's initial intention, to get Mikita away from Beliveau, who had completely stifled his offence thus far in the series.
Unfortunately for the Hawks, the move put both Hull and Mikita on the same line and opposite Henri Richard.  With Richard performing brilliantly in a defensive role, the big line was neutralized.
That left Phil Esposito to line up against Beliveau, and there was no comparison there.  The big Chicago youngster was clearly over-matched against the Montreal captain.
Provost vs Hull
Claude Provost once again shadowed Hull, limiting the Golden Jet to only four relatively harmless shots on goal.  Hull gave Provost full credit after the game.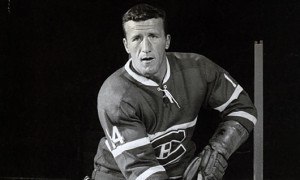 "I have to give Provost credit for doing an excellent checking job on me.  He's a dedicated athlete with ability and it showed up in these games.  He never stops skating and has great stamina."
Hull also suffered a bruised left hand but says it won't keep him from suiting up at home for game three.
Provost and Hull seem to have a mutual admiration society going on.  Claude didn't blame the Golden Jet for becoming frustrated at his close checking.
"Bobby hit me a few times with the body.  I don't blame him.  I would be mad too, if someone stayed with me like I have to stay with him.  Twice he got mad and took penalties – and that's good for our side.  I hope I do as well in Chicago, but it will be more difficult."
Canadiens ended up out shooting the Black Hawks 31-18 on the game.
Reay – optimistic, realistic
Reay kept reporters waiting for 20 minutes after the final whistle.  When he did finally appear, he maintained that the series will go the full seven games.  He expressed confidence that some of his injured players will be ready for game three and that the vaunted Chicago offence will awaken from its slumber.
While trying to remain optimistic, he acknowledged what has become obvious over the first two games:
"If the Canadiens keep skating like they have so far, they'll be tough to beat.  If that's what you want me to say, I'll say it."
Notes:
Cesare Maniago of the Minneapolis Bruins, a Boston farm team, has been named the Most Valuable Player in the Central Professional Hockey League.  Maniago belongs to the Montreal Canadiens and played for Minneapolis all season on loan to the Bruin organization.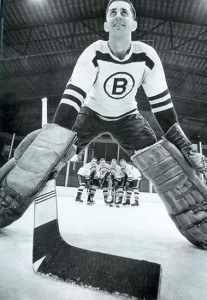 Ken Wharram should be ready for Thursday's third game in Chicago.  Pierre Pilote remains in the doubtful category.
Chicago forward Camille Henry says he wants to play long enough to score 300 goals in the NHL.  He now sits at 253.
Gilles Tremblay of the Canadiens, who suffered a broken leg in December, has resumed light skating.
The Pacific National Exhibition announced last night that it will build a new arena in Vancouver suitable for housing an NHL team.  The arena as planned will seat 14,000, but if a grant can be obtained from the federal government, it could be increased to 16,000.
Retired police detective, involved in hockey at all levels for over 50 years. Member of Society for International Hockey Research and presently a video analyst for the leader in advanced hockey analytics (we work exclusively for 2 NHL clubs, and provide advice on an ad hoc basis to many other clients). Currently the Assistant General Manager for the Pelham Pirates of the Greater Ontario Junior Hockey League. Previously owned the Faceoff computer hockey simulation and also provided all player ratings for the EA Sports series of NHL computer games from the late 90's into the mid 2000's.