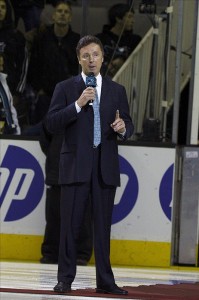 Those of you following my column the last few weeks can rightfully say this is me beating the dead horse. And it's certainly not the first time yours truly has pounded home an opinion over multiple posts. However, this is as direct as I have ever been about the topic of San Jose Sharks GM Doug Wilson: he needs to be let go by the organization.
Wilson Built a Tremendous Team
There is no doubt Wilson helped orchestrate some terrific Sharks teams over the past 12 years as GM. Trades for Joe Thornton, Dan Boyle, Dany Heatley, and Brent Burns were four moves that were exactly what the team needed at the time. And while Heatley had the shortest stint of the bunch, his two years in teal did coincide with the Sharks twice reaching the Western Conference finals. While Heatley may have struggled in the playoffs with San Jose, he was still drawing attention from opponents, opening up time and space for other players. These core four trades and team friendly contract extensions of Thornton, Patrick Marleau, Logan Couture, Joe Pavelski, Burns, and Marc-Edouard Vlasic are certainly some terrific work by Wilson.
Drafting players like Pavelski, Tommy Wingels, and Justin Braun in the sixth round or later were also key moves made during the Wilson years. While Wilson did shoot and miss on some early round selections like Nick Petrecki, Lukas Kaspar, and Taylor Doherty, overall he has drafted a number of key players. Unfortunately, drafting at the defense position and goaltending hasn't been a strength and that is one of the areas that over the years has cost the Sharks. They never quite have the defensive depth.
Where Wilson Went Wrong
The Sharks have not featured adequate depth on the blue-line nor between the pipes at any time during Wilson's 12 year tenure as GM. Furthermore, the man in charge of the Sharks has failed miserably at attracting noteworthy free agents. With exceptions of older veteran stop gaps like Rob Blake, Jeremy Roenick, and Manny Malhotra, Wilson continually fails in free agency. In fact, I will argue that first year player Melker Karlsson is already Wilson's most noteworthy free agent signing. Karlsson has the potential to be around for awhile and contributed a solid showing from out of nowhere this past season. However, the 24-year-old former Swedish Elite leaguer is not a top tier talent and his skill level suggests much more of a bottom six player than an consistent top six talent. While Melker brings terrific hockey sense, he doesn't have the size, speed, hands, shooting, or passing ability of top skill guys.
Outside Karlsson, since the summer between the 2009-10 and 2010-11 seasons, the list of free agents signing with the Sharks is incredibly underwhelming. Below is the list of those names.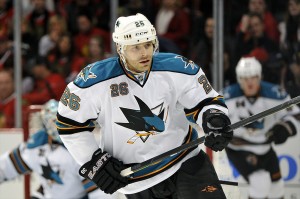 Antti Niemi
Antero Niittymaki
Jamal Mayers
Kyle Wellwood (waiver pickup)
Michal Handzus
Brad Winchester
Colin White
Jim Vandermeer
Andrew Murray
Scott Gomez
Adam Burish
Brad Stuart (trade and sign)
John Scott
Not a single impact player out of the group. A few decent contributors in Niemi, Wellwood, Gomez, and Stuart, but overall a group of players that made minimal to no significant impact. Not to mention Wilson re-signed players over this span whom he shouldn't have like Niclas Wallin and Mike Brown who were/are clearly not difference makers.
Furthermore, Wilson let the aforementioned Malhotra and Wellwood get away after no more than one years service, as well as highly thought of depth forward Daniel Winnik. The Sharks were unable to keep their best depth forwards from 2009-2012 for more than a single season at most, and yet the ones who struggled the most like Handzus and Burish were kept around for more than one season.
The key point to be had is Wilson has built a great core of his team. He has also clearly misfired time and time again to round out the roster with adequate talent on the bottom two lines, between the pipes, and on the second and third defense pairs. Some may say attracting free agents to California is hard because of taxes versus states like Florida, but Florida can't sign every single free agent and San Jose is a pretty nice place to live even if it is a tad expensive. A quality team over the years and great weather should (if anything) make San Jose attractive to free agents despite high cost of living and more travel.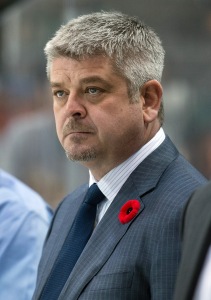 At Odds with Face of Franchise and Head Coach?
To be fair, not every successful team in recent years has added key unrestricted free agents. San Jose's rival LA Kings for example are almost entirely homegrown or acquired via trade. However, the Chicago Blackhawks made key signings in Brian Campbell and Marian Hossa as UFA's that helped push them over the top. Wilson has signed a number of free agents in recent years but none of them have panned out to be real key contributors. And not only has Wilson failed in free agency over the years but over the past 11 months he has been at the center of the Sharks drama.
It is crystal clear now that McLellan and Wilson were not on the same page over the direction Wilson is trying to take the team. Reports have been rampant about disagreements between the two this season and McLellan mentioning the Sharks rebuild on his way out the door indicates he probably wasn't interested in coaching a rebuilding team. And why should he be? He coached a team in 2013-14 that was one of the best teams in the league, 111 points, top three possession wise and lost in seven games to the eventual Stanley Cup champions. With the right tweaks last offseason the Sharks could have easily maintained their post as a top contender without mortgaging the future. The Sharks could have done both contend and get younger. All they needed to do was not overreact to the playoff reverse sweep and make a couple of simple moves. Had they kept Brent Burns at forward and brought in a top-4 defenseman (they had the cap space to do it), these Sharks would still be playing right now. Keeping Burns and signing a defenseman doesn't see them lose any young players or draft picks. And even if acquiring a defenseman had to be done via trade, well, the Anaheim Ducks acquired James Wisniewski, a top pair defenseman for spare parts according to colleague Felix Sicard. It wasn't difficult at all for the Sharks to have maintained their dominance while simultaneously getting younger.
McLellan is very highly thought of around the league, and when both the head coach and team's best player (Joe Thornton) are at odds with the GM, that is a pretty good indication that the GM has lost the room. Wilson has been right in recent years in that the Sharks needed to reset and refresh but they didn't need to rebuild and the primary resetting and refreshing they needed to do was to get rid of him.
Wilson Must Go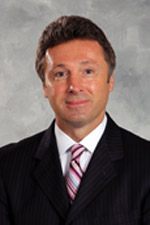 Wilson has been at the helm for a dozen years, hasn't gotten the job done and he is responsible for the entire roster. While San Jose's top players can be better and need to be better at times, the fact of the matter is the roster has rarely had the adequate depth necessary to compete deep into the postseason. And the few times it did have the adequate depth, the Sharks went deep. With either Malhotra or Pavelski at 3C since 2009-10, the Sharks have gone 5-2 in seven total playoff series. With Handzus, Gomez, and Sheppard at 3C, the Sharks have gone 0-3 in playoff series. The same great core goes further in the playoffs with a significantly better third line. That is no coincidence. Teams win in the playoffs because they have the ability to roll four lines on a regular basis and their depth players out perform those on the other team. More often than not the top stars on each team cancel each other out. However teams with elite third lines are the ones that end up hoisting the Stanley Cup. Wilson hasn't equipped his roster with the necessary ingredients and he has alienated relationships with the now former head coach and the team's current face of the franchise. Getting rid of Wilson would be a true fresh start and would finally end all this drama and lack of unity.
Andrew has been credentialed to cover the Sharks since 2010 and the 49ers since 2012. He graduated with his BA in Broadcast Electronic Communication Arts in 2013 from San Francisco State University.