As promised yesterday, here is our preview of the National Hockey League teams for 1966-67.
As the National Hockey League embarks on its 50th season we surveyed a number of observers to provide our readers an idea of what to look for as this historic season unfolds. The impending expansion draft next summer has general managers operating in a cautious mode, causing a normally busy trade market to be virtually stagnant. Here's a look at each of the NHL teams and what folks around the league feel their chances are this season.
Boston Bruins
The Bruins, perennial league doormats, are a team on the rise. Aggressive scouting, shrewd trading and some good luck have the Bruins looking to the future with renewed optimism for the first time in what seems like decades. It all stems from a teenage phenom and a youthful, forward-thinking coach.
Orr is the Future
Bobby Orr is just eighteen years old and already being heralded as the saviour of this franchise. Young Orr made his NHL debut last night to rave reviews. He played with the poise and composure of a veteran as he led the Bruins to an opening night victory over Detroit. Orr's best assets are his ability to think the game at a high level, his superior skating ability and his vision. Orr showed in his illustrious junior career that he sees everything that happens on the ice, and has an uncanny knack of knowing where the puck will be at any given moment. He is a truly rare and special talent.
Harry Sinden, just 33, takes over as coach in circumstances almost completely opposite that of Orr. Sinden is basically an unknown quantity, a career minor league player who served as player-coach at Oklahoma City in the Central Professional Hockey League last year.
Sinden has the players attention. Veteran Ron Stewart said that this Boston training camp was the best preseason experience he's ever had and others echoed that sentiment. Sinden has a plan and is committed to executing the plan properly.
Goaltending in Good Hands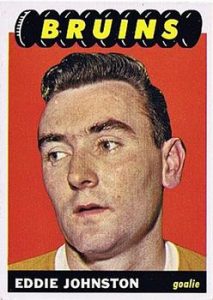 Boston's goaltending should be better. Old reliable Ed Johnston anchors the netminding team. Two highly-regarded youngsters will battle for the number two spot. Gerry Cheevers and Bernie Parent are both young and possess immense potential. Right now it looks like Parent, the former Niagara Falls junior star, has the inside track on the backup job.
Joining Orr on defence is young Gilles Marotte, 20. The Bruins brought Marotte up from Niagara Falls for a trial last season and he did not look out of place on an NHL blue line. Other Boston defenders will be Dallas Smith, Bob Woytowich, Don Awrey, Joe Watson and Gary Doak.
Smallish Forward Unit Improving
The Bruins are improving up front, but still lack size. Their two top centres are on the smallish side – Murray Oliver and Pit Martin. Tommy Williams and Ron Schock are best bets for the other pivot spots. Left wing is patrolled by one of the best in John Bucyk. Ron Murphy makes a comeback after retiring last season, but beyond those two, there isn't much talent. On the right side, Stewart and Cowboy McKenzie are the best bets. Wayne Connelly has looked good so far this fall. And of course there is Eddie Westfall, the all-purpose utility player who can fill in admirably anywhere at forward or on defence.
Consensus: Most observers feel the Bruins are on the right track, just not quite ready for prime time yet. Fifth place is a likely landing spot for the Bruins, but if one of the playoff-bound favourites falters, the Beantowners could slip into the post-season fun.
Chicago Black Hawks
The Black Hawks boast two of hockey's premier performers in Bobby Hull and Stan Mikita. Those two all by themselves should guarantee the Hawks a perch near or at the top of the NHL standings. Our informal poll of NHL experts has them finishing just a shade behind the Montreal Canadiens in second place. One slight blemish on the optimism surrounding the Windy City crew is the retirements of three key players.
Golden Jet and Mikita the Keys
While Hull and Mikita are the centrepieces of the Chicago attack, they have a fine supporting cast. Big Phil Esposito is developing into an offensive threat and he works well with Hull. The Scooter line, which features Mikita along with Doug Mohns and Kenny Wharram, is as fine a threesome as there is in the league. Add to those threats three fine youngsters Dennis Hull, Ken Hodge and Fred Stanfield who are on a very good development track and the Black Hawks should be able to fill the net on most nights. The departure of the retired Red Hay  could open a spot for one of these kids – if they are ready to step in.
Depth an Issue on Blue Line
The Chicago blue line corps is headed by one of the best in the business. Pierre Pilote won the Norris Trophy again last season and he anchors the defence. Pat Stapleton came up early last year to become an integral part of the unit and the team will benefit from having him around all season. Young Doug Jarrett is becoming a dependable stay-at-home type with a bit of a mean streak thrown in for good measure.
If there is a weakness defensively, it could be a lack of depth. Beyond those three, the Hawks will depend on unproven rookie Ed Van Impe and injury-prone Matt Ravlich. Big Elmer (Moose) Vasko called it quits at the beginning of training camp and his departure leaves a sizeable gap. If any of the main guys run into injuries, Chicago might be trouble.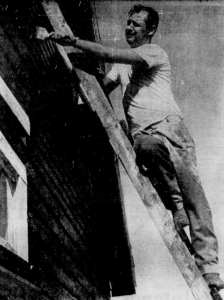 DeJordy Key in Goal
Goaltending might also be a question mark for coach Billy Reay. In years past, Glenn Hall's name was an automatic addition to the lineup card. But this season, Hall didn't report to camp and instead chose to remain at his farm in Alberta. Hall often said he liked everything about hockey except the games and this year, he's enjoying painting his barn rather than sticking his face in front of vulcanized rubber disks. It will be up to Denis DeJordy to carry the load in goal. It says here that he's entirely up to the task.
Consensus: Look for the Black Hawks to battle Montreal for first place all season.
Detroit Red Wings
The Red Wings are a team that, if all goes according to Sid Abel's plans, could be very good. But Abel's plans are dependant on his finding enough adequate defenders to give star goalie Roger Crozier the support he needs.
Weak Blueline Could Doom Wings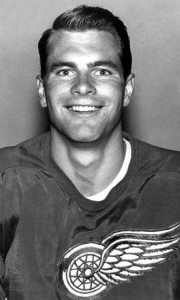 Detroit's success will begin and end with the defence this season. Their best man on the blue line just might be Gary Bergman, and he spent time in the minors last year before finally coming up to the NHL to stay. Bergman is a talented puck moving defender with a penchant for taking bad penalties. As he matures, he could be the kingpin of the Wings defensive unit. Another young rearguard is Bert Marshall. Marshall surprisingly inserted himself into the Detroit blue line picture last season and ended up as runner-up to Toronto's Brit Selby for the rookie-of-the-year award. Like all young players, Marshall struggles with consistency and did not have a great training camp.
Beyond those two relative newcomers, the defence is weak. Veteran Leo Boivin, acquired from Boston last season, is now 34 and a mere shadow of his former bruising self. Bob Wall is inexperienced and Pete Goegan has had many stints with Detroit, but has always ended up back in the minors, likely for good reason. Abel has tried to acquire retired Carl Brewer from Toronto, but he won't pay the Leafs' asking price of Norm Ullman or Paul Henderson.
Howe and Ullman Lead Offence
Up front, two of the NHL's finest forwards lead the Wing offence. Gordie Howe, probably the best that ever played the game, is still at the top of his abilities at age 38. And Norm Ullman is the league's fiercest forechecker and an outstanding scorer. Captain Alex Delvecchio is now 35 and is still one of the best centres in hockey, usually in the pivot spot on Howe's line. But other shopworn forwards such as Dean Prentice and Andy Bathgate will have to produce more than they did last year to give the Wings the balanced attack they need.
There are some talented younger players who will contribute. Bruce MacGregor and Henderson are proving to be solid NHL forwards. Murray Hall, 25, had a good training camp and scored in last night's opener. Veteran Floyd Smith is back as well, but he's not the sort that Abel can depend on for full time duty.
Crozier's Goaltending Heroics Could Save the Wings
In goal, it begins and ends with Roger Crozier. The 24-year-old has electrifying talent, and if he can stay healthy, a lot of losses will be converted to wins because of his efforts. But the acrobatic netminder has had health issues in the past and the spectre of time on the injury list has to worry Abel. Veteran Hank Bassen will be Crozier's understudy, but he could be pushed by young George Gardner, who starts the season in the American Hockey League at Pittsburgh.
Consensus: If Crozier stays fit and Abel finds a decent defenceman somewhere, Detroit just might squeak into the playoffs.
Montreal Canadiens
The defending Stanley Cup champs are the odds-on favourites to not only repeat their first-place finish of a year ago, but also to capture their third straight Stanley Cup. This team has no weaknesses and if the Flying Frenchmen avoid a slew of major injuries, there is no reason they can't successfully defend their titles.
Habs Have Depth Up Front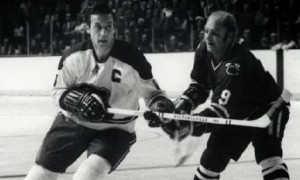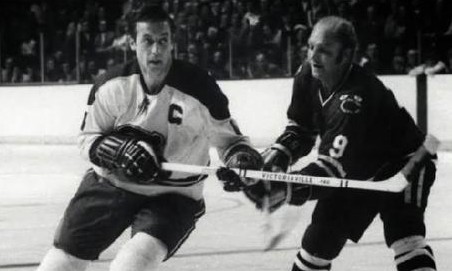 Canadiens are led by their captain and best player, Jean Beliveau. Beliveau is a dominant centre-ice man and as Le Gros Bill goes, so go the Habs. In Henri Richard and Ralph Backstrom, Montreal has behind Beliveau the best depth down the middle in the league.
On the wings, Montreal has an outstanding crew. Bobby Rousseau, speedy Yvan Cournoyer, Gilles Tremblay, Dick Duff, Claude Provost, John Ferguson, Claude Larose and Dave Balon are an experienced group that gives the Habs three lines that can hurt you. Even newcomer Leon Rochefort has been lighting the lamp in pre-season and will be a threat. Montreal's forward unit will be a force to be reckoned with.
Blue Line Corps Best in the Business
Canadiens blue line brigade is, like the forward unit, deep and experienced. J.C. Tremblay, Jacques Laperriere, Ted Harris and Terry Harper make up the top four, and there isn't a better foursome in the business. Laperriere returns from a serious late-season injury and will be the leader on the back end. Veteran Jean-Guy Talbot and all-purpose Jimmy Roberts round out the blueliners. Roberts will likely be used as a penalty killer up front and there will be many nights that he will see double-duty.
Worsley, Hodge Form Premier Puckstopping Duo
The goaltending is solid, if unspectacular. Gump Worsley will likely be the main man between the pipes. Gump has had an up-and-down time with the Habs, but he was outstanding in last year's playoffs and his experience will take the team a long way. Little Charlie Hodge is the perfect partner for the Gumper. He is able to take the reins when necessary and perform at a high level. Charlie sometimes lacks consistency, but even at his worst, he's better than a lot of the puckstoppers around the league. Looming in the background is young Gary Bauman. The Michigan Tech grad had a great season with Quebec Aces in the AHL last year, and even got a couple of starts with the big team. He'll start with Quebec again this time around.
A huge factor in Montreal's success of the past two seasons has been coach Toe Blake. After winning the Stanley Cup last spring, many around the league felt that the former star left winger who was named to the Hockey Hall of Fame this past summer would call it quits. But Toe relented on his retirement plans and will be behind Montreal's bench for at least one more season.
Consensus: If Canadiens stay away from major injuries, it's difficult to see any team finishing ahead of them in this 50th NHL season.
New York Rangers
Perhaps the most optimistic person in the NHL this fall is New York Rangers coach–general manager Emile (The Cat) Francis. Francis, who began the Rangers rebuild in earnest last season, claims his improving team is at least 25% better this time around. Unfortunately for Francis, not many observers think the Blueshirts are that much better. In fact, they don't think the Rangers are very good at all.
As the Montreal Gazette's Pat Curran states, there are just too many uncertainties around the Rangers team. The Rangers really can't depend on any facet of their club to carry them this year.
Goaltending Iffy at Best
The questions start in goal. Ed Giacomin and Cesare Maniago have been anointed the goalkeepers. Both were around last year, and neither was able to deliver playoff-calibre netminding. Now to be fair, Giacomin virtually came out of nowhere to make the Rangers last season and had a huge learning curve. Maniago had previous stints with Toronto and Montreal, where he was unable to stick. Either or both of these men could be headed to one of the expansion teams in next summer's draft to stock the new clubs. Francis' problem is, other than untried Gilles Villemure, there really isn't anything coming up in the system.
Defence Lacks Experience Beyond Howell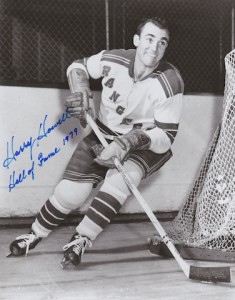 On the blue line, the Rangers have dependable Harry Howell. Harry is as good as there is in this league, but he's 33 and can't carry the team himself. Jim Nielson, 24, is improving, but suffers from acute inconsistency. Same for former Leafs prospect Arnie Brown. Journeyman Wayne Hillman is around, but his presence in a team's top four doesn't inspire much confidence. All this adds up to a lot of long nights for the goaltenders. Veteran Al MacNeil was drafted from Chicago and 21-year-old Rod Seiling might provide some help, but realistically, they can't be counted upon.
Rangers Need Gilbert, Ratelle to Come Through Up Front
Up front, the Rangers do have some talented players. Former Habs Phil Goyette and Don Marshall have combined to provide some solid two-way offence. Captain Bob Nevin is also a fine two-way forward and a natural leader. The big question Francis must have a positive answer for is if 25-year-olds Rod Gilbert and Jean Ratelle, buddies and linemates since their junior days, can stay healthy and have an impact. Both have suffered from back woes during their NHL careers and both are questionable going into this season. If each of these players can realize their considerable potential, Francis will be sitting pretty with his forward lines. That may be entirely too much to ask.
One new face who is expected to raise the Rangers level of scoring ability is former Canadiens great Bernie (Boom Boom) Geoffrion. Geoffrion retired after the 1963-64 season and last year found himself coaching the Quebec Aces of the American Hockey League. Unable to completely dismiss the itch to play in the big league once again, the Boomer agreed to come back with Francis and the Rangers this year. His performance in training camp and exhibition games showed that the former 50-goal scorer still has the legs, skills and shot to help an NHL team.
Another newcomer is Gordon (Red) Berenson. He's a studious type whose strength is his skating ability. He's never been able to put it all together with Montreal, and a fresh start in New York may just be the environment he needs.
Consensus: It's a bit of a stretch to expect all the questions surrounding this team will have positive outcomes. With Boston's improvement, it will be tough for Francis to get the Rangers up the basement stairs and out into the sunlight this year.
Toronto Maple Leafs
No NHL team has the potential to follow two such divergent paths going into this season. The Toronto Maple Leafs are a talented but veteran-laden team that seems to be at a cross-roads. If their older squad is unable to age gracefully, this group of greybeards could experience a free-fall of epic proportions. It's also possible that this very experienced group could take advantage of their veteran savvy to contend for first place and the Stanley Cup. It could go either way.
Greybeards in Goal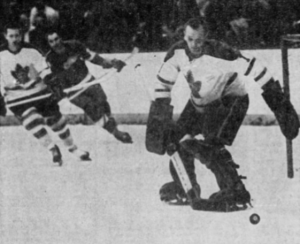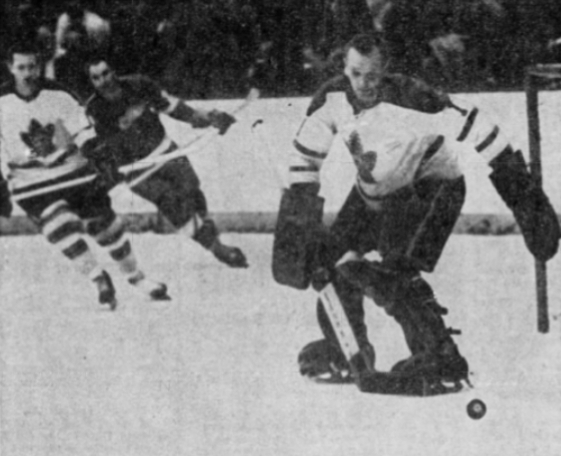 If manager-coach Punch Imlach doesn't worry about their ages, he can be confident in his goalkeeping. Johnny Bower will be 42 in November, and Terry Sawchuk is 36. Both have shown brilliance over the past couple of seasons, but both have experienced the various hurts that accompany the onset of age. If Imlach can juggle their ice time skilfully, he might coax yet another great season out of the two of them. Journeyman Bruce Gamble is waiting in the wings, should either man falter. Gamble got into ten games as a fill-in with the Leafs last season and was outstanding.
Defence is Good, But Aging
As with the netminding, the defence is aging as well. Tim Horton is the best of the bunch, but he's on the long side of 36. He remains the league's strongest player and is of all-star calibre, but his workload will be heavy. Horton's partner Allan Stanley is 40 and slowed noticeably last year. It's asking a lot for these two to carry the mail every night. The third mainstay over 35 on the blue line is Marcel Pronovost. Still one of the smartest blueliners in the league, Pronovost is taking longer to heal from inevitable injuries that befall most rearguards. The other member of the top four is rugged Bob Baun. Baun still hasn't signed his 66-67 contract and has been at odds with Imlach. Baun really missed his long time blue line partner Carl Brewer last season. Larry Hillman is still around should any of the others fail.
Forwards Could Be Leafs Saving Grace
Up front, the Leafs have a younger group. Only George Armstrong and Red Kelly are over 35, and neither is being relied upon too heavily. They are nonetheless important cogs in the Leafs machine, but won't have the pressure of being the go-to guys. Armstrong has been a great captain and provides strong leadership and stability.
Toronto is blessed with the two best two-way centres in the game in Dave Keon and Bob Pulford. Whenever Imlach talks trade with his counterparts in the league, Pulford's name is the first clubs ask about. Keon, one of the quickest men in the league, quietly goes about his business with a level of skill that not many can match.
The Leafs will depend on the Big M, Frank Mahovlich to lead the offence. The enigmatic Mahovlich possesses the size and skill to be one of the league's premier superstars. When he has it all going, he can be nearly unstoppable. Leafs hope that Eddie Shack, who scored 26 last year, and young Ron Ellis can round out the office with 20-goal seasons. If wingers Larry Jeffrey and Jim Pappin can contribute, the attack will be in good shape.
One wild card that Imlach isn't counting on, but quietly hopes can come through is rookie Mike Walton. Walton was the AHL's top freshman last year and has loads of offensive talent. Walton may not yet be mature enough for the NHL grind…he's currently in a contract dispute and not playing at Rochester.
Consensus: The Leafs are a difficult team to read. Most feel that the team should be able to make the playoffs, but that the long grind of an NHL season will be too much for this veteran group. Third place is realistic, but a quick exit in the playoffs could happen.
So, our unofficial and informal poll of the best hockey minds around the NHL has the league finish looking like this:
Montreal
Chicago
Toronto
Detroit
Boston
New York
The NHL's 50th season, it's last as a six-team loop, could be its most interesting.