When the Edmonton Oilers parted ways with Nail Yakupov earlier this month, it concluded a tumultuous four-year relationship between both parties. The Oilers drafted Yakupov first overall in 2012, and he was the second of two first overall picks by Edmonton to get dealt this summer. Taylor Hall was traded to the New Jersey Devils in July, but it's Yakupov who will be the first of the two to return to Edmonton not wearing the familiar blue and orange.
There is more to this than just another player returning to the city they once hung their hat. The Yakupov story has many facets, but the most interesting aspect of this is the chance for redemption thanks to a fresh start in St. Louis. Through four games with the Blues, Yakupov has scored two points, both coming in one game against the Minnesota Wild on Oct. 13. More importantly, despite going pointless in the other three games, the 23-year-old is receiving something he rarely got in Edmonton; praise.
The praise is coming from  Blues head coach Ken Hitchcock, and he's put some faith into the former Oilers forward and has promoted him to the second line with Robby Fabbri and Paul Stastny. It's ironic that Yakupov has found his way into the top six of a Stanley Cup-contending team when the 29th place Oilers didn't have a fit for him in their top nine.
Related: Zach Who? The Guy Edmonton Got For Yakupov
Regardless, the opportunity is there for the young right winger in the final year of his contract, which sees a $2.5 million cap hit. He's a restricted free agent (RFA) at the end of the year, so it'll be interesting to see how the Blues approach negotiations, but we likely won't know anything until next summer, considering how little the Blues know what they have in Yakupov at all.
If Yakupov can build any sustained success with Hitchcock and the Blues, the Oilers will still reap some benefit. Remember the Oilers acquired a conditional pick that'll move from a 2017 third-round to a 2018 second-round selection if Yakupov scores a minimum 15 goals this year. As Mark Spector (Sportsnet) mentioned, a third-round pick was market value for the forward.
Yakupov Leads a Small Army of Ex-Oilers Playing for the Blues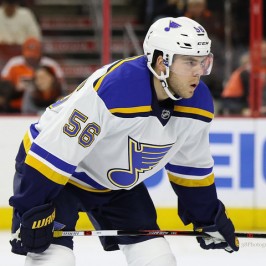 Yakupov isn't the only ex-Oilers property returning to town as several other former Oilers are coming along for the trip. David Perron, Magnus Paajarvi and Kyle Brodziak are all returning to Edmonton.
Paajarvi was another former Oilers first-round pick drafted 10th overall in 2009. The 25-year-old played 163 games with the Oilers, scoring just 58 points. He struggled through a sophomore season that saw him put up just eight points in 41 games in 2011-12. It was a disastrous year, considering Paajarvi was viewed as a foundational piece. He'd then spend the next few seasons bouncing between the Oilers and their AHL affiliate before he was traded to the Blues for Perron.
Perron was the tale of two tapes during his short 116 games with the Oilers between 2013-2015. In his first year, he put up 28 goals and 57 points. The second year saw him score just five goals and 19 points in 38 games. After a year and a half, the Oilers shipped him to Pittsburgh. The Oilers acquired Rob Klinkhammer and what turned into the 16th overall pick. Before the draft, the Oilers moved that pick to the New York Islanders for Griffin Reinhart. The Islanders used the pick on Mathew Barzal.
Related: Oilers Trade Yakupov to Blues
Back to Perron: he's bounced between Pittsburgh, Anaheim and ended up signing a two-year deal as an unrestricted free agent (UFA) in St. Louis this summer. So far, Perron has been held pointless through the Blues' first four games playing on the team's third line with Patrik Berglund and Dmitrij Jaskin.
Then there's Brodziak, who at one point in his post-Oilers career morphed into a solid third-line shutdown center while with the Minnesota Wild. Brodziak played 175 games with the Oilers, scoring 59 points. He was traded to Minnesota for a fourth and fifth-round pick in the 2009 NHL Draft which the Oilers used on Kyle Bigos and Olivier Roy, neither of which played a single game for the Oilers.
After six seasons with the Wild, Brodziak signed with the Blues as a UFA and is playing his second season with the team.
Where Do We Go Now?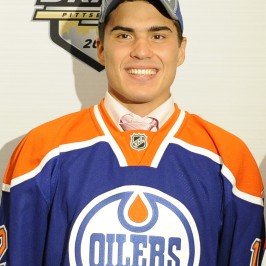 Paajarvi and Perron are now playing a regular role in the Blues top-nine, and the fan base has come to terms with their departures from Oil Country. It's with Yakupov that the feelings are still fresh considering the trade went down just 13 days ago.
The base of the Oilers franchise is still split on Yakupov, but regardless, he's no longer an Oilers player. Yakupov is now Hitchcock's and the Blues' problem to sort out. There is still an incredibly talented player underneath it all; it's just about harnessing it. Hitchcock will be hard on Yakupov, but it'll be needed to break those bad habits that drove Edmonton's faithful up the wall.
So far Zach Pochiro, the guy Edmonton did get for Yakupov, has yet to suit up for the AHL Bakersfield Condors, and it's unknown if he'll mature into an NHL product at all. In the meantime, it'll be an emotional night for Yakupov in Edmonton where a portion of the fanbase will likely send him off with an ovation to let him know regardless how his time here ended, he was appreciated.
Edmonton Oilers regular contributor providing insight on all things Oilers including club history, prospect profiles, trade breakdowns, and everything else in between. Check back regularly for new and exciting content. Follow on Twitter @SanderTHW.