Bobby Hull, hockey's Golden Jet and the leading goal-scorer in the National Hockey League, will miss this weekend's game with the Toronto Maple Leafs on Saturday, and is a doubtful starter for Sunday's match against Boston.  The problem this time is an injured left knee.
Injuries to both knees
Hull had missed four games with a right knee injury after being checked by Toronto's Bob Baun on February 6.  He returned against New York on Wednesday night and was injured once again, this time on the left knee, thanks to a similar hit by the Rangers' Arnie Brown.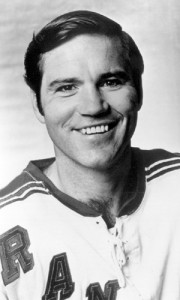 Chicago has also been missing forward Chico Maki.  Maki has been out for three games after spraining his ankle while getting out of a taxi in Detroit.  Coach Billy Reay is hopeful he will be available for this weekend's games.
AHL prez levies fines, suspension
American Hockey League president Jack Riley levied fines totalling $1600 and suspended Cleveland Barons captain Bill Needham as a result of that Valentine's Day brawls at Memorial Auditorium in Buffalo and the Quebec – Rochester game in Rochester.  Both incidents  involved altercations between fans and players.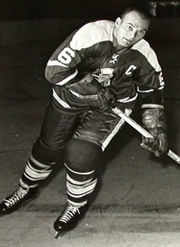 Riley fined three coaches, one general manager, and six players amounts ranging from $100 to $200.  Needham was suspended for three games as well.
Phil Watson – "conduct unbecoming…"
Buffalo coach Phil Watson was fined $200, plus an additional $50 for "conduct unbecoming a professional hockey coach."  Fred Hunt, Buffalo general manager also was hit with a $100 fine for his part in a shoving match with Cleveland player-coach Fred Glover.  This happened, according to Riley's report, while three Cleveland players were fighting with fans in the penalty box and adjacent areas.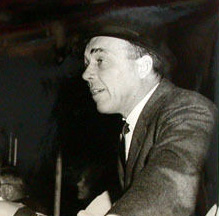 Glover received an extra $200 fine for "failing to control the actions of his players."
For Needham, it was the second serious incident this season in which he was involved with a fan.  The earlier altercation took place in November in Hershey.
In the Rochester clash, Quebec coach Bernie Geoffrion was fined $200 for failing to control his players.  Three Quebec players, Doug Harvey, Bryan Watson and Germaine Gagnon, were nailed with $100 fines for their involvement in a fight with fans behind the Quebec bench.
Habs recall Berenson, then return him to Quebec
The Montreal Canadiens recalled Red Berenson from Quebec of the AHL for their game two nights ago against Detroit, then returned him yesterday.  Berenson's services were required when both Dick Duff and Bobby Rousseau were unable to play Tuesday night.  With Duff being ready for this weekend's games, Berenson was no longer needed.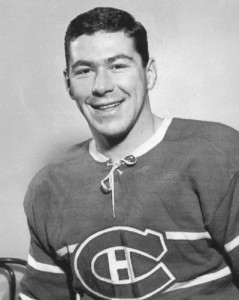 Montreal also announced that defenceman Noel Picard, recently promoted from Omaha of the Central Professional Hockey League, will stay with the Canadiens for the rest of the season.
Junior Habs blank Hawks
Montreal Junior Canadiens' goalkeeper Fern Rivard notched his first shut out of the season last night as the Baby Habs defeated the St, Catharines Black Hawks 2-0.  In the other two OHA Junior A games, Oshawa out scored Peterborough 7-5 while Hamilton outlasted Kitchener 8-5.
Serge Savard and Don Liesmer were the Jr. Habs' marksmen as Rivard stopped 23 shots for his first whitewash this year.
In Oshawa's win over Peterborough, Bill Little led the way with a hat trick.  Jim Paterson had a pair for the Petes.
Real Lemieux led Hamilton over Kitchener with a four-goal performance.  Defenceman Bart Crashley added two goals.  Sandy Fitzpatrick scored three times for the Rangers.