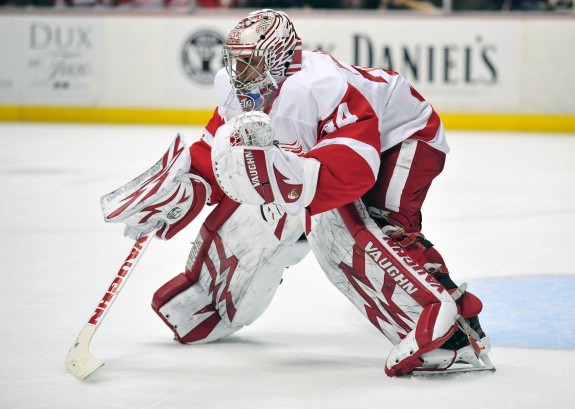 GRAND RAPIDS, Mich. — Petr Mrazek is back in Grand Rapids where he started the 2014-15 season with the Griffins, but just because he currently isn't helping the Detroit Red Wings attempt to secure a 24th consecutive playoff berth doesn't mean he stopped paying attention to how the team is doing.
Quite the opposite, in fact. After I was done interviewing the Czech about his time in Detroit, Mrazek hurried back to a TV in the Griffins locker room to watch the end of the Red Wings' game against the Chicago Blackhawks.
He made it back in time to watch Jimmy Howard pick up his first shootout win of the season and give the Red Wings a season series sweep of the Blackhawks.
The Red Wings had three goalies on the active roster for a bit, but with the team struggling to score, they opted to recall Teemu Pulkkinen and send Mrazek back to Grand Rapids.
Mrazek Happy, But Wants to Improve
"Petr's proven to be an elite goalie at this level. Petr is down here to play as well. So, we're going to start him (Friday)." – Griffins coach Jeff Blashill
Mrazek fared well while in Detroit. He started 11 straight games when Jimmy Howard went down with a groin injury and compiled an 8-2 record with a 2.78 GAA and a .904 save percentage. The goals-against average and save percentage stats don't look all that impressive by themselves, but you have to remember he got no break for 11 straight games, and he is only 23 years old.
He's the future goalie for the Red Wings, but he'll need some time to adjust to the NHL. Howard struggled when he first started to play with the Red Wings, but he has turned into a solid goaltender for Detroit.
Jared Coreau got the start for the Griffins during Wednesday's 4-3 overtime win against the Milwaukee Admirals, but according to coach Jeff Blashill, Mrazek will start on Friday against Hamilton.
"Petr's proven to be an elite goalie at this level," Blashill said. "Petr is down here to play as well. So, we're going to start him (Friday)."
Mrazek admitted he could have been better in Detroit but also was happy with his performance as the No. 1 goalie.
"I think sometimes it can be better, sometimes it was good," he said. "Overall, I think it was good. Got lots of wins. 13 wins, four losses I think. So, I think I can be happy for that."
The 13 wins is in reference to the total amount of wins he has for the season, and he actually has five losses and one shootout loss.
"It was awesome," Mrazek said of his time in Detroit. "I got lots of experience. It will help for the future in the NHL."
Keep Mrazek Playing
I've stated on a number of occasions how Mrazek has nothing left to prove at the AHL level. However, keeping him on the bench in Detroit and only giving him a couple of starts here and there is detrimental to his development. Especially when the Red Wings need all the scoring power they can get, it's not smart to keep three goalies on the active roster.
It's better he come back to Grand Rapids and play mostly every game to stay focused. When the March 2 trade deadline passes in the NHL, the 23-man roster maximum is lifted, so we could see Mrazek back in Detroit before the end of the season.
Subscribe to our Red Wings stories to get email updates every time a new story is published.
Tom Mitsos is a Detroit Red Wings and Grand Rapids Griffins staff writer for The Hockey Writers. You can follow him on Twitter @tom_mitsos.