Veteran Toronto Maple Leafs goalie Johnny Bower is about to give the Beatles a run for their money in record sales, at least in Toronto. The affable Toronto netminder, estimated to be somewhere around 41 years old, has cut a record that will soon be available in stores in the area, just in time for Christmas.
"Honky the Christmas Goose"
The Capital record label says that Bower's two songs are named "Honky the Christmas Goose" and "Banjo Mule."
Bower is joined on the recordings by his son John, Jr., who is 11. They are backed up by a Toronto singing group, the Rinky Dinks.
Bower spoke with Red Burnett of the Toronto Star about his experience as a budding rock star.
"If I have a bad night in goal I can just hear those fans shouting why don't you stick to singing?
"The night we recorded the songs the lights went out and I nearly died. I'm no Sinatra but I didn't think my voice would wreck the hydro. I was glad to learn that I hadn't blown all the fuses. We finished by candle light in a real Christmas atmosphere. It was a lot of fun and we had two catchy tunes."
How the enterprise came to be is a story in itself. Eddie Fitkin, a Toronto radio commentator, had the idea and talked Chip Young of the CBC into writing the lyrics for "Honky." Young was shocked when Fitkin informed him that he wanted Bower to sing the song. Why Bower? Fitkin and Young explain:
"John can't sing a note, he's a goalkeeper. For my money, he's the friendliest man in Canada, the guy who should do this song, regardless of the quality of his pipes."
Young managed to retain O.E. Hoover, a Toronto pianist, to set the words to music. He also gathered a bunch of neighborhood kids to join John Jr. with his dad.
Now that he is going to be a world-renowned singer, Bower has taken to drinking only tea with honey, and he has given up cigarettes for a pipe.
"It's for my voice, you know."
Pappin, Walton Pace Amerks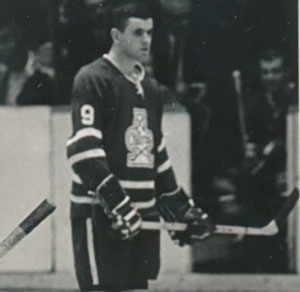 Jim Pappin and Mike Walton, a pair of young Toronto Maple Leafs prospects now with the Rochester Americans of the American Hockey League, are serving notice to the parent club that they are itching for a shot at the NHL. They were the goal scorers as the Americans edged the Providence Reds 2-1 to record their tenth straight game without a loss.
Pappin, sent down to the Amerks by the Leafs five games ago, scored his sixth goal for Rochester since his demotion to give them a 1-0 lead half way through the second period. Wayne Larkin replied for the Reds just two minutes later. He beat Rochester goalie Gary Smith who had just embarked on a rush that took him nearly the entire length of the ice.
Walton fired the game-winner early in the final frame on a power play while Providence's Bob Blackburn was in the penalty box. Walton cashed in a rebound from 15 feet.
Bears Rally to Clip Baltimore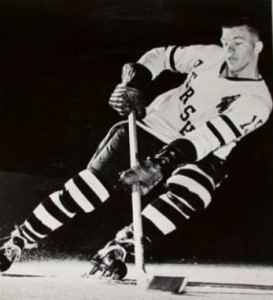 The Hershey Bears spotted the Baltimore Clippers  a 2-0 first-period lead and then stormed back over the final 40 minutes to claim a 4-2 road win at Baltimore.
Marc Dufour and Ken Schinkel were the Clipper marksmen that had them ahead 2-0 at the end of one.  Hershey replied with two goals from Myron Stankiewicz and singles by Mike Mahoney and Nick Polano.
Stankiewicz's second goal came about when he stole a puck from Baltimore goalie Cesare Maniago. Maniago was wandering out of the goal when he lost the puck and Stankiewicz fired it into the empty cage.
Whidden Stars as Marlies Tie Rangers
Goalkeeper Bob Whidden, cut from the Toronto Marlboros in training camp, provided standout goalkeeping as the Marlies came back to tie the Kitchener Rangers last night at Maple Leaf Gardens.
Whidden had battled for a spot with Toronto at training camp, but was instead shipped to the London Nationals to back up Nats' regular Rocky Farr. He didn't get into a game with London, but did see action in four games with the Ingersoll Junior B club.
With Marlie incumbents Al Smith and Duffy Lewis showing little consistency in their games, the Marlies summoned the 19-year-old Falconbridge native and gave him the start last night.
Whidden made several spectacular saves late in the game to preserve the tie for Toronto. A save on Kitchener's Billy Hway from point-blank range proved to be the difference maker.
Jim McKenney and Jim Keon scored the Toronto goals, while Claire Alexander and John Beechy connected for Kitchener.
The other OHA Junior A game scheduled last night also ended in a tie. Niagara Falls Flyers and Peterborough Petes, thought to be the two top clubs in the league, sawed one off at 3-3.
Derek Sanderson, Rosaire Paiement and Bud Debrody were the Niagara goal-getters. Andre Lacroix fired a pair for the Petes, with Dale McLeish adding a singleton.
Notes: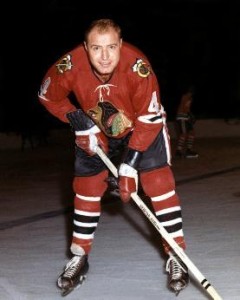 Rumblings out of Chicago have the Black Hawks ready to deal hulking defenseman Elmer Vasko. Detroit is a possible destination.
Red Kelly is a doubtful starter for the Leafs this weekend in their home-and-home series against Chicago. He has a pulled groin. Terry Sawchuk is slated to start both games in goal for Toronto.
Phil Esposito and Chico Maki showed up 40 minutes late for the Black Hawks 2 pm workout yesterday in Toronto. They claim to have slept in, but in any event, they are lighter in the pocketbook today.
Henri Richard returned to practice with Montreal yesterday and is expected to be in the lineup tonight against the Rangers.