With no National Hockey League games played last night, off-ice issues continued to make the headlines around the hockey world.  Among the items catching our attention today are the necessity for Leafs' Punch Imlach to serve jury duty, the grousing over the all-star selection process, and marriage of hockey and education in junior hockey.
Punch must serve
Toronto Maple Leafs coach and general manager George (Punch) Imlach must serve two weeks of jury duty, according to an Ontario court.  Chief Justice George Gale of the Ontario Supreme Court said in a written statement yesterday that because of a misunderstanding, Mr. Imlach was excused from jury duty last week at Toronto City Hall.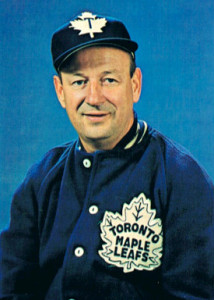 The statement reads: "The error has been corrected by direction of the Chief Justice of the High Court.  Mr. Imlach will serve as a juror this week and will continue his service  next week after other members of his jury panel have been discharged."
Imlach reported for duty yesterday at City Hall but was not selected as one of six jurors for a civil case.  The panel was ordered to report back to City Hall tomorrow at 10 a.m.
Imlach had been excused by the sheriff's office from duty last week, and when the decision was made public, questions were raised as to whether the Toronto hockey executive had received special treatment.  Chief Justice Gale conducted a private inquiry  into the reasons for Imlach being excused and yesterday's statement is the result of that inquiry.
It's not likely that Imlach will miss any real time with the hockey club.  Over the 10 days left in his term of service, Toronto plays only one game on the road, and that is a Sunday night affair in Detroit, which would enable the coach to be back at City Hall for Monday morning.  Practices will be ably handled by assistant King Clancy and captain George Armstrong.
No one has dared mention what might happen, however, if Imlach were to become part of a jury which might be sequestered for a lengthy period of time.  Chances are slim, but with the way Punch's luck has been running lately…
Bruins boss: Let players pick All Stars
Weston Adams, the owner of the Boston Bruins, is not happy about the way the NHL All Star team is selected and wants the system to change.  He believes the players themselves should select members of the squad.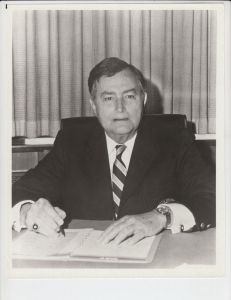 Adams told Boston hockey writers that during the next meeting of the NHL Board of Governors, in New York February 2-3, he would put forth a motion recommending that change to the all-star selection process.
Adams is upset because his defenceman Ted Green finished only sixth in the voting for his position.
"I don't think the present system of selection by the writers is the best we could have. After all, hockey writers in the four U.S. cities see only about one-half the games.  Most of the writers in the two Canadian cities travel with their teams so they see a lot more games.
"You must remember that there is more involved here than just the prestige of being selected an all-star.  There is $26,000 in prize money involved.
"I believe – and I will propose this to the governors – that the best judge of the players in the league are the players themselves.  I believe forwards should vote for goalies and defencemen on the other five clubs and that defencemen and goalies should vote for forwards."
Montreal Canadiens coach Toe Blake is not a supporter of Adams' plan.  He doesn't think either players or coaches should select the all-stars.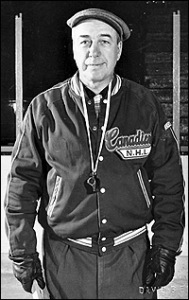 "You'll find out too often that they're overly impressed by some player who does well against their team but doesn't bother any other team."
Blake used one of his former players, Rangers' Phil Goyette, as an example.  Goyette was selected as an all-star at a Hot Stove luncheon in Toronto by a players' panel.
"Leafs have had a lot of trouble with Rangers this year, and Goyette has probably caused a lot of it, so naturally they would feel he's the best.  I'm certainly not knocking Goyette, but I don't think he's an all-star."
Several years ago, coaches picked the all-stars and the case of  Dick Irvin (coach of the Canadiens at the time) was cited.  Irvin's selections did not include Toronto captain Ted (Teeder) Kennedy at either the first or second all-star position, even though he was at the time one of the two best forwards in the league not playing for Montreal.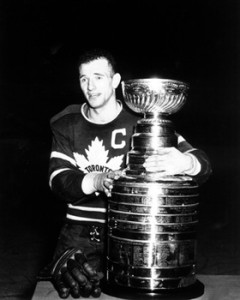 Toronto scribes insinuated that since coaches couldn't vote for their own players, by not voting for Kennedy, Irvin was in fact giving a vote to his own players.
Blake said that this incident proves the point he was making.  Irvin was able to show that the centre he did vote for instead of Kennedy hurt the Canadiens more than any other player.  That player, however, just wasn't very good against the other four teams in the league, making Irvin's selection look all the more questionable.
Juniors mix hockey, education
Frank Orr of the Toronto Star reports on an innovative program instituted by Niagara Falls Flyers owner-manager-coach Hap Emms.  The Flyers are the first junior hockey team to hire an educational director.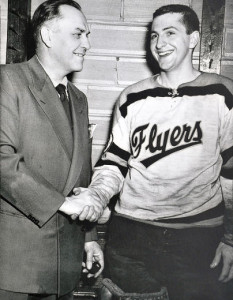 Emms is not like other hockey men, who decry the increasing emphasis on education for young hockey players.  While many feel that schooling takes a boy's concentration away from the game, Emms feels education is equally important to the player's development.
Referring to his 1950-51 Memorial Cup champion Barrie Flyers, Emms says, "Look at this team, there were maybe five students on it.  Now this team (the 1964-65 Niagara Falls Flyers) has 12 boys who attend school.  We pay a man to look after the scholastic matters of the boys.
"You could call him a counsellor or a tutor, but if a boy has weak subjects, he helps.  It is no guarantee every boy will be an honour student, but in present-day junior hockey he is almost as important as the coach."
Emms feels hockey and education are fully compatible.
"Any one who says a boy can't combine Junior A hockey and education doesn't know what he is talking about.  In this entire season, a boy on our team will miss no more than six days school because of hockey.  I'm certain he would miss that much for a variety of reasons if he were living at home.  Any boy who fails at school and blames hockey for it, would probably fail anyway and find some other excuse."
This year's Flyer team is prototypical of the way Emms views the game itself.  They have strong goaltending in Bernie Parent and Doug Favell.  There are no superstars, either up front or on defence.  The five man blue line unit, made up of Gilles Marotte, Dave Woodley, John Arbour, Barry Wilkins and Rick Ley is very solid.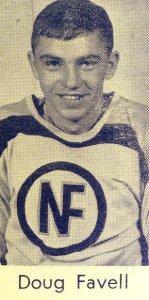 The three forward lines all produce offensively, while also taking care of defensive duties.  The top line of Bud Debrody, Ted Snell and Brian Bradley has scored 54 goals.  The second unit has 53, and features Rosaire Paiement, Don Marcotte and Jean Pronovost, all rookies.  The third line has 33 goals and is often assigned to checking the opposition's top line.  Those three  are Derek Sanderson, Jim Lorentz and Bill Goldsworthy.
Hayes: Next move up to Campbell
George Hayes, the linesman suspended this week by NHL president Clarence Campbell for refusing to submit to an eye examination, says he is not giving in.
Hayes was notified by telegram on Friday that he was being suspended indefinitely.
"I haven't heard any more since I received the telegram.  I'm waiting for him to make the next move.  It's up to Campbell and Voss (NHL referee-in-chief Carl Voss)."