The National Hockey League exhibition season got underway last night in Peterborough, Ontario. The Toronto Maple Leafs took on the New York Rangers and lambasted the Broadway Blues by a score of 8-1.
The game was a study in contrasts. Toronto was by far the better conditioned of the two clubs, owing to their week head start to training camp. The Leafs played a free-wheeling, high-tempo game with lots of offence and solid defence.
Rangers Slow, Disorganized
The Rangers, on the other hand, appeared slow and disorganized. They were unable to generate much in the way of a sustained attack and generally had little or no zip to their game.
The teams also differed in the way they handled their goalkeeping last night. John Bower played a tidy first two periods for the Leafs, giving up only a single goal to the Rangers Doug Robinson late in the first. Robinson converted a nice goal-mouth pass by Jean Ratelle.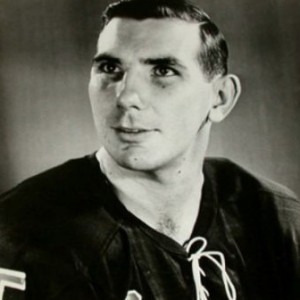 Gary Smith played the final 20 minutes for Toronto. He wasn't particularly busy but did not look at all out place. Smith was the goaltender for the Toronto Marlboros during their Memorial Cup-winning season two years ago.
New York coach Red Sullivan alternated goalies Gilles Villemure and Ed Giacomin frequently over the first two frames, but settled on Villemure for the third. The Rangers completely ran out of gas in that third stanza, giving up five goals to the Leafs. Villemure also had allowed one earlier goal to end up surrendering six on the night.
Big M Flying
A very good sign for the Leafs was that the Big M, Frank Mahovlich, already seems to be a the top of his game, as he fired three goals to lead Toronto. Newly-acquired Orland Kurtenbach, not known for his scoring prowess, netted a pair of goals. Bob Pulford, George Armstrong and Carl Brewer notched the other Maple Leafs markers.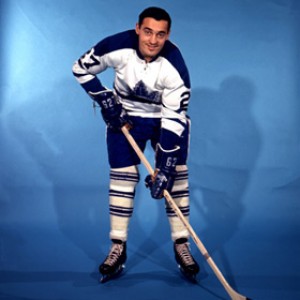 Mahovlich has been flying right through training camp. He says he is in better shape than he has been the past few Septembers and it certainly showed in his play. He has been the top scorer in the Leafs' scrimmages.
It's not only the number of goals he has scored, but the manner in which he has racked them up that is impressive. The big left-winger is charging to the net in a way reminiscent of his 48-goal season in 1960-61. He's also using that big shot of his as he blasts his way down the left side.
Mahovlich discussed his impressive early showing with the Toronto Globe and Mail:
"This is one of my better camps. I'm skating better and I reported in better condition this year.
"I've held my weight around the 201 mark and that has helped. Other years I'd lose a few pounds one day and gain a few the next. I couldn't keep it at a level.
"The team is skating much better generally. Last year, for instance, we didn't skate as well. All the new boys look very good."
Kurtenbach's two goals were both set up by Andy Hebenton, who came to Toronto along with Kurtenbach in the trade for Ron Stewart last June. The second tally came while the pair were killing a penalty to Mahovlich.
Rangers Sign Five
The Rangers announced the signings of five players yesterday, only one of whom was with the club last season.
Left-winger Vic Hadfield inked his 1965-66 pact. Hadfield had 18 goals and 20 assists for the Rangers last season.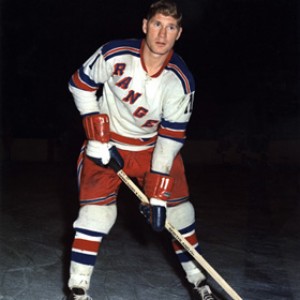 The four newcomers to sign were goalie Don Simmons, drafted from Toronto in the off-season, goalie Gilles Villemure, who played last night, and forwards Billy Knibbs and Ron Boehm. Knibbs was also picked up in the June draft, from Boston, while Boehm played with Minneapolis of the CPHL last year.
After the game, Rangers announced some player moves. They assigned 24-year-old centre Ray Cullen to Baltimore of the AHL. They returned Villemure back to Vancouver of the WHL, and sent Boehm, Bob Ash, Al Lebrun, Ken Block, Bob Plager and Jim Johnson to St. Paul of the CPHL.
Emms Lays Down the Law
New Boston Bruins general manager Hap Emms yesterday laid down the law at the Boston Bruins training camp in London, Ontario.
Emms apparently wasn't happy with the effort he saw from his players in a morning workout under coach Milt Schmidt, so he laced up a pair of skates and took over the afternoon session himself. Emms began the afternoon by informing his players that if coach Schmidt found it necessary to send anyone off for not putting forth a full effort, that player would be fined $50 on the spot.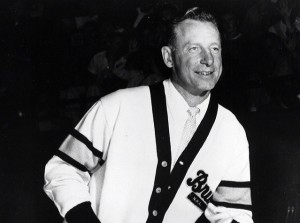 Schmidt was happy with the way the players responded.
"They're showing lots of pep, but I think today they finally realized we still have a long way to go on our conditioning. I think scrimmage proved to them they still have a lot of work to do."
Schmidt also remarked that he has been very impressed with the work of rookie goalie Bernie Parent, a graduate of the Junior A Niagara Falls Flyers. Another rookie netminder, Gerry Cheevers, drafted from the Leafs in June, has been sharp as well.
The Bruins signed four veterans yesterday. Leo Boivin, Ed Westfall, Tommy Williams and Ron Schock all inked new deals.
Rookie defenseman Joe Watson was the first casualty for Boston so far. He suffered a bruised shoulder but is not expected to miss significant time.
Another Vancouver Group Bids for NHL
Another group bidding for a National Hockey League expansion franchise has made its plans public. Fred Hume, the owner of the Vancouver Canucks of the Western Hockey League announced that he has made a formal application to the NHL.
Hume is a member of the Hockey Hall of Fame and a former mayor of Vancouver. He says that he is associated with a syndicate of 10 other businessmen, including Cyrus McLean, the chairman of the B.C. Telephone Company.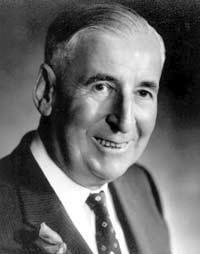 McLean, who is also president of the Vancouver Mounties of the AAA Pacific Coast Baseball League, says there is no shortage of money in his group.
The first Vancouver bid was filed on August 27 by a group headed by industrialist Frank McMahon. McMahon is said to be close to several present NHL owners. Others in his group include former NHL president Mervyn (Red) Dutton, Max Bell and Lord Thomson of Fleet.
No Deadline for Franchise Applications
NHL president Clarence Campbell says that, contrary to earlier reports, there has been no deadline set for expansion franchise applications.
Campbell said, "There's no such thing as a deadline. The confusion about this arose because the Western Hockey league at its meeting in September asked for an extension on time on behalf of their members. Their president Al Leader suggested October 1 as a deadline for them, but we have no deadline and I told them that in no uncertain terms."
Campbell said that he has received nine franchise applications and expects a 10th shortly. Eight cities are involved in those applications. Campbell wouldn't discuss the identities of any of the applicants.
It is known that two applications are from Los Angeles and two from the aforementioned Vancouver groups. Those groups have made public announcement about their bids.
The NHL governors will formally discuss the applications on October 19 when they meet in Montreal the day before the NHL All-Star game.
Notes
Red Wings goalie Roger Crozier earned an assist in Detroit's first intra-squad game.
Canadiens signed five players: Jean-Guy Talbot, Ted Harris, Noel Picard, Gordon (Red) Berenson and Keith McCreary.
The Russian hockey team will play an exhibition game against the Canadian National Team in Quebec City on December 12.
Glenn Hall has signed a contract for his ninth season with the Chicago Black Hawks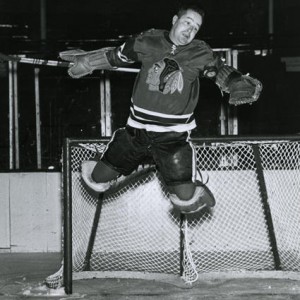 Leafs' new goalie Bruce Gamble lost eight teeth and was given the day off by Punch Imlach