The Montreal Canadiens scored early and often to decide the issue quickly last night as the they  captured the Stanley Cup for the 13th time with a 4-0 win over the Chicago Black Hawks at the Forum in Montreal.
[More of Mr. Cole's 50 Years Ago Series]
Beliveau scores winner, wins Smythe
The game, for all intents and purposes, was over almost as soon as it started.  Jean Beliveau, who was named the very first winner of the Conn Smythe Trophy, scored at the 14-second mark of the first period.  A Dick Duff setup pass hit Beliveau on the leg and bounced into the Chicago goal past goalie Glenn Hall, who had no chance on the play.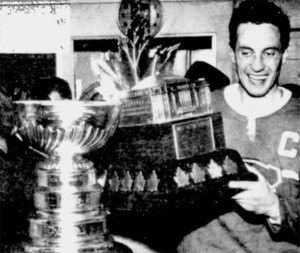 Duff then connected for one of his own just past the five-minute mark.  The industrious left-winger converted a Beliveau pass with a quick snap shot knee-high past Hall.  From that point on, there was no question the Habs would skate to victory in this one.
Yvan Cournoyer upped the count to 3-0 on another Duff setup at 16:27.  Henri Richard  made it 4-0 just over two minutes later.  Canadiens then put on a superb display of close checking and solid defence to keep the Hawks off the scoreboard the rest of the way.
Worsley surprise starter
Montreal pulled a big surprise with Gump Worsley starting the game in goal.  The pudgy 36-year-old was coach Toe Blake's choice over Charley Hodge because "he might not be as nervous as Charley."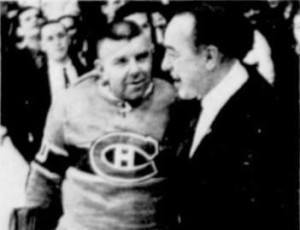 It wasn't a terribly busy night for Gump, as he was called upon to make only 20 saves, but he was flawless nonetheless.
Worsley's busiest stretch was early in the game, when he made five very good saves.  On two occasions in that first period he robbed Bobby Hull. Those stops, plus the early scoring binge by the Habs, completely demoralized the Black Hawks, who managed only 11 shots over the final two periods.
Blake: "team effort"
After the game, a reporter asked Montreal coach Toe Blake if he thought the game was over after the first goal.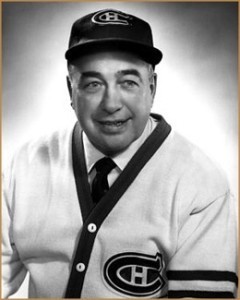 "Far from it.  I was glad to see that fourth one go into the net.  Gump made some big saves when it was 2-0 and one Chicago goal might have made a big difference in the game.
"But this was another great team effort that I have to be proud of.  This was the greatest  championship of them all for me.  We had no super-stars like the other five years.  And tonight, after we took the lead, the fellows never stopped skating or checking.
"But I'm really happy for these players.  Especially for fellows like J.C. Tremblay, who proved he belongs with the great stars of this game."
Blake was asked if he was going to retire after this big win.
"There's more chance of Beliveau coming back than me.  Sure all this is great but it's not always like that."
Beliveau: "Best of teams I've been on"
Beliveau was extremely satisfied.
"This is the best of the six championship teams I've been on.  There's more satisfaction because on one in this room (meaning the sportswriters) thought we would win.  But the players were more optimistic."
Duff, the former Maple Leaf enjoying a renaissance with Canadiens, thinks the Habs will be winners for a long time.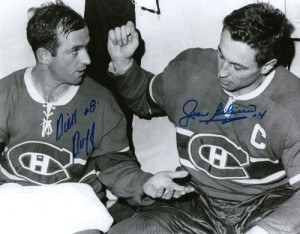 "I think the critics have been unfair to Canadiens plastering that 'homer' label on them.  We're not cheese champions and I think this club will keep the Stanley Cup for three or four years.
"They forget we overcame two-goal lead to eliminate Maple Leafs right in Toronto in the semi-finals.  And we lost Jacques Laperriere with a broken ankle in that Toronto game.  With him we'd have won at least one in Chicago.
"But what's wrong with winning the Stanley Cup on your own ice by a shutout in the seventh game?  All our victories were good ones – 4-0, 6-0, 2-0 and 3-2.  And if Glenn Hall hadn't been so tremendous in goal, we'd have won by wider margins."
Reay: "No excuses, no alibis"
Chicago coach Billy Reay had kind words for his victorious opponents.
"No excuses, no alibis.  We were stoned, beaten by a better team.  Skating is most of this game and they out skated us.  They also seemed stronger down centre than us.
"We've come in here three times during this series without scoring a goal and this is the club that scored the most goals during the regular season."
Pilote: "First goal sank us"
Hawks' captain Pierre Pilote was the only Chicago player to comment to the press.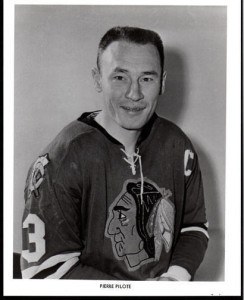 "That first goal after 14 seconds sank us.  I knew Dick Duff was going to fire it in there but nobody could move to stop it from getting to Beliveau.
"And we didn't penetrate their defence and when it was 1-0 J.C. Tremblay put his stick on the ice and made a real good stop on me after I shifted twice to get him out of position.  He's played a great series for them.  I've never seen him play so well."
Five records
Five Stanley Cup playoff records were set in this series.  The Canadiens won for the 13th time, the 11th time while under exclusive competition for the NHL.  They had been tied with Toronto for 10 wins before last night.
Toe Blake became the first coach to handle six Cup-winners.
The teams set a record for most penalties in a playoff series with 136.  Montreal also set records for most penalties in a series, 72, and most penalty minutes, 185.
Retired police detective, involved in hockey at all levels for over 50 years. Member of Society for International Hockey Research and presently a video analyst for the leader in advanced hockey analytics (we work exclusively for 2 NHL clubs, and provide advice on an ad hoc basis to many other clients). Currently the Assistant General Manager for the Pelham Pirates of the Greater Ontario Junior Hockey League. Previously owned the Faceoff computer hockey simulation and also provided all player ratings for the EA Sports series of NHL computer games from the late 90's into the mid 2000's.