The cellar-dwelling Boston Bruins, completely outclassed by the Montreal Canadiens only 24 hours earlier, put it all together last night as they shut out the vaunted Habs by a 3-0 count at the Boston Garden.  In the other two games, Chicago whipped the Rangers 7-2 and Detroit downed Toronto 4-1.
Bruins end losing streak
Despite a storm that featured wind, rain and snow that made driving conditions almost impossible in Boston, 13, 216 Bruin faithful turned out to the game and were treated to the home side's best performance of the season.  The match marked the end of Boston's five-game losing skein.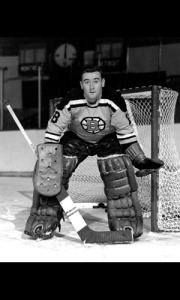 Much-maligned Bruin goalkeeper Eddie Johnston made 30 saves to claim his third shut out of the season.  He was solid throughout, but was never under fire in the same way he was in Saturday's contest in Montreal.
Kennedy's short-handed tally the back-breaker
The Bruins threw Canadiens off their game early by coming out aggressively and bumping them off the puck at every opportunity.  They grabbed a 2-0 first period lead on goals by Tommy Williams and Forbes Kennedy.  Boston fired 15 shots at Montreal netminder Gump Worsley in that initial frame.  Worsley couldn't be faulted on either of those goals, or that of Ab McDonald in the second period.
Kennedy's goal was particularly damaging to the Habs.  It came on a Montreal power play while rookie Wayne Rivers was serving a penalty.
McDonald gets 100th
McDonald's second period marker was the 100th of his NHL career.  The big left-winger, a former Hab, has been under fire all season for poor play and had been the centre of trade rumours in recent weeks.  He has been battling a groin injury, but this game was his best all year, as it was for many Bruins.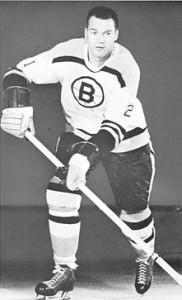 Boston coach Milt Schmidt was ecstatic.  Referring to the large crowd on such a stormy night, he said,  "It could only happen in Boston, where we've got the greatest hockey fans in the world.  I'm certainly happy we can please them once in a while with a game like this."
Wharram leads the way
In Chicago's lop-sided win over the Rangers, Kenny Wharram scored twice to lead the Black Hawks.  Other Chicago goal-getters were Chico Maki, Stan Mikita, Dennis Hull, Doug Mohns and Phil Esposito.  Camille Henry and Vic Hadfield replied for the Rangers.
No goals for Golden Jet
Bobby Hull of the Hawks, the NHL's leading scorer with 37 goals, was held off the scoresheet, but did contribute three assists.  Hull had 13 shots during the game, but was unable to beat Ranger goaltender Jacques Plante, who seemed to key in on Hull all night.  Plante's problem was that he had a rough time with the other Black Hawk players.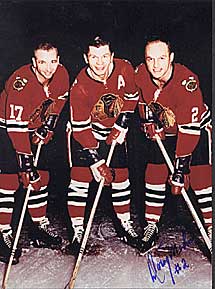 The Chicago line of Stan Mikita between Doug Mohns and Wharram was particularly effective and the Rangers had no answer for their criss-crossing pattern plays.
Detroit closes in
Detroit's 4-1 win over Toronto enabled them to close to within one point of the slumping third-place Maple Leafs.
The Wings jumped out to a 2-0 lead before the game was two minutes old and never looked back.  Parker MacDonald opened the scoring at 1:43 when he was sent in by a pretty Doug Barkley pass and he beat Leaf goalie Johnny Bower with a 20-footer.
Jeffrey making a strong return
Larry Jeffrey added to that about three minutes later when he banged home a rebound off a shot from Paul Henderson on which Bower had made a fine save.  Jeffrey has played four games since missing 22 with a knee injury and has looked very sharp.  He was apparently the target of Rangers GM Emile Francis in trade talks this week, but any deal between the two teams has fallen through.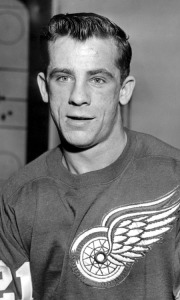 Eddie Joyal put the Wings up by three early in the second thanks to a terrible gaff by Frank Mahovlich in the Toronto zone which enabled Bruce MacGregor to feed Joyal.  Toronto rookie Ron Ellis got that one back when Dave Keon sent him in alone on Red Wing goalie Roger Crozier.  Gordie Howe scored late in the second frame to close out the scoring for Detroit.
Slumping Leafs looking for change
The Stanley Cup champion Leafs looked listless and dispirited for the second night in succession.  An aging team, it appears that their advanced years may be catching up with them, and even the injection of youth in the persons of Ron Ellis and Pete Stemkowski may not be enough to stem the tide of oncoming age.
Toronto manager Punch Imlach is anything but happy with his squad and is canvassing other NHL general managers to see who is available. Imlach says that a left winger is is top priority:
"One player is all we need, and this club will walk over the rest of the league."
Former big-leaguers lead AHL Amerks
Former NHL'ers Bronco Horvath and Eddie Litzenberger had big nights as the Rochester Americans exploded for 10 goals against the Quebec Aces in an American Hockey League game played in Quebec City last night.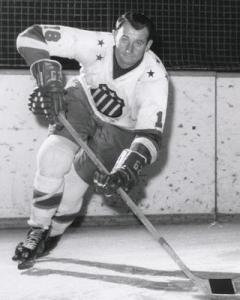 Horvath scored three times, while Litzenberger earned six assists to lead the Americans over Quebec.  Don McKenney, Wally Boyer, Dick Gamble, Gerry Ehman, Larry Hillman, Stan Smrke and Red Armstrong also scored for Rochester.  Skip Sutherland counted for Quebec.
In other AHL action, Baltimore beat Buffalo 5-3, thanks to three goals by Gord Labossiere, Jimmy Anderson's two goals powered Providence to a 4-1 win over Springfield, and Murray Balfour's fine play helped Hershey past Pittsburgh 5-3.
Parent blanks Jr. Habs
in OHA Junior A action, Niagara Falls Flyers goalie Bernie Parent came up with a flawless performance last night in Montreal as the Cataract City six blanked the Montreal Junior Canadiens 4-0.  The whitewash was the second of the season for Parent.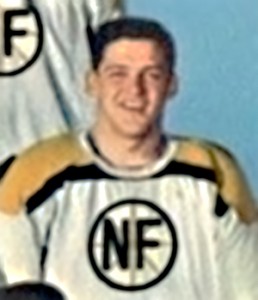 Three goals in first
The Flyers erupted for three first period goals against the Canadiens. with Ted Snell, Derek Sanderson and Bill Goldsworthy being the marksmen.  John Arbour scored in the final minute of the game to close out the scoring.  Parent made 27 saves for Niagara, compared to 24 for Fern Rivard, his counterpart in the Montreal goal.
In the other OHA games yesterday, St. Catharines Black Hawks bombed the Kitchener Rangers 6-1 while the Hamilton Red Wings battled to a 3-3 tie with the Toronto Marlboros.
McDonald, Hodge net two each
Brian McDonald and Ken Hodge scored twice each to lead the Black Hawks over the Rangers.  Tom Reid and Bobby Sicinski had the others.  Sandy Fitzpatrick replied for the Rangers.
Peters fires three for Red Wings
In Toronto, captain Jimmy Peters scored all three Hamilton goals to personally take responsibility for the Red Wings' tie with the Marlies.  Gerry Meehan, Wayne Mosdell and Doug Dunville found the range for Toronto.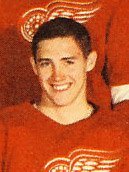 The second period seemed to take forever to play as it was held up by two major brawls.  Early in the period, Red Wing Jim Mair squared off with the Marlies' Jimmy Keon, and both received majors.  Late in the period it was Mike Corrigan of Toronto taking on Hamilton's Jim Young.
Hamilton goalie Jean-Guy Ruest was a standout, making 34 saves.
LA to make expansion bid
Stafford Smythe, president of the Toronto Maple Leafs, says that he expects the city of Los Angeles to make a formal proposal for an expansion franchise to the National Hockey League board of governors at their  February 2 meeting scheduled in New York.
Smythe believes that the Los Angeles delegation will make the point that big-league status is the only thing that will save hockey on the United States west coast.  Smythe and Harold Ballard toured Los Angeles and San Francisco on what they called a fact-finding mission last year to determine the viability of major league hockey in California.
The pair also visited Vancouver and made a proposal to build a big league arena in that city, if the municipality would gift them a parcel of downtown land.  That proposal was put to the electorate in the December civic elections and was turned down by the voters.
The Western Hockey League has enjoyed a renaissance of sorts this season and fan interest is at an all-time high.  This past weekend the Seattle Totems played a home game before over 13,500 fans, largest crowd in league history.