As THW previously reported, Ray Whitney is finally taking a break after 23 years of professional hockey.  The Former Stars forward, now 42 years old, officially retired this past Wednesday.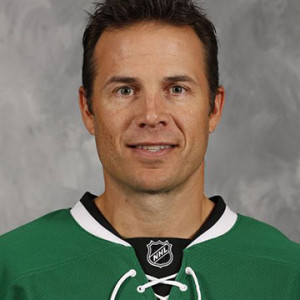 The Wizard's Retirement Speech
"For the past 23 years, I have had the privilege of earning my living playing hockey in the National Hockey League," Whitney said in a statement released by his agency, CAA Sports. "Along the way, I have made countless memories and friendships, which I will always cherish. Every city I played in, the fans welcomed my family and me with open arms, and I couldn't be more thankful for that. I also wanted to take this opportunity to thank all of my teammates and coaches, especially the 2006 Stanley Cup team in Carolina. I was lucky to have great agents at CAA Sports, who stood by me through the good times and the tough times. I want to say a special thank you to my parents, who gave me the chance to do what I loved. Finally, I want to thank my wife Brijet, and our three beautiful children, who have been incredibly supportive of me throughout my career. Without them, I wouldn't have been able to live my dream."
Over 1300 games played and 1000 points
Whitney played in 1330 regular season games and scored 385 goals and 679 assists good for 1064 points.  Whitney played for 8 different NHL teams (San Jose, Edmonton, Florida, Columbus, Detroit, Carolina, Phoenix and Dallas) and won the Stanley Cup while with Carolina in 2006.  Whitney broke into the league in 1991 with San Jose.
From Oilers stick boy to #NHL star, congrats to The Wizard, Ray Whitney on a terrific career.

— Chris Cuthbert (@CCpxpSN) January 21, 2015
Perhaps the most impressive thing about Ray Whitney's career is that he played at 5'10 180 (a generous listing I would add) in the old "clutch and grab or dead puck" era.  Back in those days it was hard to even get drafted unless you were at least 6′ 200+.  Whitney was an exception because he scored a ridiculous 67 goals 118 assists 185 points in 72 games with the Spokane Chiefs of the Western Hockey League.  The San Jose Sharks drafted Whitney in the 2nd round of the 1991 NHL Entry Draft.
Sharks, Panthers, Blue Jackets and Wings
Whitney had a modest run with San Jose, and a cup of coffee in Edmonton, before his career really started to take off with the Florida Panthers.  He scored 32 goals and 29 assists in 68 games with the Panthers in 1997-98.  While playing with Florida, former Panthers play-by-play man Jim Rimer dubbed Whitney as "The Wizard" a nickname that's followed Whitney throughout his NHL career.  After 4 seasons with the Panthers Whitney again put up solid numbers, but this time it was for Columbus and Detroit.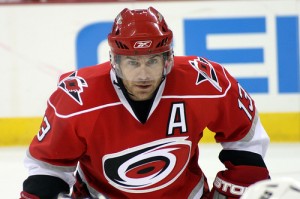 The Wizard Gets His Cup and Finishes A Shooting Star
In 2005-06 Whitney started his tour with the Carolina Hurricanes.  The Canes would go on to win the Stanley Cup that first season with Whitney playing a big role in it scoring 9 goals and 6 assists in 24 Playoff games. The Canes had a good mix of young and veteran players with Eric Staal, Justin Williams, Corey Stillman, Rod Brind'Amour, Mark Recchi, Doug Weight and goalie Cam Ward also being key contributors.  Current Stars forward Erik Cole was also on the team, however he missed the majority of the playoffs due to injury, before returning to play in Game 6 and Game 7 of Stanley Cup Finals.
After 4 more seasons with Carolina Whitney moved on to Arizona. He spent 2 seasons with Arizona  before winding down his career with 2 seasons in Dallas.
Whitney played 101 regular season games with the Stars scoring 20 goals and 41 assists for 61 points.  He appeared in 5 Playoff games for the Stars and had 0 points.