As Montreal Canadiens goalie Carey Price gets set to take the ice in Columbus for the All-Star Game (5 pm Eastern Time), one can't help but look back on his career up to this point.
Sure, he's been there before (three times in fact, in 2009, 2011, 2012), but up to now he's always had his detractors, and for good reason. Up until last season he had only won one playoff round in his career. After last year, though, not only has he won three, tripling his total in one spring, but an Olympic gold medal as well.
This is really the first season during which Price has been universally accepted as one of the best goaltenders in the league. However, by now it should be of little surprise that he's capable of greatness.
Carey Price: A Proven Winner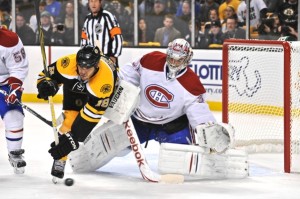 Taken fifth overall in 2005 (the Sidney Crosby draft), Price arguably disappointed from the get-go, as many Habs fans had their hopes on diminutive forward Gilbert Brule, who went with the next pick to the Columbus Blue Jackets, instead.
In those many fans' minds, Montreal already had a legitimate No. 1 goalie in Jose Theodore. They didn't need another (of course, they also didn't need another small forward, but I digress). And a goalie being chosen early on isn't exactly the sexiest of picks (Price's looks in the eyes of the fairer sex notwithstanding).
After all, goaltenders tend to develop at a slower pace, and a goalie chosen in a later round is almost as likely, if not likelier, to make an impact in the NHL.
St. Louis Blues goaltender Brian Elliott leads the league in save percentage and he was taken in the ninth round. Nashville Predators goalie Pekka Rinne, who leads the league in wins (29), was taken in the eighth. Prior to Boston Bruin Tuukka Rask winning the Vezina Trophy last year, the previous five winners either went undrafted or were taken in the fifth round or later.
Really, the more you think about it, Price is an exception on top of being an exceptional talent. He's taken his time to develop into the goalie he is today, but it's important to distinguish between his pedigree and his status as a former first-round pick. They're not one and the same.
He was picked in the first round because of his pedigree—following a season, in which he earned a .920 save percentage and 2.34 goals-against average playing on a below-.500 team. He then went on to add to his accomplishments.
If his World Junior gold medal and Calder Cup (and Calder Cup MVP award) in the American Hockey League, both coming in 2007, weren't enough to prove his worth, Price stepped right into the NHL the following season, going 24-12-3 with a 2.56 goals-against average and a .920 save percentage in 2007-08 with the Habs.
That was the last season the Habs won the Eastern Conference. Up until the spring of 2014, it was also the last time Price won a playoff round, beating the eighth-seeded Bruins in seven games in the first round that spring, only to fall to the Philadelphia Flyers in the second.
Breaking the Cycle
Price followed up the successful rookie season with two arguably sub-par ones in 2008-09, 2009-10. In 2008-09, he posted a mediocre .905 save percentage and 2.83 goals-against average in the regular season, with the Habs getting swept in the first round to the Bruins. In 2009-10, he rebounded statistically somewhat, with a .912 save percentage and 2.77 GAA.
However, that was the season the Habs went with the hot hand of Jaroslav Halak in the playoffs, making it to the third round, before management decided enough was enough and, giving their franchise goalie a vote of confidence, traded Halak to the St. Louis Blues for Lars Eller (and Ian Schultz). For all intents and purposes, it ended up being an okay decision.
Really, it was only the following 2010-11 season when Price, now the team's undisputed No. 1 goalie, arrived, posting truly all-star caliber numbers with a .923 save percentage and 2.35 GAA. He was the main reason the Habs went as far as they did in the postseason, taking the eventual-Stanley Cup-champion Bruins to seven games in the first round. His .934 save percentage those playoffs remains a high-water mark for him in the NHL.
That breakout season however was followed by two other poor ones, including 2011-12, when the Habs finished with the worst record in the Eastern Conference, ultimately earning the chance to draft Alex Galchenyuk in the first round of that years' draft.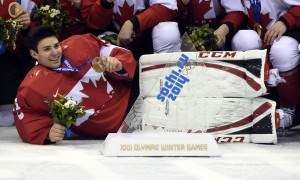 Up until this year, there was actually a trend developing in his career, with one outstanding season followed by two not-so-much ones. That trend even continued into last season, when Price was again excellent and surely would have made the All-Star Game, had it not been cancelled because of the Olympics.
His overall .927 save percentage and 2.32 GAA contributed to him wresting away Team Canada's No. 1 spot away from Roberto Luongo, and, just like he did seven years earlier on the international stage, he helped lead Canada to a gold medal.
In retrospect, that 3-0, 24-save gold medal shutout victory over Sweden might have been the turning point in his career. While he didn't need to be excellent playing behind a stacked Team Canada, he was just that, posting a .59 GAA and .971 save percentage. And he hasn't been the same goaltender since. He's been better.
Consistency is Key
Last playoffs, he struggled somewhat against the Tampa Bay Lightning in the first round (.904 save percentage in four games), but wasn't just all-world against the Bruins in the second round, as he was in the Olympics. He was other-worldly, leading Montreal to a seven-game upset victory, earning a .936 save percentage in the process.
https://www.youtube.com/watch?v=USUnqSbxkaE
Of course, against the New York Rangers in the third round, he got injured when a streaking Chris Kreider barreled into him in Game 1. Any questions about potentially lingering health issues were put to rest relatively early on this season. Despite starting slowly out of the gate, with 14 goals allowed in his first four games (.873 save percentage), he has since rebounded nicely to say the least, becoming a leading Vezina Trophy candidate and the main reason for Montreal's success.
At 24-10-2 with a .929 save percentage and 2.15 GAA, he is among the top five league leaders in almost every category, except shutouts (two relative to Pittsburgh Penguin Marc-Andre Fleury's six). However, that only translates into greater consistency game to game. He might not be posting goose eggs all the time, but he also isn't allowing four goals in his other starts. In fact, he's only allowed more than two once in his last 14 appearances.
It's that consistency of his, whether it's game to game, or in putting together a second consecutive all-star-caliber season, which proves Price is finally living up to the hype. Having earned his 200th career victory earlier this season—the fifth Habs goalie to ever reach that mark—he's firmly entrenched himself in the history of the organization, which is no small feat considering 2008-09 was the team's 100th overall.
Price arguably only made the all-star game that season, because of where it was being played (the Bell Centre). If his ordinary stats that year weren't enough to prove that, teammate Mike Komisarek being voted into the starting lineup definitely should be.
However, this year is a different story. Much like in 2011, Price deserves to be there, among the game's greats. It's certainly been a bumpy road to get here. He may have long since arrived. However, now the sense is he's here to stay.