Sure, in a perfect world, Montreal Canadiens Max Pacioretty and P.K. Subban would be joining goalie Carey Price at the All-Star Game January 25 in Columbus.
Snubbed Montreal Canadiens?
Of course, in a perfect world, Pacioretty would be on pace for over 40 goals (well, 93, if we can be greedy, including the open net he missed late in the third period against the Pittsburgh Penguins Saturday). He's not (18).
In fact, he's barely in the top 40 in league scoring with 33 points (41 games). A year after finishing fourth in goals (39), he's not even in the top 10 in that category, with both Toronto Maple Leaf James van Riemsdyk (19) and San Jose Shark Joe Pavelski (21) not getting named either.
In the same perfect world, Subban would be less than 10 points back of the top-scoring defenseman in the NHL (St. Louis Blue Kevin Shattenkirk; 37) to make up for his third-highest-in-the-league 51 giveaways. He's not either with a decent, but not overly impressive 27 points this (41 games).
If Philadelphia Flyer Mark Streit, who has one more point than Subban (yes, you read that right) can be left out of the game, so can Subban. Hell, if Ottawa Senator Erik Karlsson, who has two more points and is a recent Norris Memorial Trophy winner as well, can be supposedly snubbed, Subban definitely can be as well.
The No Head League
That isn't to say the league got it all right, naming the remaining 42 players after Buffalo Sabre Zemgus Girgensons and five Chicago Blackhawks got voted in by fans, and by fans I mean all of Latvia and Chicago. Speaking of which how does a city with a metropolitan area of nearly 10,000,000 get outvoted by a country a fifth of that size? How did not a single Blackhawk beat out Girgensons for top spot? Shame on you Chicago.
But I digress… shame on the NHL instead for naming Edmonton Oiler Ryan Nugent-Hopkins when teammate Taylor Hall is actually leading them in scoring. Everyone knows no Oiler at all should be going.
Granted, each team must be represented. With that in mind, Vancouver Canuck Radim Vrbata being named instead of either of the Sedin twins? Henrik is the lower scoring of the two and he has six points on Vrbata. Brother Daniel has seven.
Absolute worst-case scenario if the league just didn't want to feel obliged to waste two roster spots on Canucks? Just name one twin and have the other substitute in for him halfway through the game. Problem solved. Who would mind?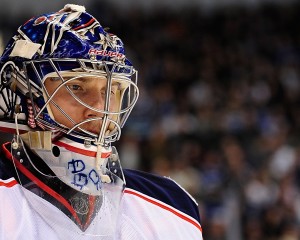 Meanwhile, Columbus Blue Jackets goalie Sergei Bobrovsky getting the nod ahead of Pittsburgh Penguin Marc-Andre Fleury is complete and utter nonsense, especially with Nick Foligno and Ryan Johansen getting in as well… admittedly justifiably in both cases.
However, Bobrovsky isn't even sporting an elite-level save percentage (.915 or above), has a goals-against average hovering around 3.00, and has just three and four more wins than platooning St. Louis Blues goalies Jake Allen and Brian Elliott (12 and 11, respectively), and Elliott was out over a month with an injury! Meanwhile, Fleury is leading the league with six shutouts.
Obviously, the point is to score a lot of goals at an all-star game and shutouts don't really enter into the equation, but it's pretty ridiculous when there are about 10 legitimately better candidates than Bobrovsky available.
Sure, Columbus is hosting, but they are also 11 points out of the last wild-card spot. They don't deserve—or need—three participants. Not when the host Atlanta Thrashers got only Ilya Kovalchuk and Marian Hossa back in 2008 and Phillips Arena still ended up exceeding its arena capacity. Columbus' Nationwide Arena has 45 fewer seats available (18,500).
Thankfully, the rest of the goaltending selections seems on point, with Fleury likely going to get a shot after all after Detroit Red Wing Jimmy Howard unfortunately had to be stretchered off the ice Saturday night against the Washington Capitals. Aside from Blackhawk Corey Crawford (voted in), the other goalies selected were Nashville Predator Pekka Rinne, Florida Panther Roberto Luongo, and Price.
Carey Price: Four-Time All-Star
Price previously made all-star-game appearances in 2008, 2010, and 2011, but this may be his best season yet, at least so far. In 2010-11, he finished with a .923 save percentage and 2.35 GAA. Last season, he had a .927 save percentage and 2.32 GAA.
This year? He has a .928 save percentage (fourth-best, with pseudo-backups Calvin Pickard and Michael Hutchinson among those ahead of him), 2.19 GAA (sixth), and 22 wins, which is second-best in the league (Rinne).
There is no world out there—excluding those that don't actually have NHLs—in which Price doesn't get named to this all-star game. Now, the only trick is getting "hurt" between now and then so he doesn't actually have to play and risk actual injury. He is after all the No. 1 reason the Canadiens are where they are in the standings, within arm's reach of first overall.
Statistics and joking aside, Pacioretty may be quietly putting together a very good season. Subban slightly less so. Nevertheless, both are definite assets to the Habs. It just so happens that, this particular year, they don't truly merit all-star selections. There's no shame in that. In fact, ask either one and they'll quite possibly say off the record that they're happy not to be going.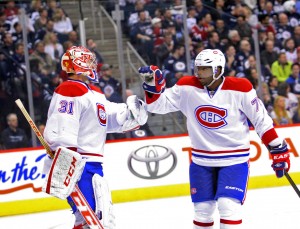 Sure this event is for the fans and it's about who they want to see, but, after the honor of being named, it's very much a pointless event. In fact, in a game with goals scored in the teens, there's really little point in having any goaltending at all, especially with the injury-risk factor.
Habs fans should be undeniably thrilled that Price is being recognized for his stellar season… and also grateful Pacioretty, Subban, and the rest of the team will be well-rested for the second half of the season.
Look at it this way if you must: not seeing Pacioretty and Subban all-star weekend is everybody else's loss… and Montreal's gain.