In this translated interview, originally appearing on the popular Russian portal sports.ru, Sharks prospect Daniil Tarasov talked about his experience in the different North American leagues, the Worcester Sharks, and his ultimate dream: play in the NHL.
* For the original interview by Dmitry Groshev on sports.ru, click here.
– Daniil, let's start from a question I think you get very often. Is the famous Soviet coach Anatoly Tarasov a relative of yours?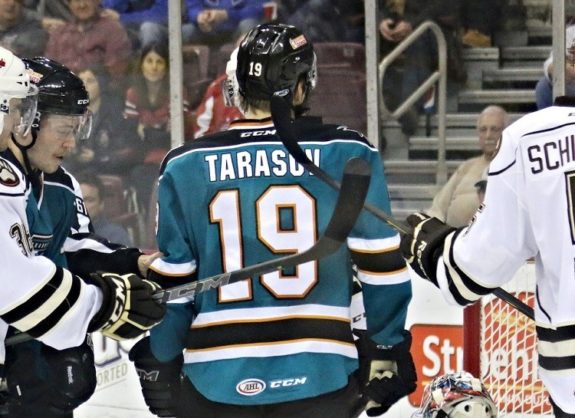 – Unfortunately, he is not. It's a pity, because he was a true hockey genious. It would have been great working with such a great man.
– Would you be ready to play even in goal?
– Of course it wouldn't be that great to get hit by all those pucks flying around, but I'd do it to be a part of the Red Machine.
– You passed through pretty much the whole North American hockey system. You only miss the last step – playing in the NHL.
– Yes, I still need to do that. Regarding the other leagues… Maybe I didn't play in them all, but I travelled a lot. I got to the US in 2009, I was 19 years old. At first I should have played in the USHL, for the Chicago Steel, but then it was the Waterloo Blackhawks. I practiced with the team and played a couple of games. Everything was going alright, but then somehow I have been suspended because of problems with the transfer papers. I could play only for a minor league, the IJHL. But then, thanks God, they sorted out all the problems and I could get back to the USHL, playing for the Indiana Ice.
GOAL!!!! Daniil Tarasov scores in OT to give the Ice a 4-3 win over Cedar Rapids in the 2011-2012 season opener!!! HOCKEY!!!

— Indiana Ice (@indianaice) October 2, 2011
There I showed that I can play at a high level, and I spent two years there. It was a great team and I found a common language with everyone. I think that all went great.
– Let's hope that all will be that successful in the future too. And what about the AHL?
– They live hockey. Maybe it's not the NHL, but there is enough fire there too, believe me. The play is more direct. I remember that when I first got to this league I was impressed by the speed and the battles for the puck. A lot of "hit and run".
– How did you get to the San Jose Sharks? You haven't been drafted.
– When I was playing in the USHL, many scouts visited our games. Most likely I impressed them, and I signed a contract with the San Jose Sharks, who then assigned me to the Worcester Sharks. Due to the lockout, in 2012 I played about 20 games for the San Francisco Bulls in the ECHL. Then I got recalled back to Worcester and I showed that I was good enough to play there.
– How's the attendance in Worcester. Do people there love hockey?
– Of course they love hockey. But I can't say that there is a lot of people at our games. We are close to Boston, and the Bruins and their farm team have a far bigger audience, they have more fans. But we have a good team too and our goal is to get to the playoffs. Every player is working hard towards this goal. There is a good hockey atmosphere in the city, internet, the press, all is at a good level. Fans ask us for autographs, and we don't refuse.
– How do you deal with the press?
– You need to be able to talk well with the press and have good ties with them. One day they can get you through the sky, and the next day the opposite.
– How do they greet rookies? Is there any ritual?
– It's a secret. Rookies are always well greeted, usually it's a private party, we go to some restaurants with the team and have some fun. Our team is a great collective, you can easily talk with anyone. They love joking and laughing. You can't relax, you can be the target of the next joke at any moment. By the way, here they always talk a lot with the opponents on the faceoff dots, but that's not a joke. Not at all.
– You don't escape physical play and also had some fights there. Did you specifically practice your fighting skills?
– No, I never had such practice. Regarding physical play, well, here you can't avoid it. I'm ready to stand up for myself and my team mates. You need to play hard, even against your friends. But of course within the rules, playing hard doesn't mean playing dirty.
– Can you tell us any story who can describe hockey in the AHL?
– There was one such story. I remember that we played two games away, and it was about time to get back home. Two of our guys were late for the bus and he commanded to depart without them. The guys managed to get to the airport by taxi and they managed to board on the plane. But it didn't end there. They got a true court to judge the two guys. I didn't think that such a thing would even exist. All according to the rules. The judge, the jury, witnesses. At the end they were fined by 200 dollars and they were also well scolded. Now they always get to the airport at least 15 minutes before the others.
– Serious stuff…
– Here everything is that serious if it's about hockey. It's very important to participate to community events. With the whole team and coaches we visit hospitals and similar places. We help kids with various illnesses.
– Is Daniil Tarasov ready to become a coach once he'll quit playing?
– It's still too early, but I'll think about it.
– During this season you're getting a lot of praise. Isn't it about time to become a full time San Jose Shark?
– If it would be up to me, then yes, it would be the right time for it. I think I'm ready to play in the NHL and I can't wait to get called up. The team's personnell and coaches are satisfied about my game and they are appreciating my progress. Last year I couldn't debut in the NHL because of injuries, I hope that the best things for my career are still in front of me.
– Last year the Sharks drafted Nikolay Goldobin. Do you know him?
– Yes, I got to know Kolya during the training camp. What can I say… he's an ambitious, young and gifted player. We'll see, maybe we'll play together for the Sharks.
– Are you familiar with other Russian guys playing in the league?
– I'm in very good ties with Alexander Khokhlachev. I'm always happy to see and play against him. I played against Kucherov, Namestnikov, Makarov, Vasilievsky. I also played against Tarasenko back in Russia.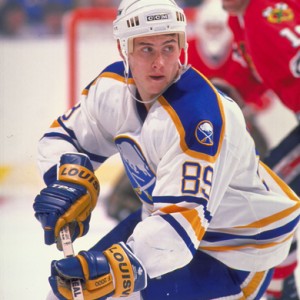 – What does help you in motivating yourself for every game and the dailyt practicing routine?
– Love towards hockey. And the adrenaline rush you have when you hear the noise from the stands. You need to motivate yourself every day, go towards your goals, practice hard. Then you have to hit the ice and be happy doing your favorite thing.
– If you could get back to the past, what player would you like to play with?
– Well, let's not look too much on the past. Let's say I'd be happy to play with Pavel Bure and Sergei Fedorov.
– In Alexander Moginy's position?
– Why not? (Laughs.)
– And what if we talk about current players only?
– It would be great to play with Pavel Datsyuk and Evgeny Malkin. Or at least against them!