In this translated interview, originally appearing in Russian language on the popular Russian portal sports.ru, Andrey Makarov talks about his career path from the juniors to the NHL, remembers the 2012 WJC, and shares his view about his chances in Buffalo.
– Andrey, let's start from your first steps in hockey. Is it true that you started your career far from the crease?
– Yes, it's true. I played a full season as forward. Why did I decide to become a goalie? Goalies have more pressure on themselves than skaters, and I like it. Maybe I wanted to feel something stronger! (Laughs.)
– You were born in Kazan, but spent a big part of your career in Togliatti. Then you moved overseas. Are you satisfied about your move to North America?
– Yeah, absolutely. Back in 2010 I moved to the Lewiston MAINEiacs, in the Quebec [Major] Junior League. I can't remember about any big win for that period, and the team folded…
– … and you moved to the Saskatoon Blades.
– Yes. I played two season for the Blades. I earned the coaches' trust and became the first goalie. I even got the Hap Emms Memorial Trophy as Best Goalie of the 2013 Memorial Cup. I'm very proud of this. That was a great period of my career. Once we won 19 games on a row! In two years I've been the MVP and the team's first star twice. I have some great memories.
– You weren't the first Russian goalie in Saskatoon who got to play in the NHL. Did you know?
– Of course I do! Everbody there loves [Anton] Khudobin. Everyone should respect his career path.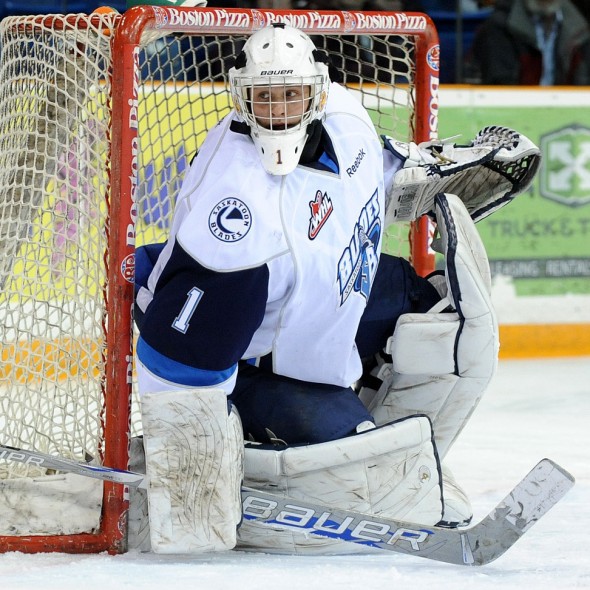 – Would you like to repeat his path?
– What do you mean with "repeat"? And why? Everyone has his own path. I have to build up my own one and go on. When I left Lewiston, I realized that this was what I needed for my career. Playing in the CHL I gained a lot of experience.
– What happened after playing in Saskatoon?
– I signed with the Sabres as a free agent. Then, to gather further experience, they assigned me to the Fort Wayne Komets of the ECHL.
– Did you actually get more game practice?
– Oh, yes, believe me. I was under a good load. Then, I was assigned to the Sabres' farm team in the AHL, the Rochester Americans.
– And now you're practicing with the Sabres. What are your perspectives? [Note: The interview has been taken before Makarov has been assigned back to the Americans.]
– There is still some time [before the final cuts]. I haven't discussed anything with our head coach Ted Nolan yet. But I'm working hard and all is up to me.
– In Buffalo there were no Russian goalies for a while. Isn't it time to fix this?
– Yes, if I'm not wrong, Sabres' last Russian goalie has been Andrei Trefilov. Now I have many good rivals. I think that Michal Neuvirth has the best chance [to get a spot in the team].
– It must be hard to be a goalie for the Sabres, as everyone still remembers about Dominik Hasek. Do you think it's harder in Buffalo?
– I think it's just as hard as in any other team. Of course people still love Hasek, it's evident. He was awesome, but that's history already. We need to write a new page of the team's history and it would be great to be part of it!
– Does it mean that Hasek wasn't your idol?
– I didn't have any idol at all. There are goalies that are examples for me: [Sergey] Bobrovsky, [Anton] Khudobin, [Tuukka] Rask…
– You're now practicing with [fellow Russian countrymen] Nikita Zadorov and Mikhail Grigorenko. Does it help?
– Of course! We talk a lot, practice and spend a lot of free time together. Grigorenko and I live at the same hotel. They work hard and it's good for them to be in the team. We'll see what happens next.
– Do people recognize you on the street? Do they ask for autographs?
– Sometimes. Sometimes they recognize me, sometimes they do not.
– You play overseas for a long time. What are the main differences for a goalie between the two ice surfaces?
– The game is faster on the small ice, it's more dynamic. There are more shots, players are faster, you have less time to react and take a decision.
– What is the most memorable moment of your career so far?
– Yes, I do have such a moment. For now, the most memorable moment of my career is the six minutes I played in the 2012 WJC semi-final against Team Canada, even if then I played the Gold Medal game.
– It was an epic game. Russia was up 6-1 and it was hard to imagine that Canada could get back on track.
– Well, it was a game against Canada! It's always a very hard game. I think that we relaxed too much and we allowed them to score some goals. Thanks God, they stopped scoring…
– Then you played those six minutes and managed to keep the score 6-5. After the game, [Team Russia's head coach] Valery Bragin told the press that he should have pulled [Andrei] Vasilevskiy earlier…
– I had no choice than stopping the puck. And that happened. I don't think it was my particular merit or Vasilevskiy's fault. Any team wins and loses together.
– What about the Gold Medal game against Team Sweden? You stopped 57 shots out of 58.
– Well, if only we won that game… It was a pity. We thought we could win, and they scored in overtime. After that game, bouncing back was psychologically hard.
– Will you forever remember the author of that goal, Mika Zibanejad?
– You can't forget these goals. But it's already history. You need to step up and go on. We had a great team, that's what you need to remember.
– What kind of ties did you have with Vasilevskiy? Did the competition let you have good ties?
– Competition is a part of the game. I had great ties with everyone, I can't say anything negative about the guys. We all played for our country and supported each other. From that roster now I mostly talk with Grigorenko and [Nail] Yakupov.
– After speaking about the past, let's speak about the future. What are your goals for the upcoming season? And what do you wish your fans?
– I don't have any goal, I just keep on working. I try to become a better player every day. And a big thank you to the fans, I won't give up!
A professional hockey writer and translator. Loves Russian culture, language, and hockey. Reachable on twitter @AlexSerenRosso