In my previous article, I suggested that Chicago Blackhawks Nick Leddy and Kris Versteeg were the most likely candidates to be shipped out of town. That turned out to be mostly correct. Although only Leddy was moved, TSN's Bob McKenzie reported that the Blackhawks were looking to move both as a package.
If you missed this yesterday, @TSNBobMcKenzie says if you want Leddy, you may have to take Versteeg too. http://t.co/QT6hbfm0tB 3:50 mark

— Jay Zawaski (@JayZawaski670) September 24, 2014
Still, the Blackhawks had more moves to make in order to maintain the typical 23 man roster, and some moves have Blackhawks fans and analysts scratching their heads.
Not Quite Teuvo Time
The first surprise, although it shouldn't be one, was the fact that hot prospect Teuvo Teravainen will be headed to the Blackhawks AHL affiliate, the Rockford IceHogs.
In truth, the signing of Brad Richards should have made it clear to fans that the Blackhawks brass felt Teravainen wasn't quite ready to fill that second line center role. Teravainen isn't the defensive stalwart a coach wants on his 3rd or 4th line, and Richards wasn't signed with the intention of playing 3rd or 4th line minutes. Interestingly, Andrew Shaw's preseason of continued chemistry with Kane and Saad may just change that, but it certainly wasn't the plan.
It makes sense to give Teravainen top line ice time down in Rockford while head coach Joel Quenneville gives Richards his shot at being the Blackhawks answer for a second line center. Playing 5-10 minutes per game on the Blackhawks wouldn't do much justice nor bring much benefit to Teravainen.
Surprises: Car Bomb and Barker
Not so affectionately nicknamed "Car Bomb", Daniel Carcillo was a surprise addition to the Blackhawks training camp roster. Another former Blackhawk, Cam Barker, also attended.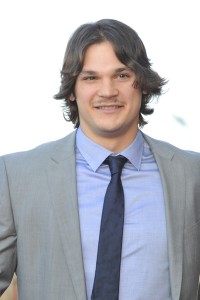 Unsurprisingly, Barker's time with the Blackhawks was short and he was unceremoniously released. There are young defenseman in the system waiting to make the team, and he was likely there just as an extra body for training camp.
The late surprise, however, was not just the addition of Daniel Carcillo to training camp, but his swift signing. Per CapGeek, Carcillo was signed for one year at $550,000, but with so many IceHogs forwards on the brink of making the team, why?
GM Stan Bowman, along with coach Quenneville, seem insistent on fulfilling an enforcer rule that is not only a dying breed in the NHL, but is also not entirely compatible with the Blackhawks brand of possession hockey. It's a shocking move to say the least. If an enforcer is what's truly needed, IceHogs forwards Brandon Mashinter (who did end up with an injury), Pierre-Cedric Labrie, or Cody Bass were also options at mostly identical price points. While Labrie didn't show too much in the preseason or training camp, Bass and Mashinter at least showed they could skate in addition to playing the part of team tough guy.
It's an especially strange move to witness considering a key argument many have made about why the Los Angeles Kings managed to beat the Blackhawks in last year's Western Conference Final was the lack of ice time given to last year's fourth liners. Most notably, former enforcer Brandon Bollig often saw just 4-5 minutes of ice time per game in the playoffs. That doesn't do much to spell their top talent.
It certainly raises the question of whether or not there is discontent or miscommunication between Quenneville and Bowman.
No Movement Clauses Could Prove Crippling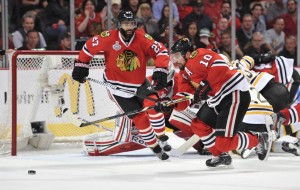 Unfortunately for the Blackhawks, Stan Bowman granted nearly every other defenseman on the Blackhawks roster a No Movement Clause. This hamstrung the team in terms of being able to trade salary off of their roster. An aging Michal Roszival, for example, makes $2.2 million per year but cannot be traded unless he waives that clause. The same is true for Johnny Oduya, who wouldn't be an ideal trade option anyway, as he spent most of last season with Niklas Hjalmarsson shutting down opposing team's top lines.
As a quick aside: That's right, Oduya/Hjalmarsson were used against team's top offense more than Seabrook/Keith, who were generally utilized more for their offensive abilities.
While the loss of Leddy will be decried by Blackhawks fans as they see him likely thrive on the New York Islanders, he truly was one of the only plausible options. In Chicago, behind Seabrook, Keith, Hjalmarsson and Oduya, he wasn't seeing the minutes that a player of his age and potential really needs anyhow.
Had Oduya not had a No Movement Clause, Leddy might've moved up to take a top 4 spot and see some real minutes. Unfortunately for the Blackhawks, that NMC may prove deadly: Oduya, currently making $3.375 million, becomes an unrestricted free agent at the end of this season. That'll be a tough spot to fill, especially as mega-deals for Toews and Kane kick in, adding $8.4 million to their combined cap hits, leaving little to no room to sign a quality free agent.
The Chips have Fallen, and Rosters Are Set
Ultimately, the Blackhawks needed to make some changes to be salary cap compliant. They've finally snuck in underneath the limit, but not without some challenges.
Defenseman Kyle Cumiskey makes the opening day roster – somewhat of a surprise for a 27 year old who has usually only played a handful of games at the NHL level each season
Defenseman Trevor Van Riemsdyk, signed as a free agent from college, showed stability and patience in training camp
Winger Jeremy Morin, often debated about by Blackhawks fans as coach Quenneville seemed to underutilize the NHL-ready forward, finally cracks the lineup
Daniel Carcillo, as mentioned above, made the roster after his short training camp stint during the preseason
Brandon Mashinter, well suited to that "enforcer" role with the nickname "Masher", was placed on the injured reserve list. Additionally, Michal Roszival and Kris Versteeg sustained preseason injuries without specific timelines for their return.
The Blackhawks have a number of young players with big shoes to fill. Perhaps the most interesting part of the story will be to see who can fill those shoes in the 2015-16 season for a price that Stan Bowman and company can afford to pay.
A born Blackhawks fan, I have followed the team since the 80s and am a season ticket holder since 2008. I hope to provide an in depth take on the Blackhawks direction, roster moves, etc that the local beat writers often neglect.