Andrei Vasilevskiy is definitely one of the top goaltending prospects of the world right now, especially so since he signed a three-year-deal with the Tampa Bay Lightning, after his first full pro season in the KHL, where he backstopped Salavat Yulaev Ufa during the playoffs playing very solid hockey and mostly outplaying the opposition. The native of Tyumen, Russia is now headed to the more demanding North American hockey and it will be interesting to see how he will fare, even if he did play great during different junior tournaments. On top of that, Vasilevskiy just won his first Gold Medal at the IIHF World Championship held in Minsk, Belarus, where he played two games, posting great numbers as a .50 GAA and a svs. pct. of .985. One of his two games has been played against Team USA. Vasilevskiy doesn't like talking to the press, but in this translated interview with BUSINESS ONLINE by Maxim Nikerin he talked about the recent WC tournament, explained his expectation towards his move overseas and also shed some light over his private life, revealing that now he's busy reading the Bible.
IIHF World Championship
– Andrei, winning the WC in Minsk was like a fairy tale?
– The real fairy tale was actually everything that came after I've been invited to play at the WC. It has been incredible. The triumph, the cup on my hands, the call to the Kremlin, the parade in Moscow after the win. I'm glad that I had the chance to be part of such a great team with that coaching staff. And I want to work further to show that the National Team needs me.
– What kind of emotions did you feel before playing against Team USA?
– When they told me, the day before the game, that I was going to start, I think that my heartbeat rushed 70 beats higher than usual.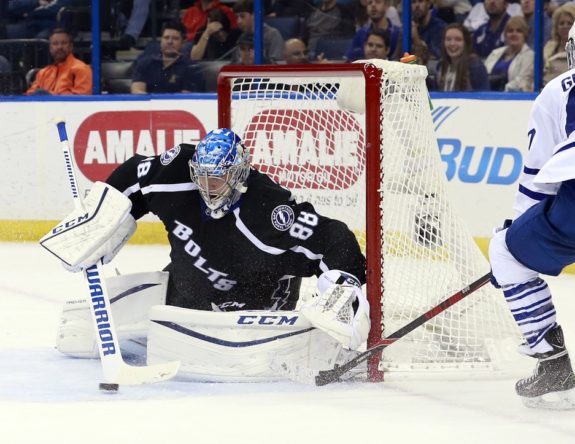 – For the first time you played in a team with many stars. What feelings did you have from Ovechkin and Malkin?
– They are not only great players, but they are also great guys with whom you can talk about anything. They don't put themselves higher than others. I'm glad that I got to know them [in person].
– They suggested you to move to the NHL?
– Let's say that they supported my choice. I especially talked with my goalie colleagues, Sergei Bobrovsky and Anton Khudobin and they told me all I needed to know. I can only thank them.
– It was your first time at the Kremlin?
– Yes. It's beautiful there, all is golden coated. It's always pleasant when the country's top person invites you.
– Did you talk with Putin head to head?
– I had such chance, but I didn't dare to. I was very surprised when they awarded me the Order [of Honour], getting such a title at 19 years of age is definitely something big.
– Did you know who has been Russia's youngest goalie to win the IIHF WC?
– Tretiak? Nothing surprising. But you shouldn't do any comparison between us. I still have a lot to work before even trying to reach Tretiak's level.
– Did you talk with him?
– We simply exchanged a couple of words. However, it has been great to talk with such a hockey legend.
– You took part in three WJC. What do you remember about  them?
– The first one was in Canada and I was younger than everyone by two years. It has been the first big tournament for me. Too bad we lost on the finals, but I'll remember that tournament for the whole life.
– And the second one was in Ufa, Russia.
– It was great to play at home. The Bronze Medal game has been great, however, I didn't play. In Sweden I played almost each game, and probably it has been my best tournament. We had a great team, I think we didn't have enough luck.
Tampa Bay Lightning (and Phil Esposito)
– Lightning's GM Steve Yzerman talks about you like a future NHL star.
– Well, it's just words. There are no guarantees that I'll actually play. Most likely I'll start from the farm team and try to start from there.
– Did Lightning's staffers try and talk with you during the season?
– No. And it would have been hard to them, since I almost don't speak English. When we went to Prague to play against [KHL team] Lev, I talked with one of their scouts, he talks Russian.
– Did you follow Tampa Bay's season? And your colleague Ben Bishop?
– I watched the highlights of each game of the season on the internet. Ben has been great. He didn't play much earlier, but then he managed to become the starting goalie.
– Don't you fear about the competition for a roster spot?
– Competing for a roster spot is always a good thing for everyone. Without competition there are no stimuli.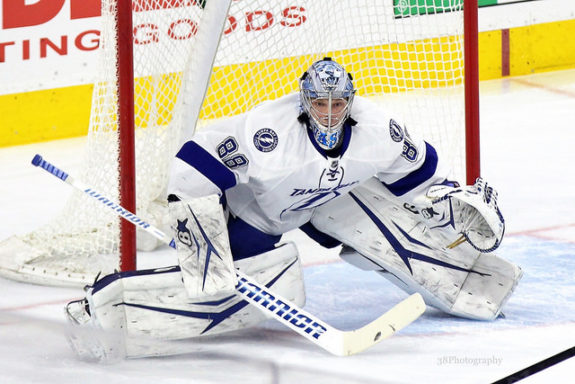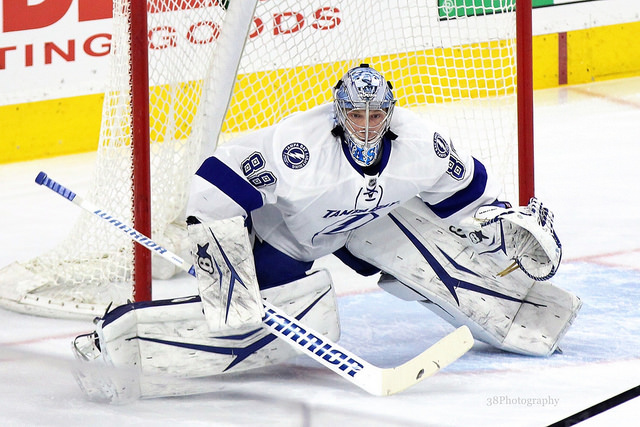 – Did you meet any star at the draft?
– At the ceremony I didn't, but at the rookie camp I met Phil Esposito. He even invited me at his place.
– Will you go?
– If I will go, he'll open the door, look at me and say "Son, who are you?" (laughs)
– Are you ready to play in the AHL?
– I have no choice. My contract is a two-way deal and therefore I must be ready to that.
Personal life
– Your brother [KHL player Alexei Vasilevskiy] during an interview said that with his first KHL salary would buy your father the car of his choice.
– Well, let's say that my brother bought our father a car which costs six times the car of his choice (laughs).
– Ferrari?
– No, at home we like Mercedes.
– They say that your brother adviced you to spend another year in the KHL.
– Yes, he said that, but anyway we decided that the best for me would have been to go to the NHL.
– Many say that goalies are strange fellows.
– Yes, they joke a lot about it. But I'm a normal guy.
– What do you do on your free time?
– Oh well, I'm a homebody. I don't like loud places like clubs or discos. I prefer staying at home, play videogames, watch TV. Once I'll have done everything, I'll buy a house at the seaside and will spend there a lot of time.
– What do you play on the console?
– I play NHL games since the childhood. I played the whole season with Tampa, controlling Steve Stamkos. Now he'll be my team mate. That's cool.
– Do you read books?
– I'm reading the Bible now. I do believe a lot, but I did not imagine that reading the Bible could have been that interesting.
– Do you go often to church?
– When I can. I try and go at least once in two, three months.
– One year ago you said that you weren't going to marry. And now you're a married man.
– And I'm very happy about it. I found my other half and changed idea. I met Kseniya on the airplane, we were next one another and started talking, then we kept on talking on social networks. And you know the rest.