Last season Sergei Bobrovsky backstopped the Columbus Blue Jackets to the verge of a playoff berth. His performance, including an incredible .932 save percentage, was deemed worthy of the Vezina Trophy, and it was well-deserved.
The Blue Jackets had several positive things happen for them last season, earning 55 points, a total that was only 10 points shy of their full season total in 2011-12. They won eight of their last nine games and barely missed the playoffs. However, several things didn't go so well either. With a Fenwick for percentage of 45.7% (4th worst) and a goals for percentage of 50.9% at even strength, it's no secret that the key to their success was Bobrovsky.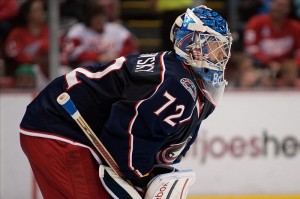 Bobrovsky's Transformation Into An Elite Goalie
InGoal Magazine's Kevin Woodley covered Bobrovsky's transformation in Columbus: "Sent home with more than 100 pages of goaltending instruction after his pre-lockout sessions with Clark in Columbus, Bobrovsky's evolution continued with Finnish goaltending coach Jussi Parkkila in Russia's Kontinental Hockey League during the NHL lockout."
The Blue Jackets' goalie coach, Ian Clark, took Bobrovsky's raw talent and trained him in the Reverse-VH. It's a new style of goaltending that began in the Finnish leagues and has been adopted by many in the NHL, including Johnathan Quick, who brought the potential of this new style of play to the forefront when he won the Conn-Smythe Trophy in 2012. What this tells us is that Bobrovsky wasn't ready to win a Vezina Trophy based on his skill alone. It was the training of Ian Clark, and the implementation of the Reverse-VH, that took Bobrovsky's raw talent and added the necessary discipline that took his game to another level. Bobrovsky would improve on an .899 save percentage in 2011-12 with the Philadelphia Flyers, jumping to .932 in 2012-13 with the Blue Jackets. Perhaps the lockout was a blessing in disguise for Bobrovsky, who had several months to perfect the Reverse-VH in the KHL before returning to the NHL last season.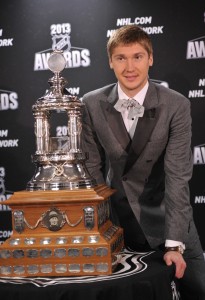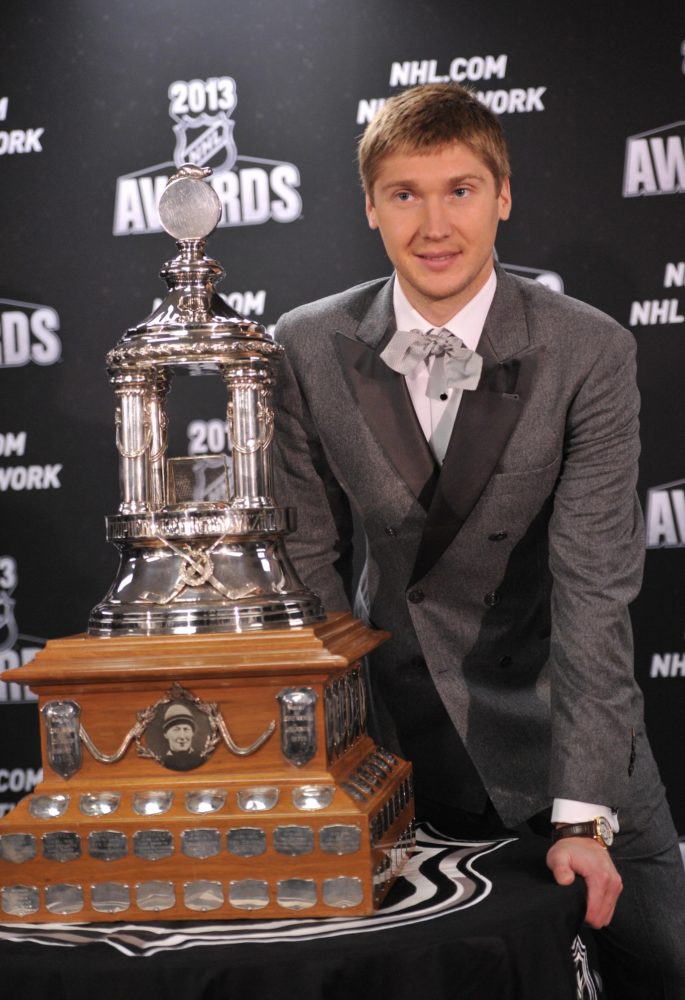 Another Bid For The Vezina Trophy?
In a world where Henrik Lundqvist has yet to win a Vezina Trophy, is there a chance that Bobrovsky could repeat, becoming not only the first Russian-born goalie to win the trophy, but the first to win it two seasons in a row? The competition is fierce, and it's no secret that Tuukka Rask is a phenomenal goalie playing behind one of the best defensive systems of our generation that has a right to claim ownership of one of the top defenseman of all-time, but perhaps there is a case for Bobrovsky. Let's compare the save percentages of some of the leading candidates for this season. (Data taken from Extra Skater on April 4, 2014)
| Goalie | Shots Against | Save % | Save % Close | Save % Tied |
| --- | --- | --- | --- | --- |
| Sergei Bobrovsky | 1529 | 92.1 | 93.2 | 94 |
| Tuukka Rask | 1566 | 93 | 94.2 | 94 |
| Ben Bishop | 1727 | 93.5 | 93.6 | 93.9 |
| Semyon Varlamov | 1910 | 92.6 | 94 | 94.1 |
| Jonathan Quick | 1101 | 91.6 | 93.2 | 93.5 |
| Carey Price | 1720 | 92.5 | 93.5 | 94 |
| Jonathan Bernier | 1787 | 92.3 | 94.1 | 94.1 |
| Henrik Lundqvist | 1724 | 92 | 92.3 | 91.3 |
This chart makes it difficult to decide which goalie really has earned the honors as the best at his position this season. Semyon Varlamov has seen more shots than any goalie in the league and has maintained an impeccable .926 save percentage. It's also interesting to note that each goalie plays better when the game is tied, with exception to Lundqvist.
 Inconsistency
In the first two months of the season Bobrovsky was anything but a Vezina-caliber goalie. His record was 9-11-2 and he was posting a .906 save percentage, which is well below the league average of .916. Questions of Bobrovsky's longevity as a starter inevitably began to arise, but Ian Clark combated fears by saying simply "It's miniscule."
Even head coach Todd Richards had a take on Bobrovsky early in the season. "I've had a couple of conversations with him," Richards said. "The one thing I let him know — he is our guy. He is our guy. He was the best goalie in the league last year for a reason. He galvanized this team and this franchise. "He made me a good coach last year, and that's what that one position can do. If a team's struggling, the coach isn't very good. All of a sudden the goalie becomes good, and all of a sudden the coach seems to know what he's doing. That's the one position where they're able to do that."
Todd Richards is a young coach and he's still figuring how to be successful at this level. However, he's transformed this team into a puck possession team, a secret that many coaches understand is the key to winning games and championships.
See? If Gary Bettman had a soul he'd nix the SJ/LA match-up and make Colorado play a play-in series. pic.twitter.com/sNN2NnHGO4

— Travis Yost (@travisyost) April 4, 2014
This tweet sent out by Travis Yost, while meant to be humorously critical of the playoff format, indicates that the Blue Jackets have been the best possession team in the Eastern Conference since March 8. It's my belief that this change in identity for the Blue Jackets has helped Bobrovsky improve his performance in net since returning from an injury in January. His record since January is 18-8-3 and he has a .930 save percentage over that time period. Those numbers are very similar to the kind of numbers that Bobrovsky posted over the last two months of last season. Will Bobrovsky win the Vezina Trophy again this season? It's unlikely with the numbers that Tuukka Rask has put up this season, but there's no doubt that Bobrovsky is certainly an elite goalie. At 25 years of age he could very well be the backbone of this franchise for many seasons to come.