After losing Steven Stamkos early in the season, everyone had their doubts about the Tampa Bay Lightning and how well they would do without him. Now, the Lightning are headed to the Stanley Cup Playoffs for the first time since 2011.
There are many reasons for the Tampa Bay Lightning's success, but #51 of the Tampa Bay Lightning, Valterri Filppula, stands out the most.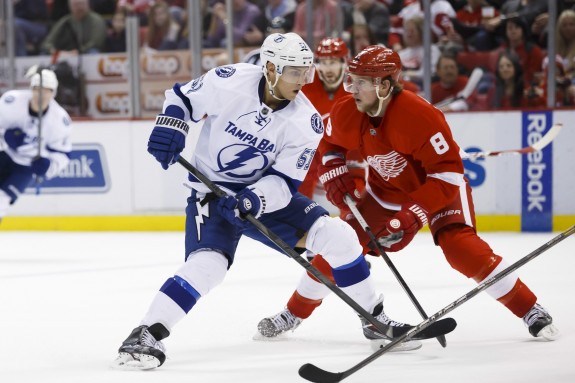 Filppula spent eight years with the Detroit Red Wings before signing a contract as a free agent with the Tampa Bay Lightning. Filppula was signed to fill the void of Vincent Lecavalier. Lecavalier left the Lightning with franchise records in both games played and total goals scored. By signing Filppula to replace Lecavalier, Lightning's general manager, Steve Yzerman, obviously thought highly of him, and Filppula has yet to disappoint him.
Although he's without a point in his last two games, Filppula leads the Tampa Bay Lightning with 25 goals and 57 points in 71 games, and ranks second for power play goals with six. Filppula is a huge reason why the Lightning continued to strike while Steven Stamkos was out with an injury. Even with Stamkos back, Filppula has continued to be a star for the Lightning. Filppula just ended a career-best 12-game point streak, posting five goals and eleven assist. His point streak is the Bolts longest point streak since Steven Stamkos 18-game streak during the 2009-10 season, it was also the longest active point streak in the NHL.
With all that being said, we're left with one question…
Is Valterri Filppula the Best Player On the Tampa Bay Lightning?
I don't think that Valterri Filppula is the best player on the Tampa Bay Lightning, but he's definitely their star player at the moment and has been for quite some time. Filppula is a great player, has a lot of potential as a Bolt, fits very well with the Lightning, and could very well have a career-best season, and of course, will be a key player to the Lightning's success in the post-season.
So, Bolts fans, what are your thoughts? Is Filppula the best player on the Tampa Bay Lightning? Or is he just their star player at the moment? Comment below with your thoughts!