When the Big Ten and the National Collegiate Hockey Conference formed, traditional rivals parted ways. Until this season, North Dakota and Minnesota had played in 283 games against each other, starting with the 1947-48 season. All-time, Minnesota holds the edge over North Dakota with a 130-138-15 record.
After the 2012-13 season, Minnesota left the WCHA for the Big Ten, and North Dakota left the WCHA for the National Collegiate Hockey Conference. The two teams didn't play each other during the 2013-14 regular season.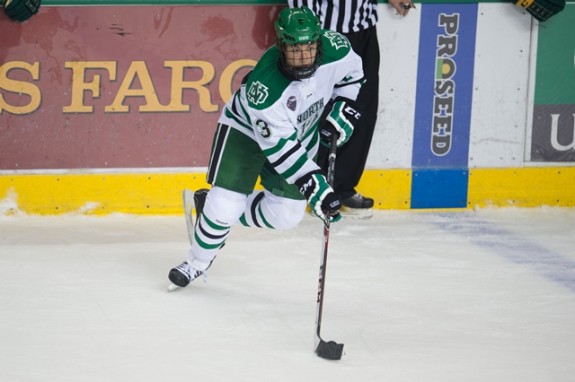 Divine intervention?
The hockey gods must have had a divine intervention. Last weekend, UND renewed its rivalry with the Wisconsin Badgers at the Midwest Regional. On April 10, 2014, UND will renew their rivalry with the Minnesota Gophers at the Frozen Four in Philadelphia, PA.
The games between North Dakota and Minnesota are emotionally charged games. The players know that they need to keep their emotions in check. The ultimate goal for North Dakota is a national championship.  Uncontrolled emotions can be damaging.  Also, UND does not want to spend all night in the penalty box against Minnesota.
"Obviously, our biggest rival, it's an exciting time," sophomore forward Rocco Grimaldi said. "We were not sure if we would be able to see them at all this year. Obviously, not next year, and for the guys that are heading out this year. I know they wanted another shot at these guys. We can't let the rivalry play too much overall."
"We're in this thing for one reason and one reason only. It's to win a championship, and we need to win on Thursday night if we want to keep that dream alive."
"I think with the conference realignments, it was different this year not facing our biggest rival," junior Stephane Pattyn said. "But I think everyone in the back of their mind was hoping it would happen somewhere in the tournament, so why not one of the biggest games of our season?"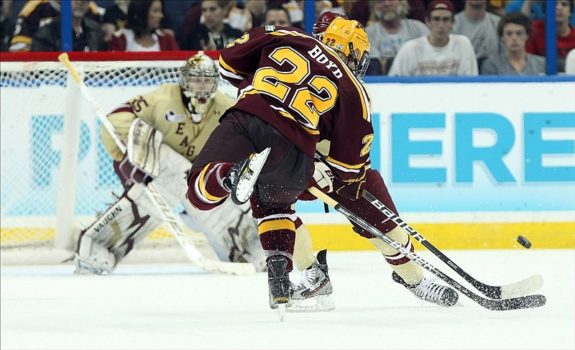 Players talk about "The Rivalry"
UND has four players from the state of Minnesota on their team's roster. Junior forward Connor Gaarder  (Edina, MN) talked about playing against the Minnesota Gophers.
"It's a big rivalry between us and them," Gaarder said. "There's that extra oomph that both teams are going to bring this weekend, on Thursday. I am sure they're excited. We're excited. Both teams are going to play their best games."
Over the years, this has been a heated series. The players on both teams will have to keep their emotions in check, if they want to be successful. The players know if they get too jacked up for the game, they might end up taking undisciplined penalties
"You can get too jacked up for it because you might make stupid plays," Gaarder said. "You have to keep your emotions in check and play strong, smart hockey."
Junior forward Mark MacMillan agreed with Gaarder's comments.
I think you've got to try your best to approach it like any other game," MacMillan. "I think any time there's a rivalry game, especially between us and the Gophers, there's a little extra boost. Whether, it's a regular season game, or playing at the Frozen Four in Philly.  You have to keep your wits about you, and make sure that you don't get too hyped up about it. But there's definitely always an extra boost when we play against the Gophers.
"I know there will be added energy and excitement," senior captain Dillon Simpson agreed. "As well as that rivalry feel to the game, but at the end of the day you have to take it as just another game, and go from there."
The players know what's on the line next Thursday night. They also know that they need to keep their emotions in check if they want to advance past the Minnesota Gophers. They have to approach the game on an even keel. Ill-advised penalties and undisciplined play cannot happen if they want to play in the championship game on Saturday night.