In this translated interview, originally appearing on the popular Russian portal Championat.ru, Sharks prospect Nikolay Goldobin talked about the draft, explained why he joined HIFK, and declared that he wants to become the WJC top scorer.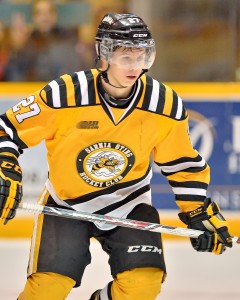 – You were pretty young when you moved to North America to play in Sarnia. What has been the most difficult thing?
– In life, the language. It's very hard if you don't know it, therefore I had to take lessons. It wasn't easy with hockey too. After the first game I had some thoughts like "Where did I end up?" The speed was crazy. But with time I got used to it.
– Do you prefer the North American style over the European one?
– I really like playing on the small ice. The game is faster and there are many battles for the puck. I like it.
– You were part of the Vityaz franchise, a team renowned for their enforcers. Did you have any fight while playing for the Sting?
– What are you talking about? I was the youngest player of the team, therefore I wasn't there for the fights. Moreover, no one really paid attention to my previous team.
– You were drafted in the NHL by the San Jose Sharks. How did you communicate with them before the draft?
– I talked to them only through Skype as I didn't attend the Draft Combine in Toronto. Six teams were interested in me, then it happened what happened.
– You have been a first round pick. Were you expecting to get selected that high?
– Yes, I was expecting that. I didn't work hard for a year for nothing! (Laughs.) To speak the truth, the other teams who were interested in me picked earlier and decided to draft other guys. I had to wait till the end, but luckily I had the right idea in choosing a good suit for the event. (Laughs.) It would have been bad not to get drafted in the first day when you try that hard.
– How did you like the Sharks training camp?
– I really enjoyed it. I played four games and had four points. I played on a line with Joe Thornton.
– How did you like playing with such a master?
– To be more accurate, I played in more lines, but Thornton, of course, is a world-class playmaker. It was evident, even if he didn't give his best in those pre-season games. And even if he's a star, he's a very good-hearted person. He was constantly cheering me up. As all the other guys.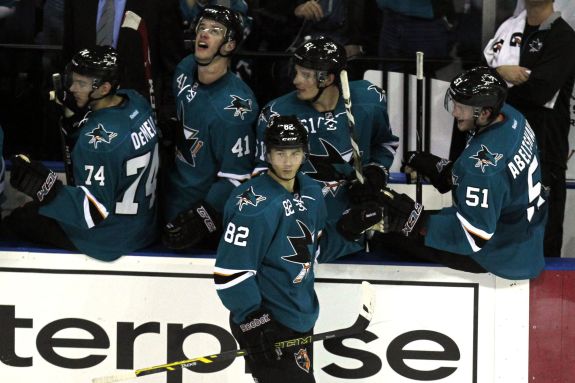 – Did you go to the beach in your free time?
– It's forty minutes to the beach, but it's still a bit puzzling to go out with shorts and a t-shirt. And the ice is perfect quality. The pre-season games had more than 14,000 people in the attendance. This is what is hockey in California.
– And then you were loaned to Finnish HIFK.
– My agent Igor Larionov asked me where I wanted to play: junior or senior hockey? Of course I chosen senior hockey.
– Did they call you from the KHL?
– Yes, of course. But I was only considering the Finnish league or another year in junior hockey. I'm not going to tell you more.
– How did they welcome you at HIFK?
– I have been lucky to get into this team. The guys are a bit older, mostly 25-30 years old, but they treated me great since the first moment and they're always supporting me.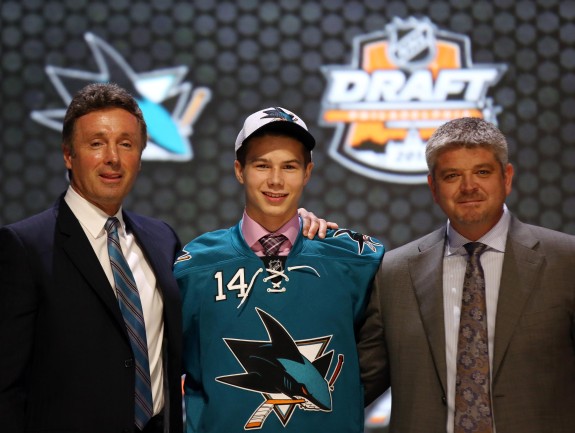 – Did you manage to learn some Finnish?
– A couple of words…
– I'm not going to ask you which ones…
– …and you're right! (Laughs.)
– Will any of your friends play at the WJC?
– Yes, [Team Finland goalie Ville] Husso, but if we'll get to play against him, I'll forget about our friendship.
– How did you like Team Russia environment. Did you know any of the players?
– All is great. There are a lot of great guys in the team. I missed many of them as we didn't see each other for long time. But I didn't personally know all the guys on the team. I got to know about half of them.
– What are your goals for the tournament?
– Our goal is winning the Gold Medal. And I want to fight for the top scorer title.
A professional hockey writer and translator. Loves Russian culture, language, and hockey. Reachable on twitter @AlexSerenRosso