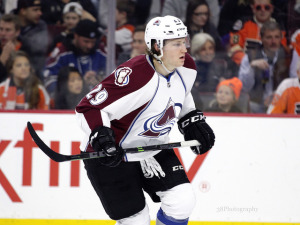 A lot of people are criticizing the World Cup announcement as gimmicky or disrespectful to the countries left out, but I don't agree.  I don't ever want to watch Canada beat Slovakia or Switzerland 9-0 again. I also think it will be fun to cheer for the under 23s.
So with that in mind, here is an imagining of what I think their roster could look like.
* Note that I did not originally notice that the Under-23 team is made up of North American players only, and so I have edited the team to correct my original mistake.
Centres
Ryan Nugent-Hopkins,  Nathan Mackinnon, Connor McDavid, Sean Couturier
That is actually probably as good as anyone in the tournament.  What the team lacks in experience it will clearly make up for in flat-out talent.  The only problem here is that some of these players might end up on the real team Canada or USA.  I didn't include Seguin for example because I see him as a Team Canada lock.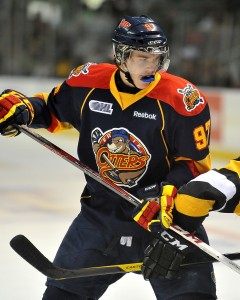 Wingers
On the wing I foresee one of the most exciting teams in the tournament.  Once again, assuming they don't play for their actual countries here is a list of wingers (or centres forced to the wing) I think we might see:
Jonathan Huberdau, Alex Galchenyuk, Jonathan Drouin, Ryan Strome, Jack Eichel, Max Domi,  Sean Monohan and Tom Wilson. 
Again I think this is actually a really competitive group of players, all of whom have super-star talent. There have been numerous studies conducted that show scouts and GMs favor older established players and I think this group of forwards may use that to their advantage and end up actually having the best team.  Especially if Canada and the US end up leaving McDavid and Eichel off the main teams.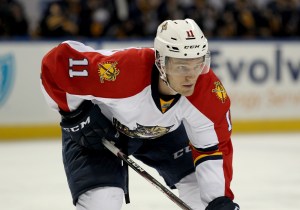 Defense
Some people think that it takes defenseman 300 games to establish themselves in the NHL.  That may be true, but it is at least partly because teams don't like to trust young defenseman.  Still, this should be a competitive group. In fact, I think the talent of this group is insane.  Team Canada will no doubt take slightly overrated players like Shea Weber and this could work in the Under-23 team's favor.
Seth Jones, Darnell Nurse, Aaron Ekblad, Morgan Rielly, Ryan Murray, Justin Faulk, and Griffin Reinhart.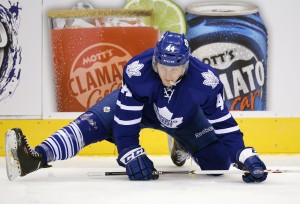 Goal
People think this is where the Under-23s will collapse. However, just because the NHL has an old goalie bias that doesn't mean young goalies can't be successful.
Anaheim's John Gibson seems to be the goalie to beat here as he is widely considered the best in the world not currently holding down an NHL job.  I don't want to even guess at who could back him up as it's a volatile position and I haven't seen Under 23 goalies to the extent I have seen the position players.  Perhaps Malcom Subban?
My opinion of goaltending is that if you have a good team and a talented goalie you will be fine.  I am sure there are enough talented non-starting NHL goalies in the world that at least two of them can make this team competitive.
Final Analysis
Overall, when I look at the potential roster of this team, I get excited. I think I'll cheer for them rather than Canada at the World Cup and I look forward to this new event with much more excitement than the Olympics, if for no other reason than it will come at the end of the summer when I am hockey-starved and not in the middle of the NHL season when I am just getting pumped for Playoff races.
I predict the Under 23 team will shock the world and win a Gold medal.
Covering the Leafs for the Hockey Writers.