The National Hockey League kicked off the 1965-66 regular season this weekend with five games, all of which went true to form. Although all the teams that were supposed to win did so, there were some newsworthy happenings .
Leafs Blanked Twice
The Toronto Maple Leafs, only one year removed from their third straight Stanley Cup victory, failed to score even one goal in two weekend games.
Saturday night the Chicago Black Hawks and their vaunted offence came into town and did not disappoint the prognosticators who gave the Leafs very little chance against R. Hull and company. Chicago skated off with a convincing 4-0 win, with the Golden Jet notching three of the Chicago goals.
Hull Nets Three
Johnny Bower was in goal for Toronto and faced 25 Black Hawk drives. Glenn Hall made 21 saves in goal for Chicago.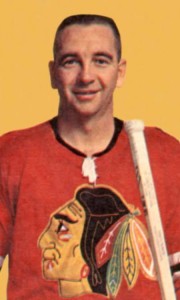 Hull scored two first-period markers on Bower and that pretty much ended any chance the Leafs had in this one. After a scoreless second frame, Kenny Wharram counted early in the third to up the margin to three. Hull completed his hat trick on a nice feed from Doug Mohns at 11:32 to end the scoring.
One interesting note…at the beginning of the game when the National Anthem was played, instead of the new Canadian maple leaf flag being flown, Maple Leaf Gardens staff chose to fly the red ensign. The Star Weekly's sports editor Jim Hunt sat down during the anthem, disgusted at the fact the new flag was not being flown.
Bathgate Gets a Little Revenge
Sunday evening in Detroit, the Leafs fared no better, dropping a 3-0 decision to the Detroit Red Wings.
The Wings, thought to be defensively weak going into the season, were dominant in this one, looking every bit the first-place club they were last season. They were never really challenged in blanking the Leafs.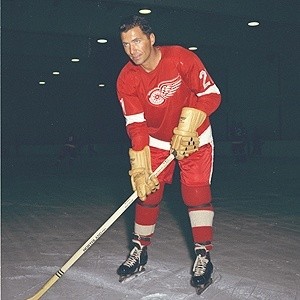 Terry Sawchuk got the nod in goal from Imlach for this one, and faced 43 shots, 19 of them in the final frame. Young Roger Crozier, showing no effects from the illness that prevented his All-Star game appearance, was called upon to make only 22 saves.
The Red Wings scored a goal in each period. Paul Henderson opened things up for Detroit just over five minutes into the game. Norm Ullman had the second Detroit goal on a power play, while former Leaf Andy Bathgate gained a measure of revenge, potting the third Wings goal in the final period.
After the two whitewashings, Toronto general manager-coach Punch Imlach was at a rare loss for words, and his curt reaction to his team's play was predictable, which is not good news for the players:
"The other team seems to want to win more than we do. I don't know what to do. I guess I'll just have to make them mad enough score goals."
Habs Whip Wings, Edge Rangers
Saturday night in Montreal, the Canadiens flexed their muscles against last season's Prince of Wales Trophy winners, and the result was an 8-1 pasting of the Detroit Red Wings.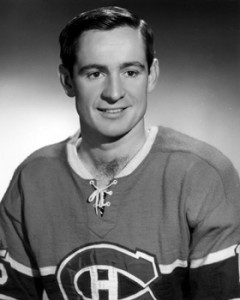 Captain Jean Beliveau had a big night for Canadiens with four points on two goals and a pair of assists. Beliveau's line mates Bobby Rousseau and Dick Duff also did some damage. Rousseau also had four points (2G, 2A) while Duff added a single marker.
Defenseman Jacques Laperriere, not normally an offensive force, also had a four-point night with a goal and three helpers. The broken ankle he sustained in last spring's playoffs proved to be no hindrance for the all-star blueliner.
Gilles Tremblay and Jean-Guy Talbot had the other Montreal goals. Bruce MacGregor was the only Red Wing to beat Montreal goalie Gump Worsley.
Rangers Tough in Loss
Sunday evening, the Canadiens received stiffer competition from the New York Rangers at Madison Square Garden, but still managed to eke out a 4-3 victory.
The Rangers played a solid, close checking game, featuring lots of body checking and good goaltending from rookie netminder Ed Giacomin.
The teams battled through a 1-1 first period with John Ferguson scoring for the Habs and Lou Angotti for the Blueshirts.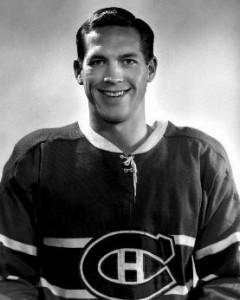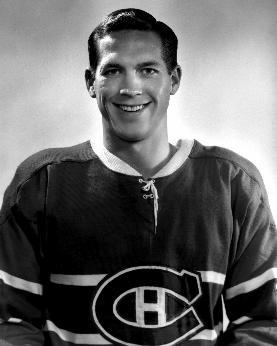 Defenseman Terry Harper gave Montreal a 2-1 lead with the only goal of the middle stanza.
The Rangers tied it at 2-2 just before the half way mark of the third on a goal by Bobby Nevin. The Habs broke it open with two quick ones a couple of minutes later. Yvan Cournoyer broke in alone on Giacomin, thanks to a nice feed by Duff, to make it 3-2 at 12:23. A minute and 23 seconds later, Claude Provost scored the fourth Montreal goal and that put the game out of reach for the Rangers.
Johnny McKenzie scored with 32 seconds left on the clock, but it was too little, too late and the Rangers were unable to tie things up.
Ranger coach Red Sullivan was happy with his team's effort against the Stanley Cup champs:
"The Canadiens have quite a hockey club. But we came back to tie the game twice and darn near sawed it off in the last minute."
Hawks Blast Bruins
The other game Sunday evening saw Chicago waltz to a one-sided 6-2 win over the Boston Bruins in Boston.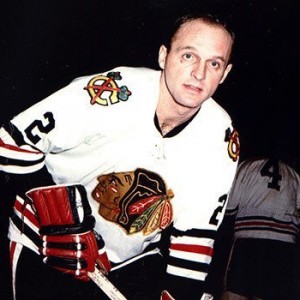 Ken Wharram and Doug Mohns were the big stars for Chicago against the Bruins. Mohns and Wharram scored two goals apiece for the Hawks, while Bobby Hull notched his fourth in just two games. Red Hay had the other Chicago goal. Rookie forward Kenny Hodge, the OHA Junior A scoring leader last season, assisted on Hay's marker for his first NHL point.
Ed Westfall and former Toronto Maple Leaf Ron Stewart connected for Boston. The Bruins started strongly, holding the edge in play in the opening frame, but wilted badly in the second when Chicago scored three times.
Glenn Hall had a solid game in goal for the Hawks. Bruins goalie Ed Johnston did not put in one of his more stellar performances, leading to speculation that rookie Gerry Cheevers will get his chance between the pipes for the Bruins very soon.
Orr Leads OHA Scorers
Seventeen-year-old Bobby Orr scored a goal and an assist for the Oshawa Generals to help them to a 4-4 tie with the Toronto Marlboros yesterday at Maple Leaf Gardens, before 11,734 fans. The two points put the young defenseman atop the OHA Junior A scoring race.
In other OHA games yesterday, Hamilton trounced Kitchener 6-2, Niagara Falls defeated St. Catharines 5-3 and it was Montreal over Peterborough 3-1.
Notes:
Pete Stemkowski scored two goals to lead Rochester to a 6-3 win over Pittsburgh in AHL play last night.
Saturday, Quebec doubled the count on the Americans, downing them 6-3. Ed Hoekstra had two goals for Quebec.
Saturday night Gordie Howe received a lecture from his son Mark for arguing a call with referee Vern Buffey and getting a misconduct penalty. Young Mark has nine goals and five assists in his last three pee wee games.
Punch Imlach says there is no truth to the story he blocked Ted Lindsay's return to the NHL. Imlach says he has not been asked about Lindsay by anyone at the NHL offices. Comments he made earlier this week were in the context of what would happen if he had to make that decision.
Denis DeJordy had a rough initiation to the CPHL this week. He lost his first two games with the St. Louis Braves 5-0 and 7-0.
Singer Bing Crosby, thought to be interested in obtaining an NHL franchise for San Francisco, took in Saturday's Toronto-Chicago game at Maple Leaf Gardens. He sat with Leafs legend Charlie Conacher. Bing was quite impressed with Bobby Hull. Aren't we all?