The Stanley Cup Playoffs start on two fronts tonight. The Montreal Canadiens will host the Toronto Maple Leafs while the Detroit Red Wings will journey to Chicago to take on the Black Hawks. Here's what to look for in the semi-final series.
Habs vs Leafs: The Toughest Series
The Canadiens and Maple Leafs meet in the first round for the second straight year. Lasts season it took Montreal six games to dispose of Toronto and it won't be any easier this time around. These two clubs are very evenly matched and the outcome is very much in doubt.
Goaltending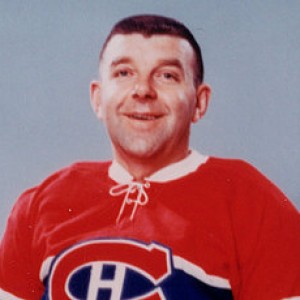 Both teams are strong in goal. Gump Worsley will handle the netminding chores for Canadiens. He won his first Vezina Trophy this season and that followed up his first Stanley Cup last spring. Unlike the 1964-65 season, Worsley was the clear number one for the Habs this year. If things should go badly however, he has an able understudy in veteran Charley Hodge.
The Gumper has shown a consistency that has eluded him during much of his career. He has developed a penchant for making the big save when needed most and that's a key habit to have in the playoffs.
For the Leafs, they have  both quantity and quality between the pipes. Venerable Johnny Bower will likely be the starter for Leafs coach Punch Imlach. But Imlach won't be shy about switching to either Terry Sawchuk or Bruce Gamble should circumstances dictate such a move.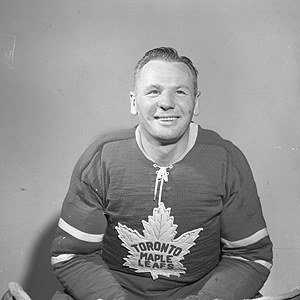 Bower had a fine season for the Leafs, posting a 2.25 goals-against average in 35 games. That was the best individual average in the league. Sawchuk wasn't as sharp as he battled a variety of health issues and had an average of only 3.16, not what would normally be expected of him. Gamble provided one of the best stories of the year. Brought in only after Bower, Sawchuk and young Gary Smith all went down with injuries, Gamble won five and lost only two with an amazing four shutouts in 10 games. Imlach declared that Gamble had proven himself and kept him with the team after he had played six games.
Edge: Even
Defense
Both clubs are blessed with strong rearguards, and both teams are battling the injury bug. Montreal is without Jacques Laperriere, who rates among the best blueliners in the league. But there are solid men left who will pick up the slack.
J.C. Tremblay is finally getting the recognition he deserves and should get some all-star attention this year. He had a fine offensive season with six goals and 29 assists in only 59 games. Terry Harper and Ted Harris are a couple of hard-rock defenders who keep the area in front of the Montreal goal clear of traffic. Harper especially made great strides this season.
Veteran Jean-Guy Talbot should fill in well for Laperriere, but the really pleasant surprise has been Noel Price, the former Leaf, Red Wing and Ranger who was called up from Quebec of the AHL when Laperriere went down. Price was perhaps Montreal's best rearguard down the stretch.
The Leafs are worried about the health of Allan Stanley, who has a wonky knee. Imlach is hopeful that the veteran will be ready tonight, but that is still up in the air. The Leafs lost Carl Brewer  to retirement in training camp, and that left a huge hole on the Toronto blue line. Luckily for the Leafs, Marcel Pronovost had been brought in from Detroit over the summer and he proved to be a capable replacement.
Tim Horton continues to be Toronto's best defender, but he had a spotty season. Bob Baun battled injury but is healthy going into the playoffs and his robust bodychecking will keep the Habs honest in the Leaf zone. Larry Hillman had a solid season after beginning the year in Rochester and Imlach has come to lean heavily on the well-traveled veteran.
Edge: Even
Forwards
If there is a definitive edge to either team here, it's up front. The Canadiens scored 239 goals this season, compared to 208 for Toronto.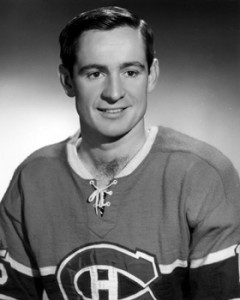 Canadiens have a great strength down the middle with Jean Beliveau, Henri Richard and Ralph Backstrom. Beliveau and Bobby Rousseau tied for the NHL lead in assists with 48, with Rousseau scoring 30 goals and Beliveau adding 29. Richard and Backstrom each netted 22 markers.
Habs are well-stocked on the wings thanks to a couple of fine comeback seasons. Gilles Tremblay returned from his badly broken leg of the previous year to score 27 times. And Dick Duff, the former Toronto fan favourite, found his scoring touch again, scoring 21 times. Canadiens boast a fine power play specialist in little Yvan Cournoyer, a speedster who netted 18 goals in his first season of regular duty.
Montreal has superior penalty killers in Claude Provost, Jimmy Roberts and Ralph Backstrom.
The Leafs are no slouches at centre, with Bob Pulford and Dave Keon being two of the best in the league. The third line slot has been manned at various times by Wally Boyer, Pete Stemkowski and veteran Red Kelly, who also spent a lot of time on left wing.
Big Frank Mahovlich had a good season with 32 goals and is the Leafs' most dangerous forward. Young Ron Ellis scored 19 times in a good sophomore season. Rookie Brit Selby endured a long scoring slump late in the season, but still finished with 14 goals.
But the biggest surprise among Toronto forwards was Eddie Shack. Shack, who started at Rochester, was recalled early and set a career mark with 26 goals. If Shack is at his irritating best, he will be a handful for Canadiens. But if Canadiens can distract him, he could turn into a liability. Shack and Montreal's John Ferguson have had legendary battles and this series could provide some real fireworks.
Who Wins?
These two evenly-matched squads should provide fans with a classic battle. It says here that Montreal's offensive superiority will win out, but it's going to be a long series that could go either way. We'll take Montreal in seven.
Hawks vs Wins: Lots of Goals
One thing seems certain, the Chicago – Detroit series should provide lots of scoring. Both teams are known more for their offensive prowess than for defensive ability, and two of hockey's best performers, Gordie Howe of Detroit and Bobby Hull of Chicago, will go head-to-head.
Goaltending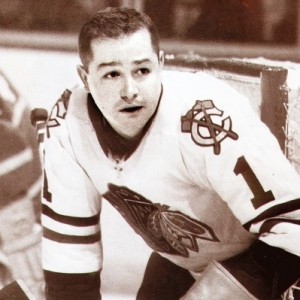 Both teams rely on one man, rather than distribute the work more evenly. And both goaltenders are capable of stealing not only a game, but an entire series.
Glenn Hall is the main man in goal for Chicago. The record holder of most consecutive games played by a netminder, Hall split duties with Denis DeJordy in 1964-65. When DeJordy regressed in training camp last fall and was dispatched to the minors, Hall assumed the workload again and did not disappoint. He played in 64 games, leading the league in wins with 34. He tied the Toronto duo of Terry Sawchuk and Johnny Bower for second place in the Vezina Trophy race.
Hall's backup is young Dave Dryden. He was signed out of Ontario senior hockey and provided decent backup work for the Hawks. Unless disaster strikes, he won't see any playoff action.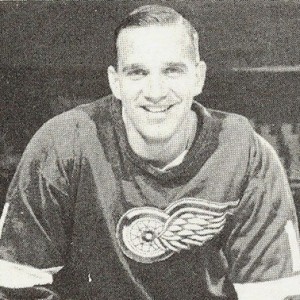 The only worry for Chicago coach Billy Reay is that Hall seemed to lose his edge late in the season and he was not sharp as the schedule wound down. If he isn't at the top of his game, Chicago could be in trouble.
Roger Crozier, the NHL rookie of the year in 1964-65, followed up his fine freshman performance with an all-star calibre season this year. Like Hall, Crozier played in 64 games. Although he led the NHL in losses with 27, very few of those setbacks could be attributed to his play. On many nights, he was the only thing going for the Red Wings.
Crozier's backup is veteran Hank Bassen. Bassen, who has seen earlier NHL time with Chicago, was surprisingly strong in the 11 games in which he appeared. His veteran savvy will serve the Wings well should anything happen to Crozier.
Edge: Even
Defense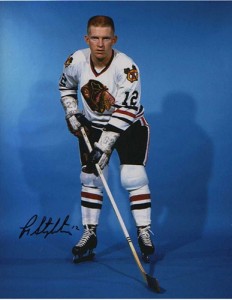 The Black Hawks have a strong, mobile defense led by all-star Pierre Pilote. Pilote has been the Norris Trophy winner for the past couple of season as the NHL's best blueliner and should be a contender once again. He was slowed by injury this year, missing 19 games, but was rounding into form as the playoffs approached.
Pat Stapleton, acquired from Toronto in the off-season, was called up when Pilote was injured. He established himself as a bona fide NHL rearguard and was Chicago's best for long stretches. His surprising rise to prominence gives the Hawks a second puck-moving threat from the back end. Another pleasant surprise was former Bruin Matt Ravlich. How the Bruins could let him get away, given their defensive woes, remains a mystery.
Doug Jarrett, Elmer (Moose) Vasko and Al MacNeil round out the Chicago blueline corps. None of these inspired great confidence this season, although Jarret is a youngster and could develop into a good asset. MacNeil and Vasko lacked foot speed and Vasko in particular was a shadow of his former self.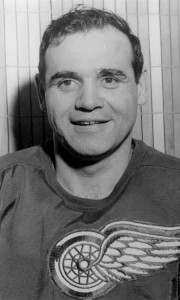 The Red Wings have real worries on the blue line. Doug Barkley, who was easily their best defenseman and quite possibly their most valuable player, was lost with a serious eye injury at the end of January. He may never play professional hockey again.
Red Wings coach and general manager Sid Abel filled the gap left by Barkley as best he could, bringing in former Boston captain Leo Boivin. Boivin is not the rock'em sock'em bruiser he was in years gone by, but he does give the Wings a wealth of experience on the back end.
Gary Bergman was much improved as the season wore on, and rookie Bert Marshall had an outstanding first year. Marshall is a big western kid, the kind of stay-at-home man on which all successful playoff teams rely.
Veteran Bill Gadsby, completing his 20th National Hockey League campaign, is hoping to finally sip champagne from the Stanley Cup. He has slowed noticeably, but he is far from a liability and in Barkley's absence will be integral to any success the Wings hope to have.
Edge: Chicago
Forwards
Both of these teams boast high-powered offence capable of running up the score. Of course the record-setting Bobby Hull is the most dangerous forward on either team.
For the Chicago it all starts with Hull. The Golden Jet set NHL records for goals and points in one of the legendary single-season performances of all time. But Hull isn't the entire focus of the Hawks' offence, and that is what makes them so dangerous.
Chicago is almost as strong down the middle as Montreal, with Stan Mikita scoring 30 goals, and Phil Esposito and Bill (Red) Hay notching over 20 each. Throw in high-energy Lou Angotti, picked up in mid-season from the Rangers, and the Hawks have great depth at centre.
The Hawks have one of the best second-lines in hockey with Mikita centering Doug Mohns and Kenny Wharram. The threesome produced 78 goals and was great at both ends of the ice. If the two main Chicago lines can take care of business, it will be difficult for the Red Wings to match.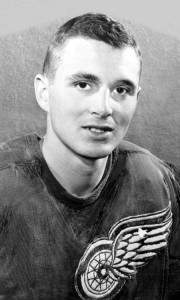 The Red Wings, on the other hand, have the player many call the best player to ever play the game. The great Gordie Howe had another magnificent year, finishing fifth in scoring, the 17th time he has made the top five in his career. He showed no sign of slowing down at age 38. Lined up with Alex Delvecchio all season, the pair should give the Hawks fits in the offensive zone. The acquisition of Dean Prentice, who came to the Wings with Boivin from Boston, completed that first line perfectly.
The other great asset the Wings boast is Norm Ullman, possibly the best all-round centre in the NHL. Ullman had another great season with 31 goals. He was between wingers, Floyd Smith and speedster Paul Henderson, who came into his own this year. Henderson reached the 20-goal plateau for the first time in his career The Wings, however, lack the depth the Hawks have up front. Beyond those first two lines, there is little to choose from. Bruce MacGregor is the best of the rest, as he scored 20 for the second straight year.
Edge: Chicago
Who Wins?
The Hawks, with a more healthy defense and more depth up front, should take out the Red Wings in no more than six games. It may come down to goaltending, and whoever is hotter between Hall and Crozier could make the difference.
So there you have it… the Canadiens and Black Hawks should meet in the Stanley Cup Final, at least that's what it says here.
Retired police detective, involved in hockey at all levels for over 50 years. Member of Society for International Hockey Research and presently a video analyst for the leader in advanced hockey analytics (we work exclusively for 2 NHL clubs, and provide advice on an ad hoc basis to many other clients). Currently the Assistant General Manager for the Pelham Pirates of the Greater Ontario Junior Hockey League. Previously owned the Faceoff computer hockey simulation and also provided all player ratings for the EA Sports series of NHL computer games from the late 90's into the mid 2000's.