Rookie goaltender Roger Crozier of the Detroit Red Wings continued his stellar freshman season in the National Hockey League last night as he blanked the Boston Bruins 4-0 right in Boston Garden.  In the only other NHL game last night, the Black Hawks bested the New York Rangers 5-2 in New York.
Delvecchio nets two for Wings
At Boston, the 22-year-old Crozier continued to write a fascinating story in this, his rookie season.  He notched his second shut out in six games, making 26 saves against a Boston club that is still trying to find it's way in the NHL.  They have scored just seven goals in their first six games.
Alex Delvecchio was the scoring hero for the Wings, netting a pair of goals to lead the way.  Norm Ullman and Ronnie Murphy added singles to complete Detroit's offensive output. Ullman's first-period marker was game-winner, and came off a Ted Lindsay rebound.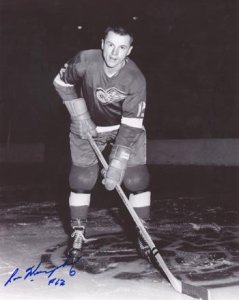 Boston goalie Ed Johnston made 30 saves as he was was the busier of the two netminders.
Hull, Mikita star on Broadway
In Madison Square Garden in New York, Chicago's two superstars, Bobby Hull and Stan Mikita, took the Black Hawks on their backs to drop the Rangers.  Hull fired three goals, Mikita added a pair and that was all the Hawks needed against New York.  Hull scored the first three Chicago goals, the third one coming at 6:12 of the final frame on a blazing slap shot from the blue line that blew past Ranger goalie Marcel Paille, who likely still hasn't seen it.  That broke a 2-2 tie.
Mikita then fired the final two tallies, including the controversial fifth goal.  Ranger coach Red Sullivan protested vehemently that Hull was in the goal crease when Mikita's shot entered the net, but his long and loud argument with referee Vern Buffey only earned him banishment from the game.
For the Rangers, rookie Jim Mikol, acquired from Boston in last summer's draft, earned his first goal of the season at the 6:10 mark of the first period.  Rod Gilbert had the other Blueshirts' goal in the second.
AHL Aces still unbeaten
In American Hockey League action, the Quebec Aces scored a dramatic 3-2 overtime victory over the Baltimore Clippers.  The win gave Quebec eight straight victories to start the season.
The game was a see-saw battle right from the start.  Bill Sutherland gave the Aces an early lead at 1:26 of the initial frame.  Baltimore tied it up with just under five to play in the first on a Gord Labossier goal.  The only second period score was by Baltimore defenceman Ron Ingram and it appeared  that the Clippers were going to be able to hang on to deal the Aces their first loss.  However, a fine Quebec crowd of 11, 852 were sent into a frenzy when Leon Rochefort managed to put the puck past Baltimore goalie Jacques Plante with just one second left to play to lift the Aces into a 2-2 tie.  The goal came when Baltimore defenceman Larry Cahan batted down a loose puck with his hand.  The disk bounced to Rochefort, who fired it into a yawning cage, left open by an out of position Plante, who had played the original shot from Sutherland.
The overtime game-winner came with only 46 seconds left in play.  Doug Harvey set up Ed Hoekstra for the goal that kept the Acemen undefeated.
Bisons get by Indians 6-4
In the other AHL game, home town Buffalo had three players scored two goals apiece to down the  Springfield Indians 6-4.
Pat Hannigan, Gerry Melnyk and Jack Stanfield were the Bisons' snipers.  The Bisons could actually have scored a great many more goals, had it not been for the acrobatic goaltending of Springfield netminder Jacques Caron.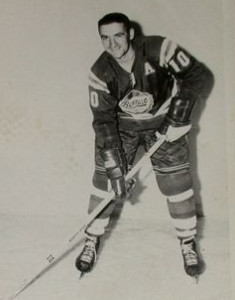 Former Bisons Jimmy Anderson, Jerry Foley and Bill Sweeney, along with rookie Brian Smith, counted for the visitors.
Referee Wally Harris made his first appearance in the Queen City and kept himself busy all night.  He called 19 minor penalties, 11 of them to the Indians.  Springfield's Roger Cote also received a 10-minute misconduct and a $25 fine for arguing with Harris a little too strenuously over one of those many calls.
Little has a BIG Junior A game
Bill Little broke out of a season-long slump for the Oshawa Generals in OHA Junior A play yesterday at Maple Leaf Gardens, and the result was a wild 9-6 win over the Toronto Marlboros.  Over 9,000 fans saw Little score an amazing five goals, and he even added two assists to lead the Generals to victory.  Ron Buchanan scored twice for Oshawa, then the high-scoring forward left with a shoulder injury.   Jim Blair and Wayne Cashman also had goals for the Gens.  Brit Selby, who is off to a great start for Toronto, led their scorers with two goals.  Ray Winterstein, Barry Watson, Neil Clarke and Jerry Meehan netted the others.   Niether goaltender, Al Smith of the Marlies, nor Dennis Gibbons of the Gens, were particularly sharp, although Gibbons had to make several fine stops in the third period to keep Oshawa out in front.   Oshawa' young phenom defenceman Bobby Orr  had a rough night, as he was on the ice for five goals against.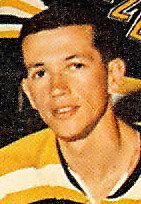 In other OHA play yesterday, Niagara Falls downed St. Catharines 3-1, Kitchener whipped Hamilton 8-3 and Montreal thrashed Peterborough 5-1.
Niagara Falls got goals from Mickey Cherevaty, Dave Woodey and Derek Sanderson in their win over St. Kitts.  Bob Jones scored four for Kitchener in their romp over Hamilton.  Jacques Lemaire led Montreal over Peterborough with a pair of markers.
Peterborough's defenceman Paul Curtis had to be carried off the ice on a stretcher after losing his footing chasing a loose puck.  Curtis went into the boards at full speed, head first.  A doctor on the scene examined him and said the young Petes defender had suffered a "possible chipped spinal cord."